Apple's first iPhone was also the first to realize the potential of the smartphone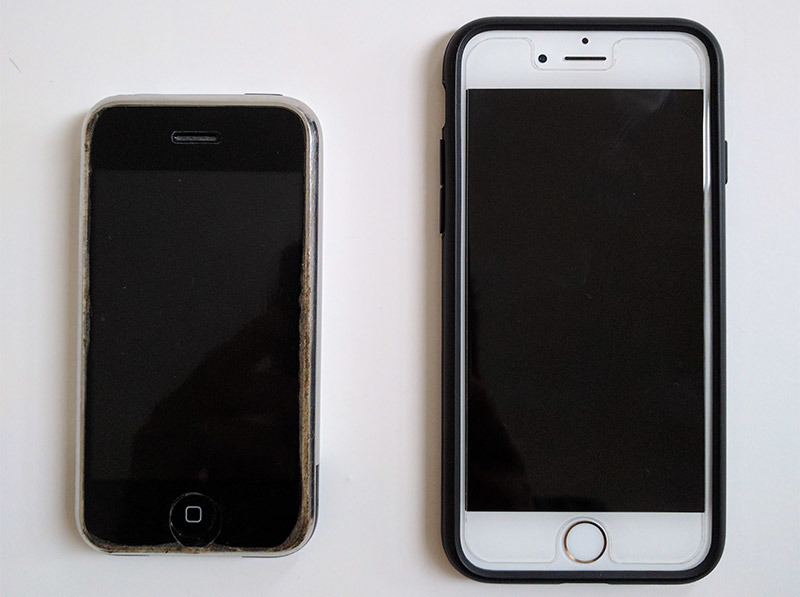 AppleInsider is supported by its audience and may earn commission as an Amazon Associate and affiliate partner on qualifying purchases. These affiliate partnerships do not influence our editorial content.
The iPhone was the phone I'd wanted all along. I had been trying to use cell phones as if they were iPhones for years, but nothing really stuck.
On January 9, 2007, I was at the Moscone Center in San Francisco. I was working for a company that made TV tuners for Mac, and we sold in Apple stores across the U.S.
I was setting up the booth at Macworld 2007 while the keynote was going on, and missed out on the big iPhone announcement. Everyone else in the company was at the presentation and came back more excited than I'd ever seen them. At the Apple stage, there were employees taking questions about iPhone with the model displayed in its glass cylinder.
AppleTV was also introduced at the event, and they had tables upon tables of AppleTV and televisions connected so that we could experience Apple's first move into home entertainment. Katie Cotton was on site and handling press requests, which were coming like a barrage. Macworld became overwhelmed overnight with everyone who got on a flight from Las Vegas leaving CES to come see the phone that would change every phone after it.
Years before, I had a Sony Ericsson T616, which I bought because it was on the list of phones that Apple showed as working with iSync. I modified it with OS X sounds and animations (the progress wheel, the 2003 Apple logo, the Jaguar wallpaper) all to make it feel more Apple-like. Having contact and photos sync was powerful. At that time, people were used to having to edit contacts in the phone. Being able to write the contacts at the Mac and sync them across was powerful.
Then I got a few Nokia s60 Symbian-based phones. These were my first phones with an App Store. It was a bit horrible, but I was able to Skype chat and message from them, and participate in IRC chat (which is a prehistoric version of Slack for young people who don't know). These were also purchased because they were iSync compatible. Apps were written in Java and Qt, which were awful, but worked. Mostly.
On June 29, 2007, I had a friend wait outside a store in Beaverton, Ore., to get me an iPhone and Fedex it to me on the other side of the country. Years later, he and I would stand in line together to get the iPhone 5 on its release day.
The iPhone was the first phone that did all the things the others before it had promised. I still think its rounded aluminum back is one of the best designs, with its shiny chrome bezel. I really liked everything about it, even in its early days without copy paste, proper GPS, or MMS picture messaging. It was simply the best phone there was for the time.
This was a time when people still phoned each other regularly, and visual voicemail was the thing that made it the very best phone available. The notion that you could fast forward through messages and hear them out of order made it the phone I had to have. I remember updating to iOS 2 the day it came out in order to have an App Store at Macworld 2008.
Now, the world has changed, but the iPhone has kept up. Messages, FaceTime, and things like iCloud shared notes and calendars have kept it one step ahead of the other options that have sprung up as challengers. I powered on that original iPhone: It still has Textie installed, which I used for sending messages over wifi or cellular data, just as Messages does today.
Back then, in 2007, I was driving to Ohio for my cousin's wedding, and on the way I got a call from a friend from high school. He was getting married and asked if I could attend. Just after the first wedding ended, I drove to Virginia, to somewhere I'd describe as off the beaten path. Afterwards, I tried to navigate home.
Using the iPhone as a compass (because it didn't have turn by turn directions), and being so far out that AT&T didn't have good signal, I'd drive for a while, wait until I had enough signal for AT&T to draw a map, drive a little more, and as long as I got on roads that would take me south and east, I'd eventually hit something that I'd recognize as a road to get me home.
Back in those days, it was still important to be able to read a map as a skill, something that with turn-by-turn and traffic avoidance has become largely unnecessary. For most of my drive, I was a blue dot on graph paper, using the compass to make sure I was heading in something resembling the right direction. By about 2 a.m. I started to find small state roads that had familiar numbers, and could load enough map data to see where I needed to turn. I made it back. I'm sure there may have been a better route, but that's how Maps on iPhone got me home.
HP used to advertise that they were making the computer personal again. Apple always said the Macintosh was the computer for the rest of us. When iPhone launched, Mike Lazardis, CEO of Blackberry, got his hands on one and took it apart. He's reputed to have said, "How did they put a Macintosh inside the phone?"
Apple regularly tells us that the iPad is the future of computing. It all started with that one phone that first saw light of day back in January 2007, that's led to iOS fulfilling the Mac's promise as the computer for the rest of us.