A10X Fusion chip in new iPad Pro first consumer device built on TSMC's 10nm process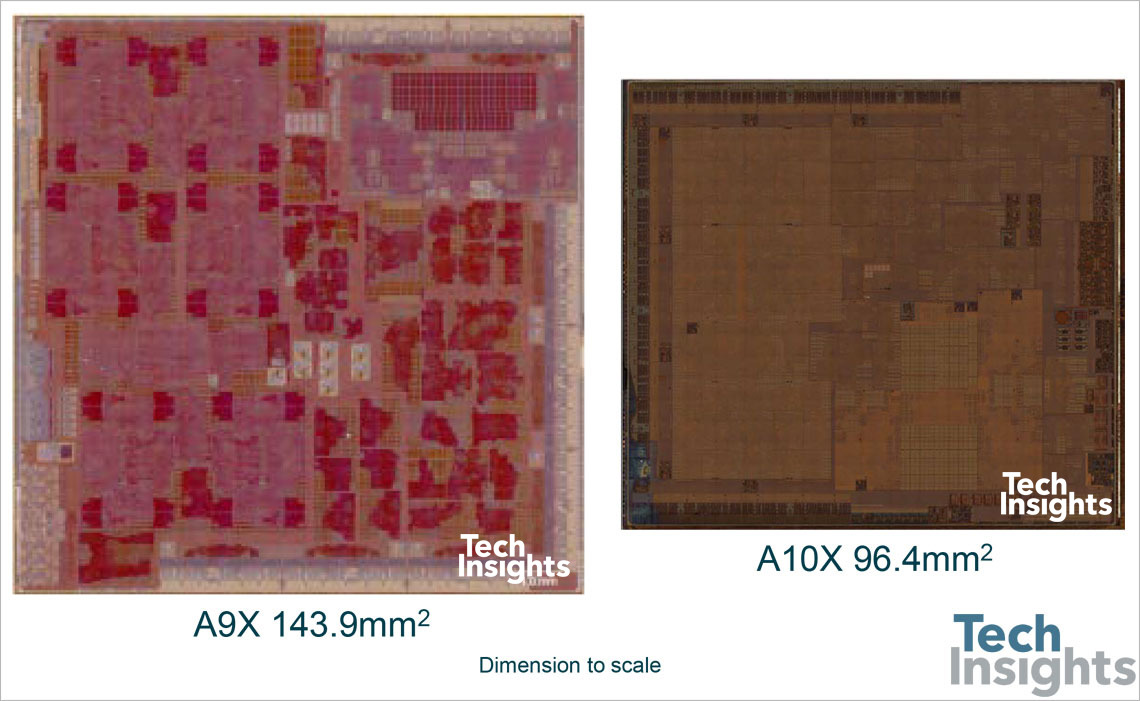 AppleInsider is supported by its audience and may earn commission as an Amazon Associate and affiliate partner on qualifying purchases. These affiliate partnerships do not influence our editorial content.
Third party analysts have examined the A10X Fusion processor found in the new iPad Pro, and it has been confirmed to be the first chip in a device using TMSC's FinFET 10nm chip fabrication process.
In a breakdown published by Tech Insights, A10X Fusion die size comes in at 96.4 square millimeters as compared to the 16nm A9X with a die size of 143.9 square millimeters. Even having the notably smaller die size, the chip has 8MB of L2 cache, three CPU cores, and a 12-cluster GPU assembly.
For comparison, the A9X in the previous iPad Pro also had a 12-cluster GPU assembly, but two CPU cores and 3MB of L2 cache. The GPU in the A10X is nearly identical to that in the A9X and A10, so it is likely still Imagination's PowerVR technology.
The step is slightly out of line for Apple. Historically, Apple has shifted to a smaller manufacturing process on the iPhone, rather than on the iPad. The "X" series processor has been an improvement on the smaller die, with more cores for higher performance when associated with a larger battery.
Despite the smaller die size and 10nm process, Anandtech notes that Apple groups the A9 and A10 families together in processor family documentation, including the A9X and A10X in the same family of processors.
The A10X Fusion processor debuted on June 5 in an event that saw the new 10.5-inch iPad Pro released, alongside a refresh of the 12.9-inch iPad Pro. Besides just the new processor, the new iPad Pros also feature "ProMotion" technology and other enhancements, dramatically improving visual performance by giving the screen a 120Hz refresh rate.
An AppleInsider review of the 10.5-inch iPad with the A10X Fusion processor found it to be a massive improvement over the A9X in the 9.7-inch iPad Pro. As a result, "Apple is now essentially competing with itself" in the large-format tablet race.