Verizon Wireless confirms it throttled Netflix streams as part of traffic optimization trial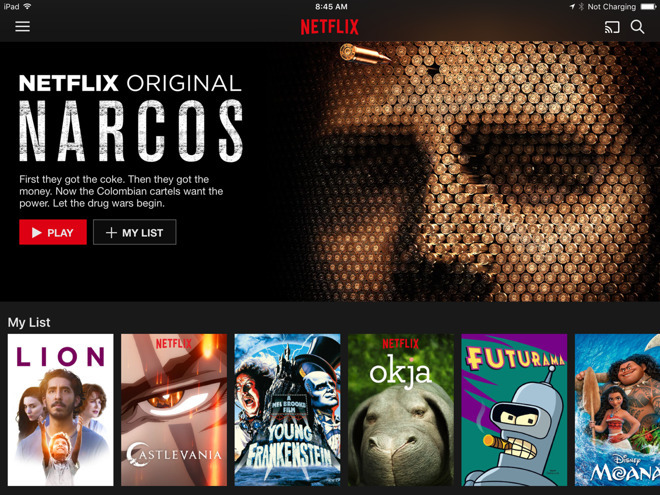 AppleInsider is supported by its audience and may earn commission as an Amazon Associate and affiliate partner on qualifying purchases. These affiliate partnerships do not influence our editorial content.
Verizon Wireless has been throttling video feeds from Netflix over the course of this week, with the carrier claiming it is part of a temporary trial of system to optimize traffic from video streaming services without impacting quality, though customer reports seem to suggest it is a bandwidth cap on Netflix content.
On Thursday, Reddit users were complaining about speed issues when using Verizon to watch video on Netflix and YouTube, reports Ars Technica. Some users were finding that they were limited to speeds of around 10 megabits per second when using Netflix's Fast.com speed testing tool, despite other speed testing sites reporting the same connections as offering speeds multiple times faster.
The phenomena was also noted on the HowardForums, with user GusHerb94 noting that YouTube was running at 1,250 kilobytes per second according to its "stats for nerds" feature, which is approximately the same as 10 megabits per second. When the user connected to YouTube via a VPN, the speed "tripled" compared to not using the VPN.
Another user responded noting their 1440p video stream was "throttled at a constant 9.59Mbps," adding that the speed was so low "it wasn't even able to keep up and buffered a few times."
Verizon advised in a statement "We've been doing network testing over the past few days to optimize the performance of video applications on our network. The testing should be completed shortly. The customer video experience was not affected."
It could be said that Verizon's testing goes against general net neutrality principles, which typically require Internet providers to treat all traffic equally, regardless of source and content, though Title II does permit some exceptions to allow Verizon to manage its network traffic. Capping the speed of one or more specific services could be seen as giving an advantage to another that doesn't have the same restrictions.
A statement from Netflix reads "We don't cap data and don't cap for any mobile network. We offer settings inside the Netflix app to empower our members to control their own quality preferences and data usage."
Netflix has previously throttled video for Verizon subscribers, claiming in March 2016 its throttling of streams to just 600 kilobits per second was an attempt to "protect consumers from exceeding mobile data caps." Since adding the data usage controls to the mobile app, It has ended the practice.
The streaming service has also been an outspoken supporter of net neutrality, and took part in the recent online "Day of Action" to raise awareness of proposals by Federal Communications Commission chairman Ajit Pai to reverse net neutrality protections.
Verizon's testing of connection speed caps isn't the only way that carriers are trying to reduce the amount of bandwidth consumed on their networks by streaming services. T-Mobile's Binge On service "zero rates" data usage for a number of streaming services, but at the same time optimizes the video by reducing the resolution down to 480p.