Internet-connected television use including Apple TV growing to over 168 million in 2017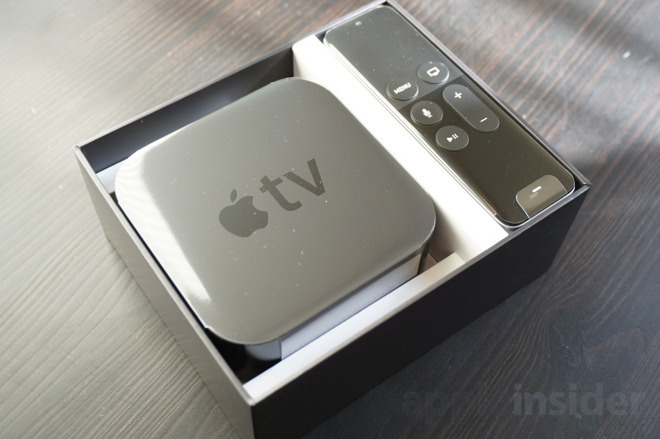 Apple has grown its body of streaming hardware users, but still lags behind offerings from Amazon, Google, and Roku, according to a new research study.
The study, collated by eMarketer sees explosive growth in internet-connected televisions and streaming boxes. In total, 168.1 million people will use an internet-connected TV in 2017, up 10.1 percent over the 2016 number.
Leading the category is smart televisions, with nearly half of all connected viewers at 81.2 million users in 2017. Smart TV growth has led the overall increase, with a 30.8 percent increase in 2017.
Roku has been the main beneficiary of the growth. The survey company sees a 19.3 percent growth since the last measurement period, with 38.9 million Americans using a Roku-equipped device.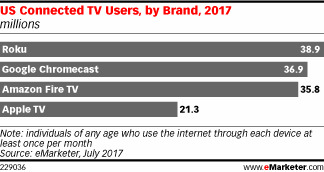 Not made clear by the study is how the devices are being used. While the survey measures actual users, it is not clear if the Roku televisions are being used for regular cable programming with the Roku streaming system idle, or if they are actively being used for internet streaming.
Likewise, it isn't clear if the Apple TV is being used for streaming user content from iTunes, or from an iOS device through AirPlay.
Roku's closet competitor is Google's Chromecast, which should have 36.9 million users this year, roughly 22 percent of connected TV users. Amazon Fire TV is predicted to see 35.8 million users in 2017, holding 21.3 percent of connected TV users.
The Apple TV is fourth, with 21.3 million users sitting at around 12.7 percent of all connected TV users. The study publishers see that growing by four million by the end of 2021, but it does not appear that the study's predictions reflect a rumored 4K update to the Apple TV hardware, nor the forthcoming addition of Amazon Prime Video to the device.
"Apple TV has been held back by the absence of a compelling content offering, a lack of support for increasingly popular Amazon video content and a much higher price bracket than its competitors," principal video analyst at eMarketer Paul Verna said. "Apple TV devices currently start at $150, whereas Google, Amazon and Roku all sell streaming sticks that are priced well below $40."