Apple shares 'Carpool Karaoke' ads featuring Queen Latifah, Cyrus family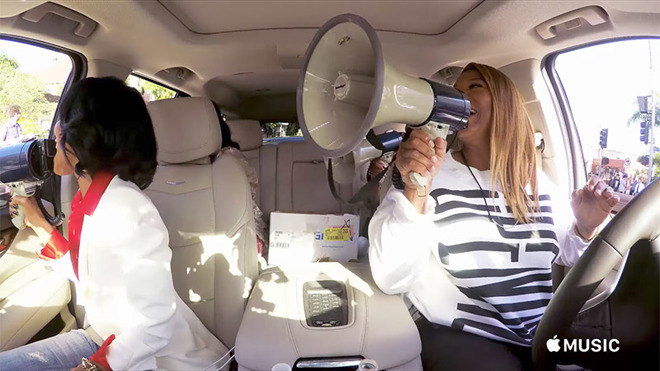 AppleInsider may earn an affiliate commission on purchases made through links on our site.
Apple on Tuesday continued to plug upcoming episodes of "Carpool Karaoke," the company's second attempt at original streaming programming, with ads featuring guests Queen Latifah and the Cyrus family.
The first ad featuring Queen Latifah shows the musician, movie star and talk show host driving through the streets of what is presumably Los Angeles with Jada Pinkett Smith. The duo star in the film "Girls Trip," currently playing in theaters.
As expected from the show, Latifah and Smith drive around town singing their favorite songs and cracking wise. Later in the episode, the pair is joined by "Girls Trip" co-stars Regina Hall and Tiffany Haddish, who promote the movie to passersby with bullhorns and free T-shirts.
A second commercial advertises a forthcoming episode featuring the Cyrus family, including Miley, father Billy Ray, mother Tish, sisters Noah and Brandy, and brothers Braison and Trace. They sing songs performed by Miley, as well as other popular artists, take a family photo and get into the usual "Karaoke" shenanigans.
"Karaoke" premiered on Apple Music earlier this month with an episode featuring Will Smith and show creator James Corden. Apple has a slate of 16 episodes in the hopper starring a laundry list of celebrities including Metallica, Shaquille O'Neal, John Legend, John Cena, Joe Jonas, Ice Cube and more.
The show airs weekly to Apple Music subscribers. Last week, Ariana Grande and Seth MacFarlane sang show tunes as they made their way across L.A., while this week's episode, which went live today, features "Game of Thrones" co-stars Maisie Williams and Sophie Turner.