Apple CEO Tim Cook speaks about Swift curriculum during Austin tech incubator visit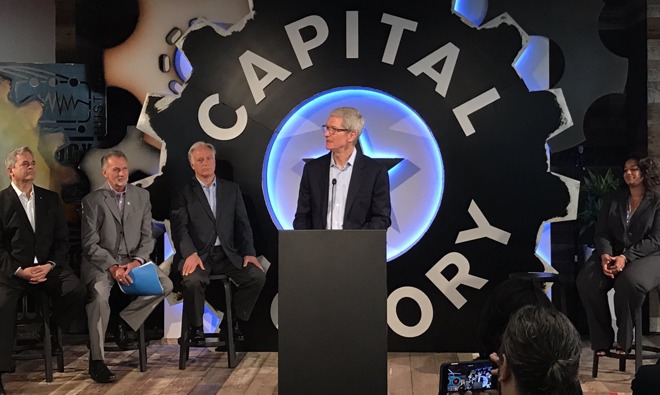 Apple CEO Tim Cook made an appearance at the Capital Factory tech incubator in Austin, Tex., on Friday, using the occasion to make the announcement that over 30 U.S. community college systems will start to offer Apple's 'App Development with Swift' curriculum in the 2017-2018 school year.
On his visit to Capital Factory, Cook confirmed the Austin Community College District was one of the college systems adopting the Swift curriculum. "Every student deserves the best we can give them," Cook told the audience.
Cook took a moment in the speech to pay a compliment to Austin Mayor Steve Adler, also in attendance, thanking him for his leadership. Claiming he and Apple shares Mayor Adler's values in diversity, the environment, and development, Cook said it was an honor to share the stage with him.
The curriculum is meant as a way to teach people who do not have any experience programming to produce their own fully-functional iOS app. The course centers around Swift, the open-source Apple-created language that is chiefly used to produce software on its own platforms.
Cook's trip to Austin, discovered on Thursday by an anonymous tip, follows after the CEO's visit to Des Moines, Iowa, announcing a $1.3 billion project to construct a 400,000 square foot data center. The tip also suggested there may be more announcements later today, including one relating to augmented reality (AR) projects.