Apple AirPods dominant, despite late entrance in 'totally wireless headphone' market segment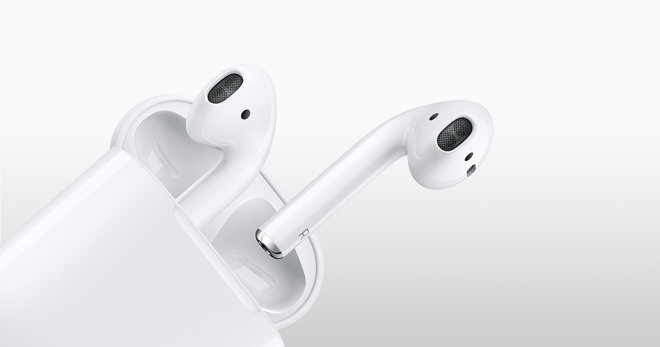 A new market analysis of the headphone market suggests that Apple's AirPods have driven the growth of the totally wireless headphone subcategory, accounting for nearly 85 percent of sales in the segment, as measured by dollars in the US.
Apple's AirPods have in part driven the headphone market by 22 percent when measured by dollar sales, according to a new study by market watchdog NPD. The study cites Bragi and Doppler Labs as being the first entrants into the totally wireless earbud market, but "the entrance of tech titans" have led to a spike in sales in the segment.
Since the start of the year, more than 900,000 totally wireless headphone units, by "mostly Apple" have been sold. Factors leading to the market segment dominance by Apple at present are "disruptive pricing, brand resonance, and excitement over the W1 chip."
To beat Apple in the market, new entrants, like Thursday's Bang and Olufsen and Sony offerings, will "have to provide some differentiation in features, sound quality, or associated services and applications" to challenge the AirPods in the market, according to NPD.
Apple's AirPods shipped to the public in December 2016. The $159 AirPods pair with an Apple iPhone 7 with the W1 wireless chip, and have a five-hour listening time with the included charging case boosting the total to over 24 hours of listening time