Another report says OLED 'iPhone 8' to ship after standard 'iPhone 7s' models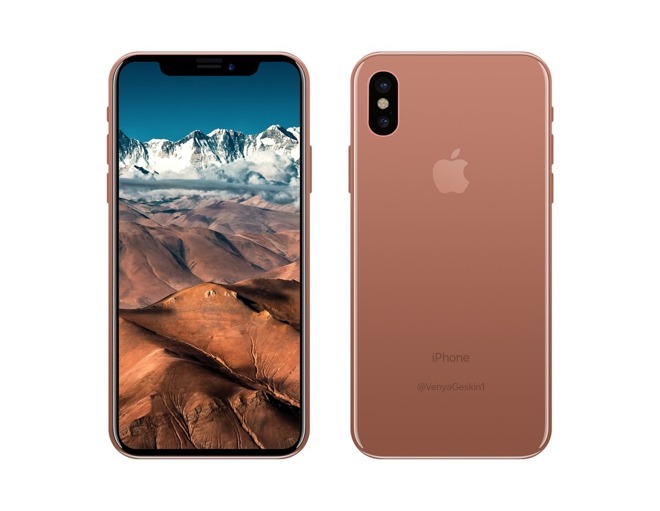 AppleInsider is supported by its audience and may earn commission as an Amazon Associate and affiliate partner on qualifying purchases. These affiliate partnerships do not influence our editorial content.
Another report has surfaced suggesting Apple will stagger the launch of new iPhone models expected to debut at a special event next week, lending credence to speculation that a hotly anticipated "iPhone 8" with OLED screen will ship later than an iPhone 7 revamp.
Citing sources familiar with Apple plans, TechCrunch reports "iPhone 8" will not ship at the same time as "iPhone 7s" models, though both are expected for unveiling on Sept. 12. The publication's sources failed to offer details as to when the high-end handset would launch, nor did they comment on the reasons behind the delay.
Earlier today, a report from Wall Street Journal blamed limited "iPhone 8" availability on a number of technical challenges related to OLED technology and production, as well as last-minute design decisions. In particular, integrating OLED technology into iPhone's already complex display stack proved difficult.
According to the report, Apple only recently opted against embedding a sub-screen Touch ID fingerprint sensor in order to make production deadlines for a fall release. At issue is the next-generation iPhone's screen assembly, which requires multiple layers of adhesive to stack together touch sensors, filters, protective glass and more.
This year's iPhone is also rumored to incorporate a new 3D Touch system. The pressure sensing technology is not present on OLED displays used in phones made by Samsung, which is manufacturing OLED panels for "iPhone 8," meaning Apple had to come up with its own assembly solution. The increased complexity leads to more assembly errors.
Unlike TechCrunch sources, those speaking to WSJ expect constrained "iPhone 8" supply at launch, not a delay in initial shipments. However, a report from Mac Otakara on Thursday cited sources of its own as saying iPhone 7 series revamps are scheduled to ship in September, while the OLED iPhone will hit stores in October.
Apple is expected to put rumors about its iPhone lineup to bed next Tuesday at a special media event at its Apple Park campus in Cupertino, Calif. AppleInsider will be on the scene with live coverage of the keynote starting at 10 a.m. Pacific.