Apple's Clips to add new 'Selfie Scenes' mode powered by iPhone X TrueDepth camera in November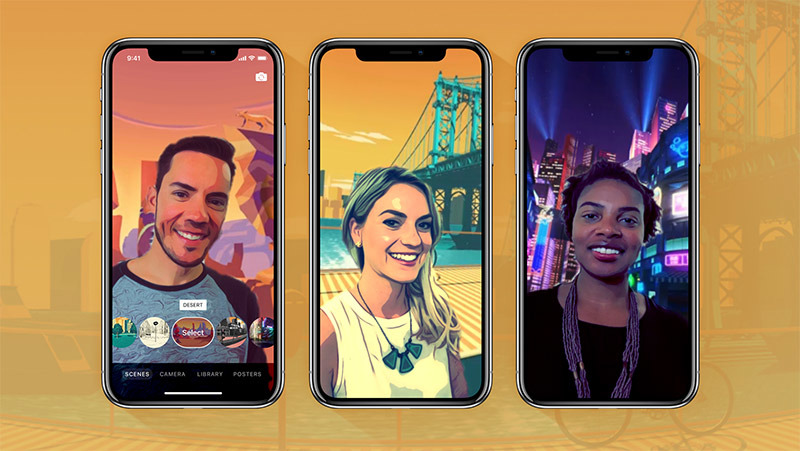 Apple on Tuesday quietly announced a forthcoming update to its Clips app that will add support for the new TrueDepth depth-sensing camera set to debut with iPhone X this November.
A blurb about the upcoming feature addition was added to Apple's dedicated Clips webpage following the onstage debut of iPhone X this morning.
Called Selfie Scenes, the feature will integrate depth data from iPhone X to overlay users into a variety of animated landscapes, movie sets and abstract art. Though the company failed to spell out exactly how Selfie Scenes works, the functionality is likely based in part on technology that powers Portrait Lighting.
Also unveiled during Tuesday's keynote, Portrait Lighting uses facial detection and depth maps to apply realtime lighting effects to faces in real time. Powered by the A11 Bionic chip and Apple's new image signal processor, the feature is an extension of Portrait Mode on iPhone 7 Plus. When it launches as a beta with iPhone 8, Portrait Lighting will support five distinct modes: natural light, studio light, contour light, stage light and stage light mono.
Thanks to its TrueDepth front-facing camera, Portrait Lighting is supported by both front and rear cameras on iPhone X. This specialized camera hardware capability is likely the reason why Apple is limiting Clips's new Selfie Scenes to the company's flagship iPhone.
It appears Apple is also incorporating augmented reality technology into the Selfie Scenes mode, as the company says, "Each scene is a full 360 experience, so any way you move iPhone X, the scene moves with it."