Latest Apple Park drone video shows construction progressing past debut of Steve Jobs Theater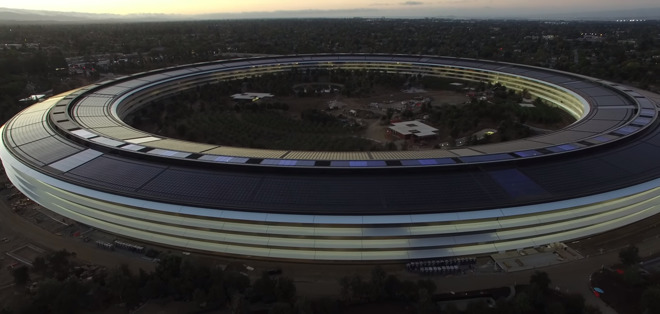 AppleInsider may earn an affiliate commission on purchases made through links on our site.
Sunset drone footage of Apple Park in Cupertino shows that construction is still very much ongoing at the new headquarters, even after this month's public debut of the Steve Jobs Theater.
Crews are continuing to operate within and around the main ring, as well as by the underground tunnel leading people in and out of the campus, video by Matthew Roberts shows. Much of the complex is in its finished state however, including satellite buildings like the Visitor's Center.
Landscaping work is ongoing, but much of the campus is thoroughly populated with new or transplanted trees — an important step, since the company is aiming for a total of around 9,000.
It's uncertain how long it will take Apple contractors to wrap up construction. Deadlines have repeatedly been extended, and indeed there was once concern that the Steve Jobs Theater wouldn't be ready in time for the company's Sept. 12 iPhone event.
Apple's workforce has been moving into Apple Park for months. The campus should eventually play host to some 12,000 workers, including high-level executives like CEO Tim Cook.