Truphone makes Apple SIM-based iPad data plans available in Ireland and Portugal
Truphone has brought its iPad data plans to two more markets, with customers in Ireland and Portugal now able to sign up and enable their iPad's Apple SIM to work with the carrier, and use their iPad to roam in 40 countries as part of the price plan.
Ireland and Portugal joins six other countries where the Truphone iPad data plan is already available, including Australia, Hong Kong, the Netherlands, Poland, Spain, and the United Kingdom. TruPhone also intends to roll out its iPad data plans to an additional 31 countries by the end of 2017, bringing the total to 39 countries.
The data plan's main feature is that customers can roam in 40 countries without enduring any additional roaming charges. The plan is attractive to those traveling between multiple countries, who do not wish to go through the process of changing to local carriers at each location, or paying the roaming fees for their home carrier.
Truphone uses the Apple SIM, technology included in later cellular-capable models of iPad and iPad Pro, saving the need to change a physical SIM card. The Apple SIM also simplifies the sign-up process, with users needing to go to the Mobile Data section of the Settings app and selecting "Set Up Mobile Data," before choosing the carrier.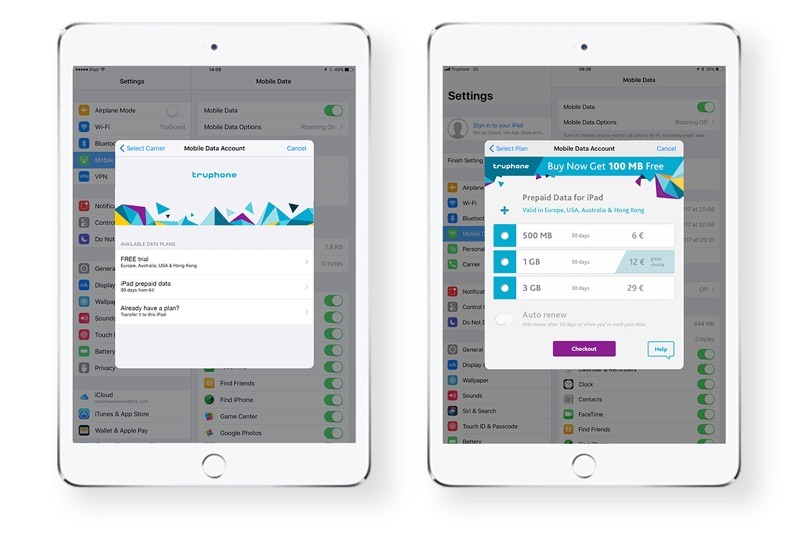 The Apple SIM is included in all cellular iPad Pro models, as well as cellular versions of the iPad Air 2, and iPad mini 3 and newer.
As a non-contract, pre-paid plan, the service costs 6 ($7) for 500 megabytes of data for 30 days, rising to 12 ($14) for 1 gigabyte and 29 ($34) for 3 gigabytes, with 4G data transfers included as part of the plan. Truphone also offers a 100 megabyte free trial, which lasts for 30 days.
The rollout to two new countries coincides with the launch of two features to the service, including the ability to top up anytime without waiting for the plan to expire. It is also possible to set up the service to automatically renew, with the purchase of more data when the current plan expires or is consumed.