Apple CEO Tim Cook touts new Chicago flagship store as a place where people can connect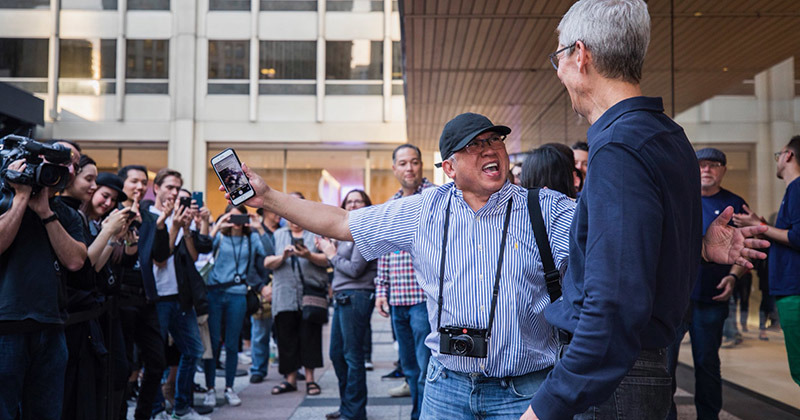 AppleInsider is supported by its audience and may earn commission as an Amazon Associate and affiliate partner on qualifying purchases. These affiliate partnerships do not influence our editorial content.
Apple CEO Tim Cook was in Chicago on Friday to mingle with customers at the grand opening of the company's new Michigan Avenue flagship store, an event hyped earlier this week.
In a photo posted to Cook's Twitter account, the Apple chief is seen welcoming a gathered crowd outside of the new retail outlet. A camera crew and onlookers watched as an unnamed fan appears to come in for a selfie.
"My kind of town, Chicago is [music note emoji] My kind of people, too. Thank you, Chicago, for welcoming us to the Riverwalk!" Cook tweeted.
In a brief interview with NBC affiliate WMAQ, Cook pointed out that Apple opened its first flagship store in Chicago some 14 years ago. The new location, which stands in the shadow of Chicago's iconic Tribune Tower, is a place where people can connect, he said.
"Some stores are for selling — actually almost all stores are for selling," Cook said. "It's actually a small part of what we do in our store. Our stores are about service, supporting customers, being a place where customers can discover and explore our products, and education. And connecting. A place where people can connect."
Located on one end of Chicago's North Michigan Avenue shopping district, Apple Michigan Avenue is an expansive 20,000-square-foot glass, steel and wood building that takes the place of an abandoned food court. Large glass windows double as walls, providing the wide-open feel of an outdoor/indoor space.
Apple teased today's opening on Thursday, with retail chief Angela Ahrendts and CDO Jony Ive promoting the store in interviews with local media.
In celebration of the new store, Apple is presenting a special "Chicago Series" of Today at Apple sessions that throw a spotlight on the city's artists. Created in collaboration with local non-profit and creative organizations, the five-program series starts on Monday and is scheduled to run over the next four weeks. Classes include "Accelerate Your Startup Idea with 1871," "Create Collaborative Art," "Prototype a Civic App with BLUE 1647," "Photograph Chicago with VSCO," and finally "Cultivate Your Voice with Young Chicago Authors."