iPhone X shipping times shorten to 3-4 weeks in US & Canada
By Roger Fingas
Thursday, November 02, 2017, 07:18 pm PT (10:18 pm ET)
Shipping delays for the iPhone X at Apple's U.S. and Canadian online stores have shrunk to between 3 and 4 weeks, matching improvements in Asia, Europe, and the Middle East.

Previously Apple was estimating delays between 4 and 5 weeks. The faster shipping should apply to every color, carrier, and storage combination.





Earlier today, a number of people including multiple AppleInsider readers reported better delivery times for iPhones they'd already preordered, in some cases by a matter of weeks. That would seem to reflect comments by Apple CEO Tim Cook during today's Q4 results call, noting that the company is increasing iPhone X production "week by week" and trying to ship "as soon as possible."

People wanting to get an iPhone X any faster will have to brave lines at retail on Friday. The product is already on sale in Australia and New Zealand, where one of the first people to buy camped out for a week.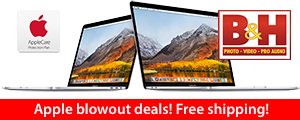 2018 13" Touch Bars
Price
Save
2.3GHz/8GB/256GB (Gray)
$1,649.99+
$150
2.3GHz/8GB/512GB (Silver)
$1,879.00+
$120
2.3GHz/16GB/256GB (Gray)
$1,949.00+
$50
2.7GHz/16GB/512GB
$2,449.00+
$50
2.7GHz/16GB/1TB
$2,849.00+
$50
2018 15" MacBook Pros
Price
Save
2.2GHz/16/256GB/555X
$2,549.00+
$50
2.2GHz/16/512GB/555X
$2,575.00+
$225
2.9GHz/16/1TB/560X
$3,199.00+
$300
2.9GHz/32/2TB/560X (Gray)
$3,999.00+
$700
2.9GHz/32/4TB/560X (Gray)
$5,999.00+
$700
Click here for dozens more configurations
+ Free shipping within the contiguous U.S.
Lowest Prices Anywhere!

13" MacBook Pros
Price
You Save
3.1GHz/8GB/256GB Gray
$1,679.00
$120.00
3.1GHz/8GB/256GB Silver
$1,704.00*
$95.00
3.1GHz/8GB/512GB Gray
$1,849.00*
$150.00
3.1GHz/16/512GB Gray
$2,099.00
$100.00
15" MacBook Pro
Price
You Save
2.8GHz/16/256/555 Silver
$2,199.00*
$200.00
2.8GHz/16/256/560 Gray
$2,299.00
$200.00
2.9GHz/16/512/560 Gray
$2,599.00
$200.00
2.9GHz/16/1TB/560 Gray
$2,999.00
$200.00
3.1GHz/16/512/560 Gray
$2,799.00
$200.00
3.1GHz/16/2TB/560 Gray
$3,899.00
$300.00

*

price with Promo Code:

APINSIDER

prices.appleinsider.com for more configurations