U.S. lines for iPhone X long, but Apple Stores claim to have 'enough' — for now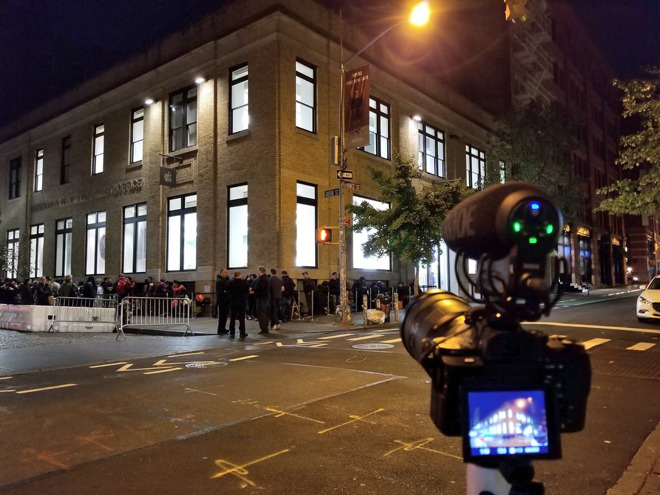 AppleInsider may earn an affiliate commission on purchases made through links on our site.
Lines at the U.S. Apple Stores mirror those Thursday's queues at international venues, and AppleInsider has learned that stores typically have well over 300 units on hand to sell, and in some cases, nearly a thousand.
Twitter user and blogger "Dominicanabroad" posted a video of the second line at the World Trade Center Apple Store. A first line was inside the store at 7 a.m.
New York City's CoSo store had a profound line of people at 8:10 a.m., according to Casey Neistat. He also reports that most people he spoke with were buying two.
Apple store SoHo 8:10am. doors are open, hard to imagine they have enough for everyone - most people I talked to are each getting 2 devices pic.twitter.com/xbt7o16qSE

— Casey Neistat (@CaseyNeistat) November 3, 2017
Sara DiNatale, a reporter for the Tampa Bay Times, took photos outside her local Apple Store, with lines reaching well outside the store.
The Willowbrook Mall in Wayne, N.J., also has a long queue, with the line extending past the Best Buy Mobile store down the hall from the venue.
Twitter user Raymond Wong posted video of a massive line outside an undisclosed location, with the first purchasers being processed inside a very busy store.
Apple also offered its own collection of images from the first iPhone X sales around the world, including London, Dubai, Singapore, Tokyo, and Sydney.
AppleInsider has queried local locations, and sources not authorized to speak for the company say that there are "hundreds" of iPhone X ready for purchase. All the stores we asked said that they had "enough" phones to slake the appetites for the device for the people currently in line — but that it wouldn't last through the day, or more likely, to 10 a.m.
All of our sources at Apple Retail said that they have "far more" of the iPhone X for today's release then they had of the iPhone 7 Plus went it on sale in 2016.
Similar queries to corporate-owned carrier retail stores showed just a handful in total of the iPhone X in stock for sale on Friday morning.