Coach ships four new Apple Watch bands for men & women
By Roger Fingas
Tuesday, November 14, 2017, 12:21 pm PT (03:21 pm ET)
Luxury brand Coach has released several new Apple Watch bands for the fall season, looking to draw in fans of Apple's wrist-worn computer as a fashion item.




All-new bands include the Strap with Camo Print in Surplus and the Strap with Sharky in Beechwood. Updated colors include the Strap with Tea Rose in Heather Grey, and the Strap with Prints in Black Multi or Melon.

The Camo Print and Sharky bands are 42-millimeter designs intended for both men and women, but the Tea Rose and Prints options are aimed only at women, and sold in a 38-millimeter format. Most of the bands cost $150, except for the Tea Rose, which is $175.





Those prices are similar to the $149 Apple charges for its main leather bands, the Classic Buckle and Leather Loop.
Today's Headlines
No news headlines yet today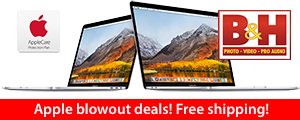 Lowest Prices Anywhere!