Apple and Stanford Medicine fire up Heart Study to spot irregular beat, atrial fibrillation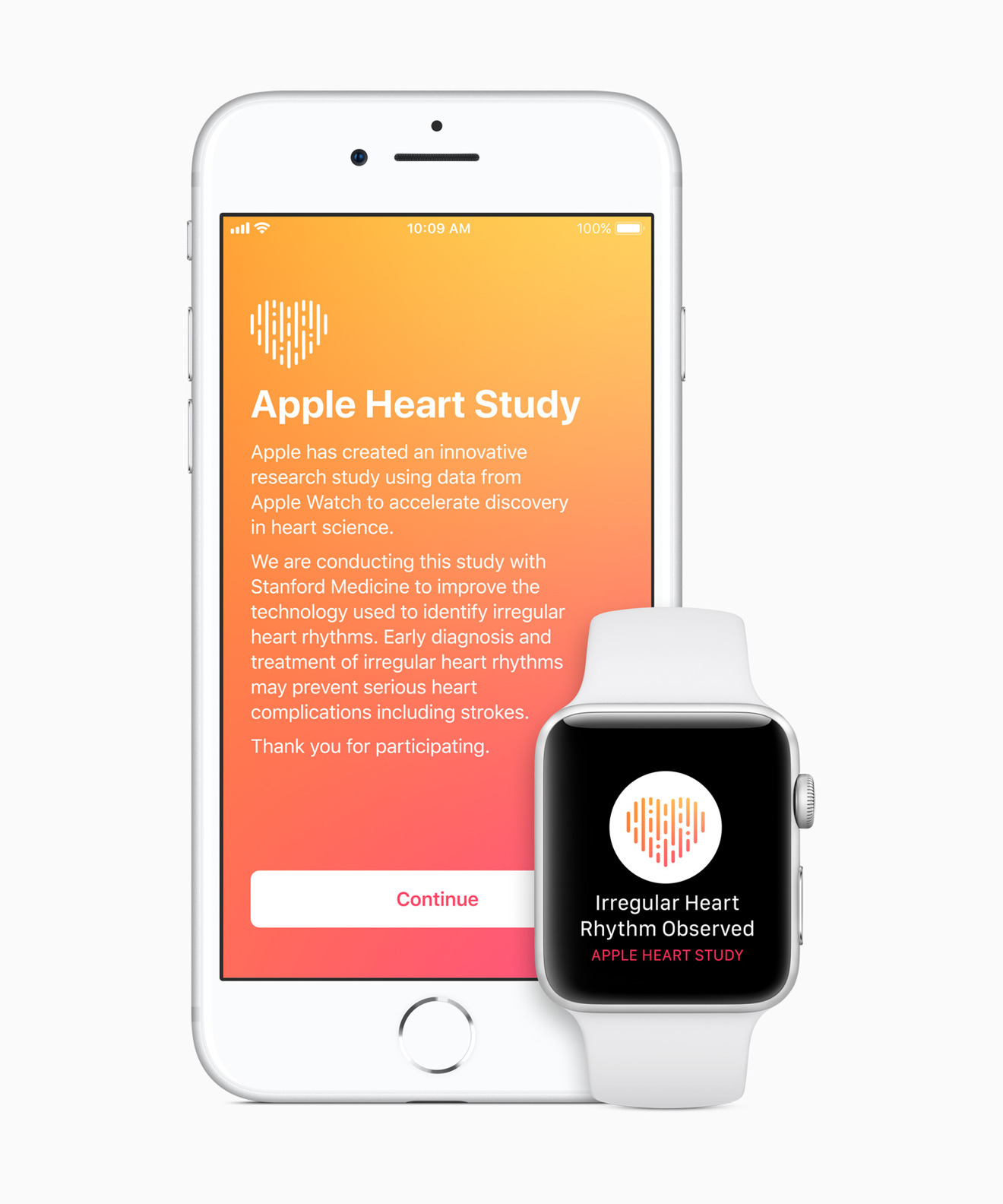 Apple, in conjunction with Stanford Health, has launched the Apple Heart Study app, a first-of-its-kind research study allowing any user with an Apple Watch to collect data on irregular heart rhythms and to be proactively notified when they may be experiencing atrial fibrillation.
To calculate heart rate and rhythm, the Apple Watch uses green LEDs coupled with light-sensitive photodiodes to detect the amount of blood flowing through the wrist. The sensor collects signals from four points on the wrist, and uses the data to identify an irregular heart rhythm.
"Every week we receive incredible customer letters about how Apple Watch has affected their lives, including learning that they have AFib. These stories inspire us and we're determined to do more to help people understand their health," said Apple Chief Operating Officer Jeff Williams. "Working alongside the medical community, not only can we inform people of certain health conditions, we also hope to advance discoveries in heart science."
If an irregular heart rhythm is identified, study participants will receive a notification on their Apple Watch and iPhone, a free consultation with a study doctor and an electrocardiogram peripheral for additional monitoring.
"Through the Apple Heart Study, Stanford Medicine faculty will explore how technology like Apple Watch's heart rate sensor can help usher in a new era of proactive health care central to our Precision Health approach," said Lloyd Minor, Dean of Stanford University School of Medicine. "We're excited to work with Apple on this breakthrough heart study."
The study was originally announced during the Apple Watch Series 3 release event. At the time, Apple noted that it was working with the U.S. Food and Drug Administration on the process. According to Apple, the Apple Watch is the most used heart rate monitor in the world.
Atrial fibrillation, the leading cause of stroke, is responsible for approximately 130,000 deaths and 750,000 hospitalizations in the US every year. Many people don't experience symptoms, so the disease often goes undiagnosed.
The Apple Heart Study app will be available soon in the U.S. App Store to customers who are 22 years or older, and have an Apple Watch Series 1 or later.