SiriusXM comes to Apple CarPlay for easier control
By Roger Fingas
Thursday, November 30, 2017, 12:59 pm PT (03:59 pm ET)
Satellite radio service SiriusXM has updated its iOS app with support for CarPlay, offering an alternative to native dash interfaces, aftermarket receivers, or simply mounting an iPhone.




The CarPlay extension brings SiriusXM into the unified Apple ecosystem, regardless of whether a car has a physical tuner. Simplified app controls let users browse live channels and on-demand content, diving into categories such as "Music," "Howard Stern," and "News & Issues."

Listening still requires a cellular connection and an eligible subscription. These include a $15.99-per-month streaming-only plan, and a $20.99 All Access tier.

New on the iPhone, meanwhile, is the ability to tune channels through simple swipe gestures.

The SiriusXM app is a free download, and runs on any device with iOS 8 or later.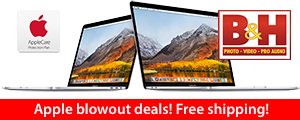 2018 13" Touch Bars
Price
Save
2.3GHz/8GB/256GB (Gray)
$1,699.00+
$100
2.3GHz/8GB/512GB (Silver)
$1,879.00+
$20
2.3GHz/16GB/512GB (Gray)
$2,099.00+
$100
2.7GHz/16GB/512GB
$2,449.00+
$50
2.7GHz/16GB/1TB
$2,849.00+
$50
2018 15" MacBook Pros
Price
Save
2.2GHz/16/256GB/555X
$2,215.00+
$185
2.2GHz/32/1TB/560X
$3,449.00+
$50
2.6GHz/16/512GB/560X
$2,575.00+
$224
2.6GHz/16/1TB/560X (Gray)
$2,999.00+
$200
2.6GHz/32/1TB/560X (Gray)
$3,399.00+
$200
2.6GHz/32/2TB/560X (Gray)
$3,999.00+
$400
Click here for dozens more configurations
+ Free shipping within the contiguous U.S.
Lowest Prices Anywhere!

13" MacBook Pros
Price
You Save
3.1GHz/8GB/256GB Gray
$1,679.00
$120.00
3.1GHz/8GB/256GB Silver
$1,704.00*
$95.00
3.1GHz/8GB/512GB Gray
$1,849.00*
$150.00
3.1GHz/16/512GB Gray
$2,099.00
$100.00
15" MacBook Pro
Price
You Save
2.8GHz/16/256/555 Silver
$2,199.00*
$200.00
2.8GHz/16/256/560 Gray
$2,299.00
$200.00
2.9GHz/16/512/560 Gray
$2,599.00
$200.00
2.9GHz/16/1TB/560 Gray
$2,999.00
$200.00
3.1GHz/16/512/560 Gray
$2,799.00
$200.00
3.1GHz/16/2TB/560 Gray
$3,899.00
$300.00

*

price with Promo Code:

APINSIDER

prices.appleinsider.com for more configurations