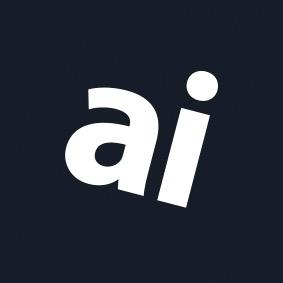 Why you can trust AppleInsider
Review: Brydge Bluetooth keyboard for iPad Pro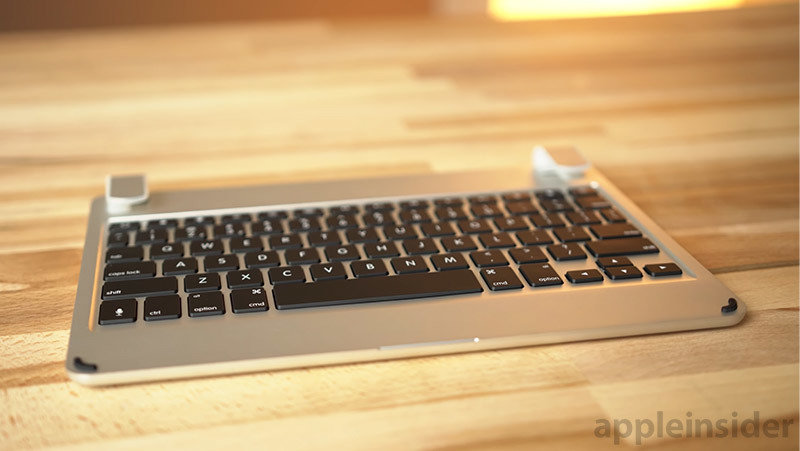 ---
The Brydge keyboard for Apple's 10.5-inch iPad Pro is a good way to make your beloved tablet look and feel closer to a MacBook, but a few curious design choices, like lack of support for Apple's Smart Connector, makes it less than perfect.
With iOS 11, Apple designed a mobile operating system to make iPad feel more like a Mac, further blurring the line between tablet and laptop. Despite the UI changes, if you're serious about replacing a MacBook with an iPad Pro, you're going to need a physical keyboard.
Enter the Brydge keyboard for Apple's 10.5-inch iPad Pro. While Brydge has been around for years (we reviewed an earlier Brydge model in 2014), this is the company's newest design sized for the slightly larger 2017 10.5-inch iPad Pro.
Design
Right out of the box, you'll notice that the aluminum Brydge feels really solid. It is pretty lightweight as well, coming in at only 50 grams heavier than the iPad Pro itself, an ideal weight that won't cause balance issues.
The build quality is likewise impressive. The hinge feels solid and has a seemingly perfect amount of tension that allows the keyboard to snap right into place when closing.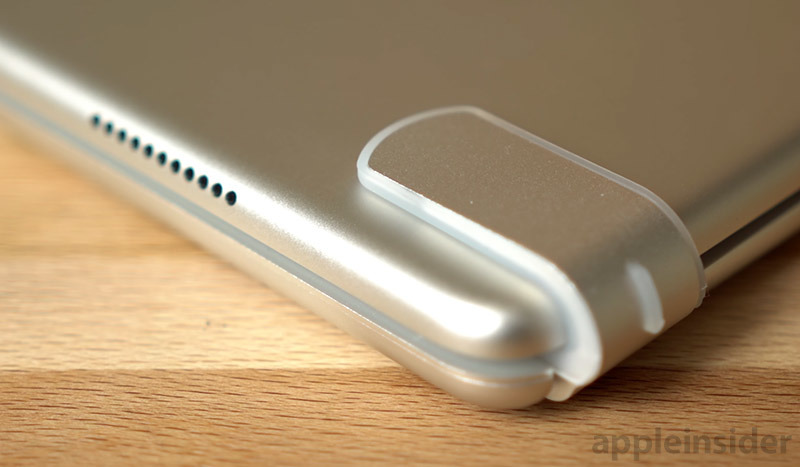 Due to the hinge design, Brydge lacks a Smart Connector. This means the keyboard communicates with iPad via Bluetooth, which in turn requires the device have its own built-in battery. We were disappointed to see a micro-USB charging port instead of Lightning or USB-C, but Brydge claims 12 months of battery life at 2 hours of usage per day.
A USB to micro-USB charging cable is included in the box, but you'll have to provide your own charging brick if you want to charge from the wall.
Looking at the keys, I'm reminded of the MacBook Air's keyboard, which uses keys with smaller key tops than those found on Apple's most recent MacBooks. The newer, larger keys are definitely preferable, but for a portable tablet keyboard, these pint-sized versions are workable.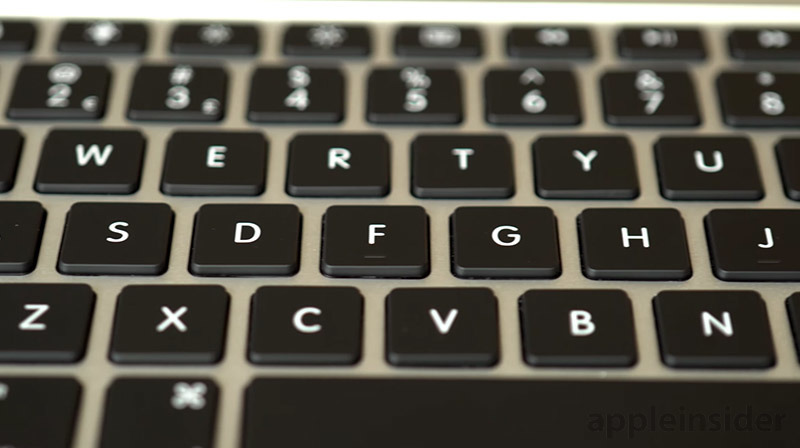 There's a satisfying amount of tension when sliding the iPad into the hinge. We even flipped the keyboard upside down and shook it — the iPad didn't budge.
Since the hinge has such a tight and perfect fit, Brydge recommends that you don't use a screen protector with the keyboard installed. Both sides of the hinge are perfectly flush with the iPad's screen, so you can easily get the Pro centered each and every time. The bottom of the screen also fits perfectly flush with the edge of the keyboard.
More impressive, when you close the combo, you'll find that the keyboard matches the exterior dimensions of the 10.5" iPad Pro perfectly, so each edge is smooth and flush. Looking at it from a profile view, you'll find that the keyboard perfectly matches the iPads thickness as well.
The color also matches almost perfectly, so it seems as if it was made alongside the iPad. But we did notice that the keyboard has a bit more of that metallic/sparkly look compared to the iPad Pro. Brydge also offers this keyboard in every color that's available for the 10.5" iPad Pro, and they take every effort for it to match the color of the related iPad.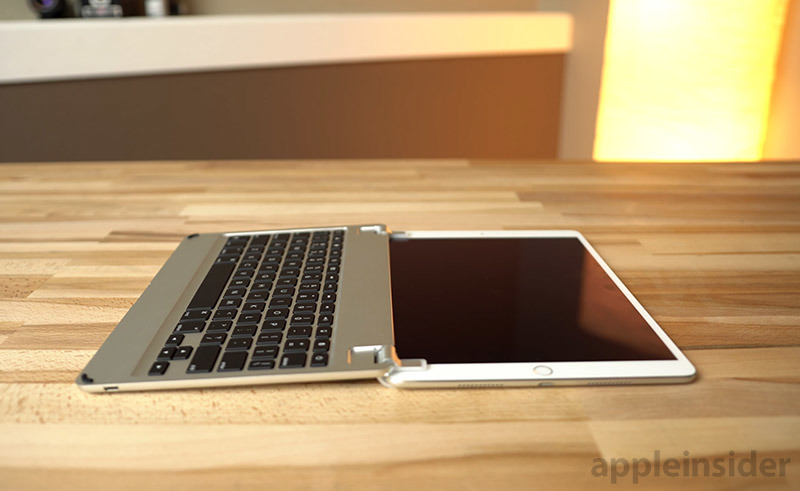 Opening it up, the hinge feels very smooth with a surprisingly small amount of opening resistance for how well it holds the iPad in place. You can adjust the hinge from a 0-180 degree viewing angle, allowing you to lay iPad flat on a table. Unfortunately, Brydge is unable to fold back behind iPad for tablet use.
The rubber pads on the bottom of the keyboard do a great job of keeping it in place while typing.
If you are only planning on using the keyboard at home, it's very quick and easy to remove the iPad Pro and take it on the go.
In use
Hitting the power button in the corner, a green LED flashes to confirm it's on. Pairing is made simple by holding the Bluetooth button until the LED starts flashing blue. From there, all you need to do is connect and pair within iPad's Bluetooth settings.
Pairing was instant, with no connection issues to speak of.
This keyboard features a backlight for working in the dark, but unlike MacBook, each key is not lighted individually. A backlight button toggles through 4 settings: Off, low, medium, and high backlighting.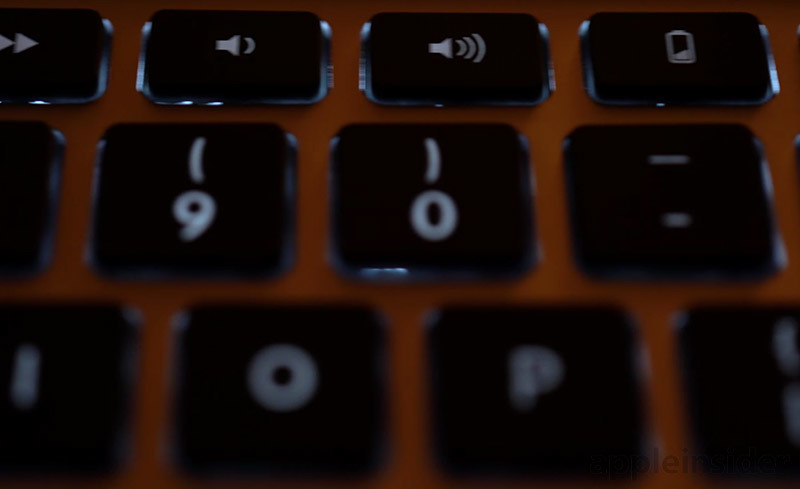 The backlighting is brighter than expected, so you shouldn't ever need to go above medium. Having brighter options is a nice bonus, though the universal backlighting design means light will bleeds around the edges of the keys. Some may actually prefer this backlighting technique to help see each key, but I personally like individually backlit keys.
The built-in screen brightness and volume buttons are much more convenient than having to manage those controls in Control Center. These functions help the keyboard/iPad combo to feel like a MacBook, and I found myself using those keys often. The only downside is that you're missing a mute button for audio, but that's not really an option available on iOS in the first place.
There's even a sleep/wake button, although you'll need to hit the home button on your iPad to get to the home screen after waking. This button is useful for when you need to walk away for a while but don't want to fold the iPad down.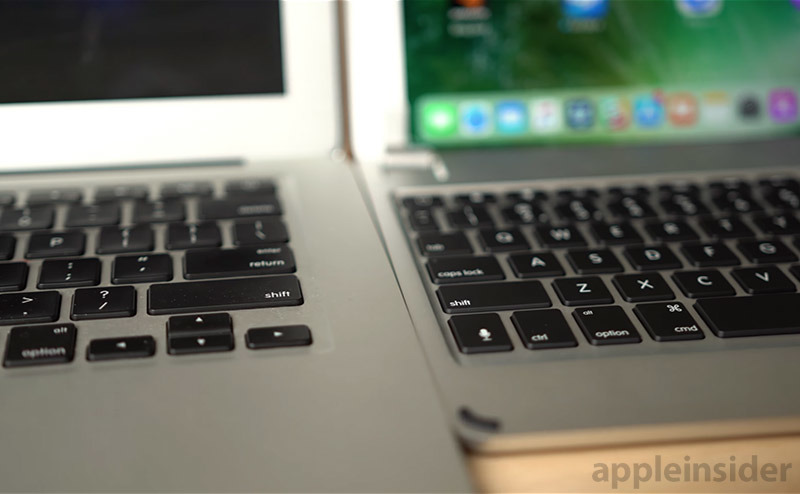 Like Apple's first-party Smart Keyboards, Brydge can be configured to automatically lock and unlock iPad when closing and opening the keyboard. If for some reason you don't like that feature, it can be disabled in system settings.
There's a keyboard button, which works pretty well for things like the notes app, instantly bringing up and hiding the onscreen keyboard. This can be useful for adding emojis or enabling dictation.
Of course you've also got some buttons for controlling media and playback, and they function just like their MacBook counterparts.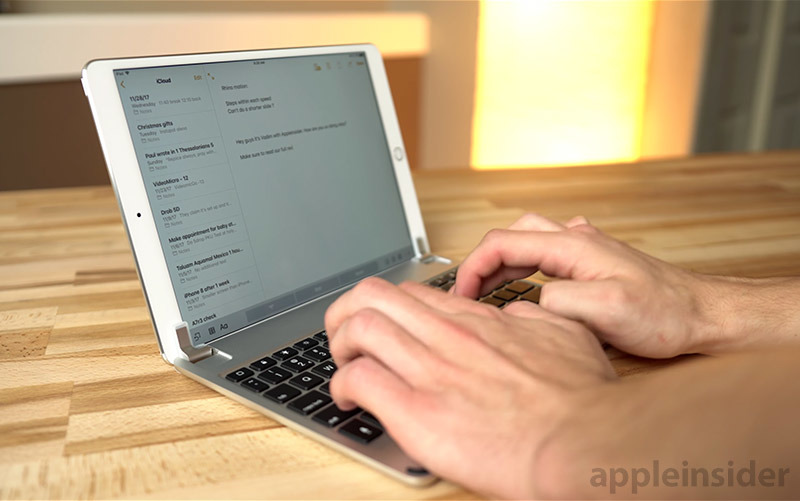 Typing on the keyboard, the hinge stays very solid and the combo doesn't wobble or move at all. The keys feel pretty good, but I definitely prefer the clickier feeling of the keys on a 2016 MacBook Pro.
There's quite a bit more key travel compared to that laptop, but less so as compared to a MacBook Air. As mentioned above, the keys are smaller than a MacBook's since they have to fit in a smaller frame, and typing on the device could take some getting used to.
I noticed that some of my keystrokes weren't registering because I wasn't applying enough pressure when typing. After a few days of use, however, we got used to the pressure threshold.
Conclusion
When closed, they keyboard and iPad Pro combo is pretty comfortable to carry around, and it looks amazingly clean and stylish.
The downside of having such a simple and clean look is that while the screen is protected, the aluminum body isn't. So if you're the clumsy type and really care about keeping your iPad Pro like new, this keyboard might not be for you.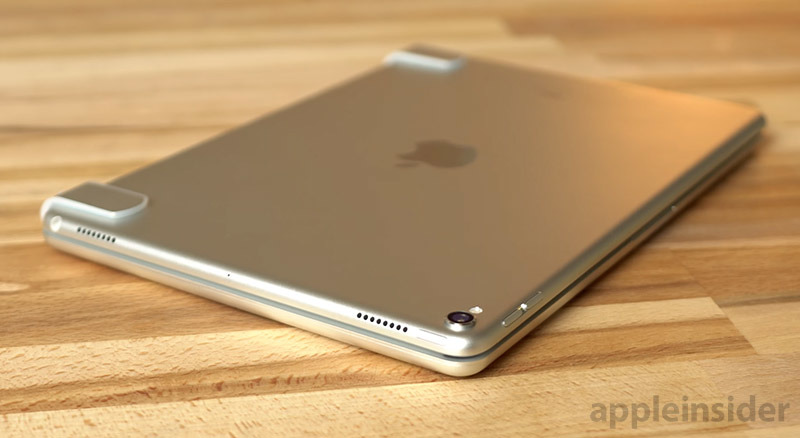 The Brydge keyboard for the 10.5" iPad Pro is priced at $140, almost $20 less than Apple's 10.5" Smart Keyboard, which utilizes the smart connector so you don't have to charge it. Since it doesn't need a battery, the Smart Keyboard is a lot thinner, lighter and more portable, but we've got to admit that the Brydge feels more solid and the adjustable viewing angles really help with ergonomics.
Overall, the Brydge keyboard boasts impressive build quality, a very solid yet smooth hinge, and a perfectly flush and clean design. The keys aren't the best, but all the shortcuts and control buttons work perfectly, with nice and bright key backlighting. For now, Brydge might be the closest to achieving a MacBook experience on iPad.
Score: 4 out of 5
Where to buy
The Brydge Bluetooth Keyboard for Apple's 10.5-inch iPad Pro is available for $139.99 at Amazon.com with free shipping. B&H Photo also has the keyboard for $139.99 with free expedited shipping and no sales tax on orders shipped outside NY and NJ, although there is a 7 to 10 day wait.