Long-running AOL Instant Messenger shuts down for good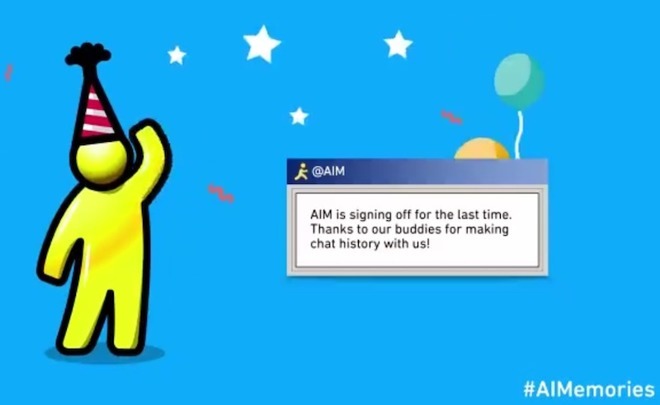 As promised, Verizon's Oath on Friday shut down AOL Instant Messenger, once as omnipresent on the internet as services like WhatsApp and Facebook Messenger are today.
The closing was announced in early October, without any plans for a replacement or transition. In fact AOL had already removed third-party support in March, cutting off many access points.
AIM first launched for Windows in 1997 and soon became commonplace, helping to codify many aspects of online messaging and how people speak online, including terms like "a/s/l" and "lol." The service eventually migrated to other platforms and various third-party apps, among them Apple's, making it a useful means for Mac and Windows users to talk to each other.
The service's decline can likely be traced to that of AOL itself, as well as the proliferation of smartphones and other online chat alternatives. Chat is now built into Web services such as Gmail and Facebook, and users of Apple and Google devices have access to their own integrated options. Some apps — like Slack or Apple's Messages — even have their own mini-apps extending features.
Apple only pulled AIM support from the macOS Messages app when it released High Sierra in September, presumably because removing it was a low priority. By the beginning of 2017, the number of active AIM users had already dwindled to a fraction of its peak.