Niantic's 'Pokemon Go' to go iOS 11-only in late February
By Roger Fingas
Wednesday, January 10, 2018, 07:33 am PT (10:33 am ET)
As of Feb. 28, people will no longer be able to play Niantic's "Pokemon Go" on devices without iOS 11 —cutting off access on some older iPhones and iPads.




Affected devices include the iPhone 5 and 5c, and iPads ranging from the iPad 2 through to the fourth-generation model and the original iPad mini. None of those devices can upgrade past iOS 10.

Beyond February, gamers trying to play "Pokemon Go" on that hardware may be unable to use PokeCoins or other Bag items, or even access their accounts, Niantic said. The change will take effect with an upcoming app update expected on Feb. 28.

Recently the game was upgraded with support for ARKit, Apple's augmented reality platform. While there already was an AR mode, ARKit consumes less battery life and allows Pokemon to sit firmly on real-world surfaces with natural lighting. However, that technology does require an iPhone 6s or better.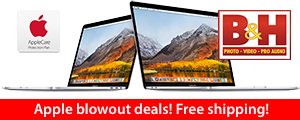 2018 13" Touch Bars
Price
Save
2.3GHz/8GB/256GB (Gray)
$1,649.99+
$150
2.3GHz/8GB/512GB (Silver)
$1,879.00+
$120
2.3GHz/16GB/256GB (Gray)
$1,949.00+
$50
2.7GHz/16GB/512GB
$2,449.00+
$50
2.7GHz/16GB/1TB
$2,849.00+
$50
2018 15" MacBook Pros
Price
Save
2.2GHz/16/256GB/555X
$2,549.00+
$50
2.2GHz/16/512GB/555X
$2,575.00+
$225
2.9GHz/16/1TB/560X
$3,199.00+
$300
2.9GHz/32/2TB/560X (Gray)
$3,999.00+
$700
2.9GHz/32/4TB/560X (Gray)
$5,999.00+
$700
Click here for dozens more configurations
+ Free shipping within the contiguous U.S.
Lowest Prices Anywhere!

13" MacBook Pros
Price
You Save
3.1GHz/8GB/256GB Gray
$1,679.00
$120.00
3.1GHz/8GB/256GB Silver
$1,704.00*
$95.00
3.1GHz/8GB/512GB Gray
$1,849.00*
$150.00
3.1GHz/16/512GB Gray
$2,099.00
$100.00
15" MacBook Pro
Price
You Save
2.8GHz/16/256/555 Silver
$2,199.00*
$200.00
2.8GHz/16/256/560 Gray
$2,299.00
$200.00
2.9GHz/16/512/560 Gray
$2,599.00
$200.00
2.9GHz/16/1TB/560 Gray
$2,999.00
$200.00
3.1GHz/16/512/560 Gray
$2,799.00
$200.00
3.1GHz/16/2TB/560 Gray
$3,899.00
$300.00

*

price with Promo Code:

APINSIDER

prices.appleinsider.com for more configurations