OWC ships Mercury Elite Pro Quad four-bay external drive with USB-C connectivity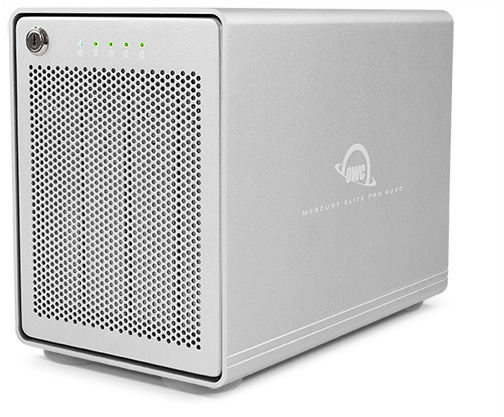 Aftermarket Mac upgrade vendor OWC has launched the Mercury Elite Pro Quad, an external hard drive enclosure which connects via USB-C that is capable of offering up to 48 terabytes of RAID storage when all four of its bays are occupied with drives.
The Mercury Elite Pro Quad can accept up to four 2.5-inch and 3.5-inch hard drives, and is capable of transfers of up to 947 megabytes per second over USB 3.1 Gen 2. The USB-C connection allows it to be connected to any USB-C or Thunderbolt 3 port, but it does include a USB-C to USB-A adapter cable to use the older and slower USB connections.
Two versions of the enclosure are offered with different RAID setups using OWC's SoftRAID engine, depending on the Mac user's needs. One is set up with RAID 0 and RAID 1 modes as the "RAID-ready" option, as well as disk certification and drive monitoring, while the other supports RAID 0, RAID 1, RAID 4, RAID 5, and RAID 1+0.
The RAID options are specifically for Mac usage, but Windows users are able to set up simple striped, two-way mirrored, and parity storage spaces in Windows 7 and later operating systems if required.
Housed in a heat-dissipating aluminum enclosure, the storage device is designed to be as silent as possible, with a "whisper-quiet" fan used for cooling and vibration-absorbing feet. To the front is a lock and status indicators for each drive, and the back panel houses the USB Type-C port, an AC power input, a Kensington-compatible lock slot, and the fan.
The enclosure is available on its own as well as with drives at various capacity levels. The enclosure on its own includes a one-year limited warranty, while the versions with drives have a three-year limited warranty and undergo a multi-hour drive "burn-in" procedure to make sure the drives are operating properly before being used to store data.
Where to buy
OWC is selling the Mercury Elite Pro Quad through its MacSales store and via resellers. The enclosure alone is priced at $299.99 for the RAID-ready version, rising to $399.99 for the RAID 5-equipped model, while the versions including drives start from $549.99 for 4 terabytes and rise up to $2,999.99 for the Raid 5 48-terabyte variant. B&H Photo also has the Mercury Elite Pro Quad with drives starting at $548.75 with no tax collected on orders shipped outside New York and New Jersey (Colorado and Vermont residents, see here).