Thunderbolt, Thunderbolt 2 eGPU compatibility purged from macOS High Sierra beta 5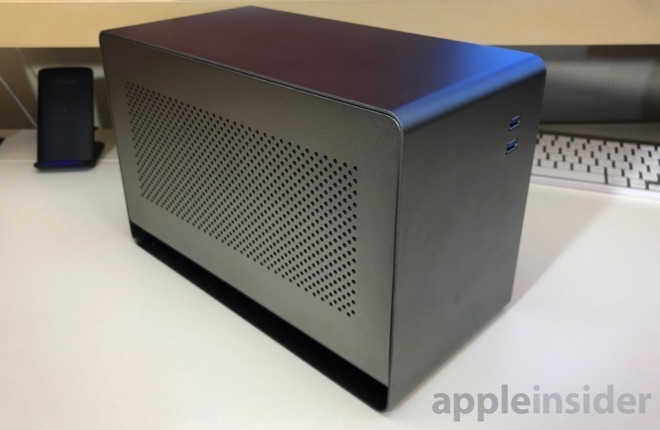 Monday's update to the High Sierra 10.13.4 beta has continued to advance external GPU technology, but at a cost — older hardware using Thunderbolt 2 including the cylinder Mac Pro — are out out luck at present.
Connection and disconnection of an external Thunderbolt 3 GPU is now a bit faster than it was in the previous beta release. But, the improvements are tempered somewhat by owners of older equipment no longer being able to use the technology at all.
At present, it is unclear if there are any hacks to install to re-enable the feature. Those wanting to use the technology with Nvidia PCI-E cards already have to run a script to get them to work, so a community fix may be possible in the future.
The eradication was spotted by continued AppleInsider testing, as well as users in the egpu.io forums.
It isn't clear at this point if this is a permanent removal, or a temporary one. If permanent, the technology will be limited to the 2016 and 2017 MacBook Pro, and the 2017 line of iMacs, including the iMac Pro.
Under the betas of High Sierra 10.13.4, an external GPU can be connected while the machine is running, and it will not pop up a notification to logout to enable the GPU. Rather, it connects automatically, and shifts to the previous configuration.
Before High Sierra 10.13.4, clamshell mode was partially implemented. If the displays were mirrored to begin with, if you shut the lid on a MacBook Pro it would turn off that display. However, if you had two workplaces, the workspace on the MacBook Pro's screen would remain active, even with the lid shut.
With the new release, Clamshell mode implements properly on lid-shut, even with a workspace spanning the MacBook Pro's internal display in conjunction with external displays.
Apple's support for external Thunderbolt 3 enclosures containing a PCI-E GPU began following the 2017 WWDC. The feature, while present in all High Sierra builds, is still considered a beta. Apple has announced that support for external GPUs will be fully supported in the spring.