Apple releases iTunes 12.7.4 with new Music Videos section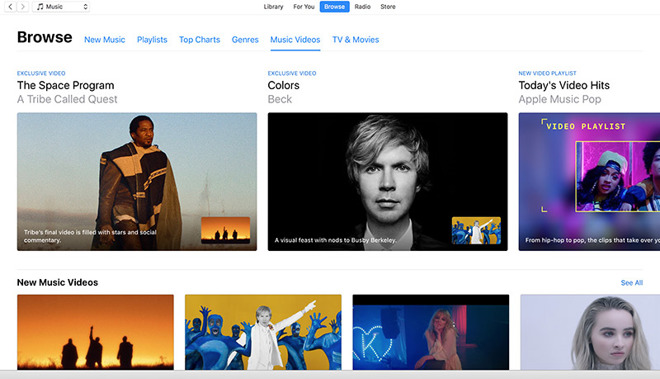 AppleInsider may earn an affiliate commission on purchases made through links on our site.
Apple on Thursday issued a fresh version of iTunes with a new section for browsing and playing back music videos, bringing its desktop content repository up to speed with Apple Music for iOS.
The latest iTunes version 12.7.4 throws a spotlight on new, popular and exclusive music videos in a new section accessible from the Browse tab.
Similar to other Browse sections, music video selections are arranged as cards. Exclusive content, currently videos from A Tribe Called Quest and Beck, rate large cards at the top of the page, as do new playlists like "Today's Video Hits." Featured videos and a "Watch Now" sub category also appear in the top carousel.
Below the main highlights row is a section for new music videos. A dedicated video playlists bar is also included for browsing by genre, while users can manually add videos to their own playlists for back-to-back viewing.
iTunes now includes a new music video experience for Apple Music. Find what's new and popular in Muisc Videos with Browse, and play videos back-to-back with exclusive music video playlists.
The iTunes release comes on the heels of an update to Apple Music that delivered identical functionality to iOS device users. As with the iOS version, iTunes users looking to take advantage of the Music Videos section must be Apple Music subscribers.
iTunes version 12.7.4 is a free 223MB download from the Mac App Store.