Apple reveals new Shinjuku store ahead of grand opening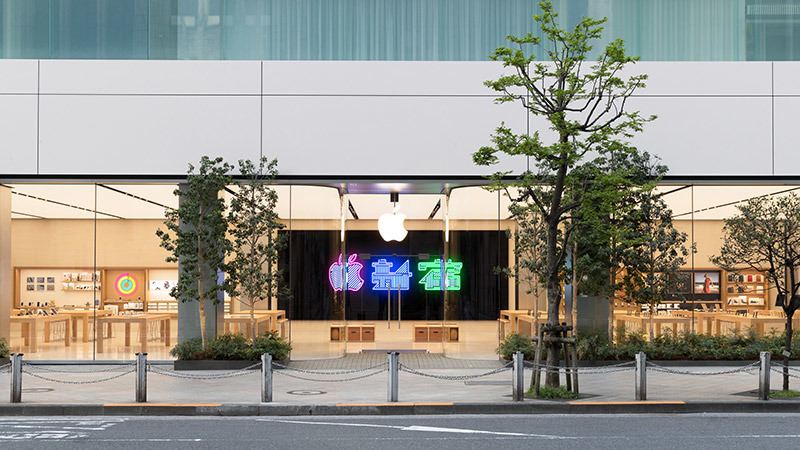 Apple on Wednesday announced the grand opening of a retail outlet in Tokyo's Shinjuku ward, the first in a series of new stores, renovations and other investments planned for Japan.
The company threw a spotlight on the store, due to open its doors on Saturday, in a press release posted to its website.
Shown off in a set of three photos, the Shinjuku location sports the usual next-generation Apple store aesthetic complete with high-flung ceiling, accessory avenues and bespoke wooden display tables flanking a large, centrally located 6K video wall. Tall glass panels run the length of the store's 37-meter facade, which is fronted by carefully placed planters holding local Longstock Holly trees.
Though not considered a flagship, Shinjuku will be the first of Apple's retail outlets in Japan to sport a "town square" design concept. Along with custom product areas, Apple's design incorporates large, open spaces for educational presentations delivered through the Today at Apple program. At Shinjuku, it appears those sessions will take place just inside the store's front door.
Last month, retail chief Angela Ahrendts said Apple plans to open several new stores in Japan over the next five years as the company reinvests in the region.
"Apple has a long and special history in Japan, and Shinjuku marks the first of several new stores we'll open in Japan in the coming years," Ahrendts said in a statement today. "We can't wait to welcome the vibrant community in Shinjuku to experience all the best Apple has to offer."
Ahrendts failed to detail where Apple plans to build next, nor did she specify which existing stores are earmarked for a makeover. Another Tokyo location in Shibuya is currently closed for renovations.
While Japan accounts for about 9 percent of Apple's sales, customers in the country can only visit six physical Apple-run stores (seven counting Shibuya) to try out the company's latest products and receive assistance from Genius Bar staff. Despite limited access, Apple's Japanese shops have collectively hosted some 70 million visitors since the first outlet opened in Tokyo's Ginza shopping district in 2003.
Apple Shinjuku opens on Saturday, April 7 at 10 a.m. local time. Visitors looking to sign up for Today at Apple sessions can browse upcoming availability through the store's dedicated website. On Saturday, Creative Pros will lead a Music Lab, Studio Hours for art and design, and Quick Start classes covering Portrait Mode photography, Garage Band and creating video stories with Clips.