Mark Zuckerberg was ready to pounce on Apple's data practices at Senate hearing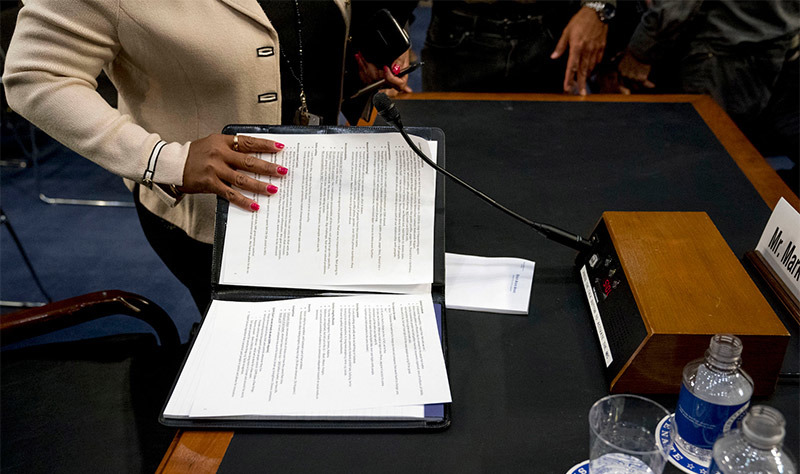 Though Facebook CEO Mark Zuckerberg did not mention Apple during a congressional hearing concerning data privacy and social media matters on Tuesday, a photo of his prepared notes shows he was ready to drag the iPhone maker into the discussion.
Following today's testimony, a photo showing two pages of Zuckerberg's printed notes circulated around the web, revealing the CEO was prepared to delve into areas that went untouched during the hearing. Notably, the Facebook chief was ready to defend Facebook's business model in light of disparaging statements made by Apple CEO Tim Cook last month.
The first entry in a section titled "Tim Cook on biz model," apparently prepared in case Cook's comments were broached, Zuckerberg first refers to a quote from Amazon founder Jeff Bezos. An abridged version of Bezos' remarks, made in reference to a recent Amazon Kindle release, the notes read, "Companies that work hard to charge you more and companies that work hard to charge you less." The missive is an apparent defense of Facebook's revenue model, which goes against the grain of traditional payments for products and services. Zuckerberg recited the same passage to Vox in an interview earlier this month.
"At [Facebook] we try hard to charge you less. In fact, we're free," Zuckerberg's notes read.
Comparing Facebook to Apple, which often touts itself as a bastion of user privacy and data security, Zuckerberg's notes say the two companies' policies are "similar." He relates installing an app on iPhone to users logging into Facebook — both request access to certain information that can, in some cases, be sensitive.
Zuckerberg also claims there are "lots of stories about apps misusing Apple data," though he never sees the company inform its customers of such events. It is "important you hold everyone to the same standard," Zuckerberg concludes.
Business Insider reported on Cook's inclusion in Zuckerberg's notes earlier today.
At the China Development Forum in March, Cook responded to questions concerning Facebook's fiasco with Cambridge Analytica, a political data consulting firm that gained unauthorized access to the personal data of some 87 million users. Cambridge Analytica provides advertisement targeting services, which could have been used to sway the political sentiment of American voters prior to last year's presidential election.
As in past statements concerning free-to-use services, Cook inferred Facebook's advertising-based model makes customers the product. He echoed those sentiments in an interview aired on MSNBC last week.
"The truth is, we could make a ton of money if we monetized our customer — if our customer was our product," Cook said. "We've elected not to do that."
For the most part, Cook declined to address Cambridge Analytica directly and instead offered broad statements on the larger issue of data privacy. As for government oversight, Cook said the "best regulation is no regulation," but conceded recent events warrant a stricter approach.
When asked how he would handle Facebook's problems, Cook said he "wouldn't be in this situation." Zuckerberg later called the argument and Cook's statements "glib."
Zuckerberg is set to conclude his visit to Capitol Hill on Wednesday with a second day of testimony in front of the Senate Commerce and Judiciary committees. Facing a specter of new legislation that would regulate how tech companies handle user data, the Facebook CEO apologized to Senators for mismanagement that led to the Cambridge Analytica scandal and promised steps are being taken to enhance user privacy.