iPhone, iOS 'dominant' over Android in English-speaking countries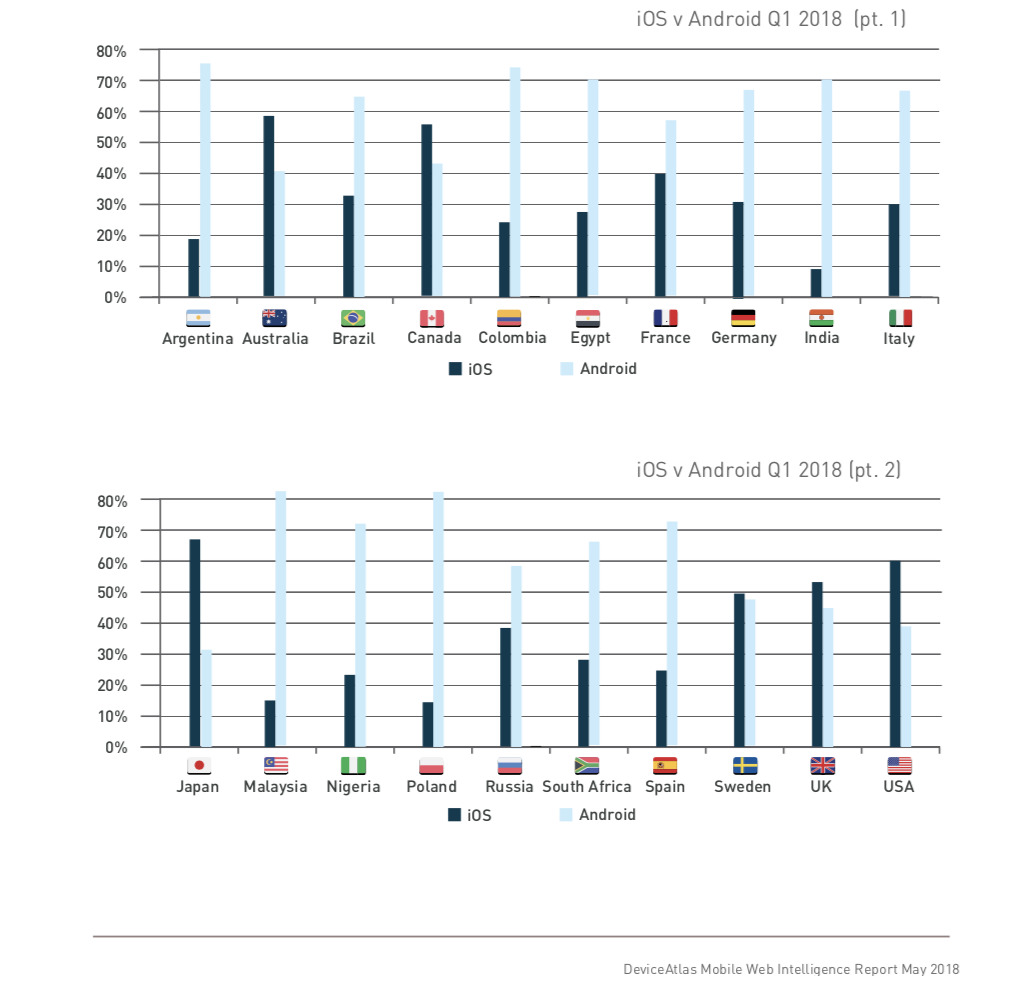 According to a new report by DeviceAtlas, English-speaking countries, as well as Japan, prefer iOS, while the non-English-speaking world prefers Android.
The Mobile Web Intelligence Report, released this week by DeviceAtlas, found that in the first quarter, iOS leads in market share collected by device identifier in such countries as Australia, Canada, Japan, the U.K. and the U.S., while holding a slim lead in Sweden.
Android, on the other hand, holds a lead in Argentina, Brazil, Colombia, Egypt, France, Germany, India, Italy, Malaysia, Nigeria, Poland, Russia, South Africa and Spain. iOS, however, has made gains in some countries where it still trails, including Colombia, Egypt and Ireland.
DeviceAtlas also found that KaiOS, a new operating system, has cut into the margins of both incumbents in India, pushing Apple into third place.
Feature phones remain, as DeviceAtlas described it, "an active part of most countries' mobile ecosystem," indicating that smartphone markets still have room to grow.
"The feature phone segment has not gone away, and may even be making a resurgence," Martin Clancy, Head of Marketing for DeviceAtlas, said as part of the report's release. "The growth in feature phone traffic in India underlines the fact that web publishers and service providers ignore users on these devices at their peril."
The survey was taken during the mass of reports claiming that the iPhone X, and the iPhone as a whole, was doing poorly on the quarter, and would continue to underperform for the remainder of Apple's fiscal year. Apple CEO Tim Cook put most of those sales estimates to death during the earnings announcement on March 1.
"Customers chose iPhone X more than any other iPhone each week in the March quarter, just as they did following its launch in the December quarter," Cook said as Apple announced earnings on Tuesday. "We also grew revenue in all of our geographic segments, with over 20 percent growth in Greater China and Japan."