Apple Music pulled R. Kelly from curated playlists weeks ago amid abuse allegations, report says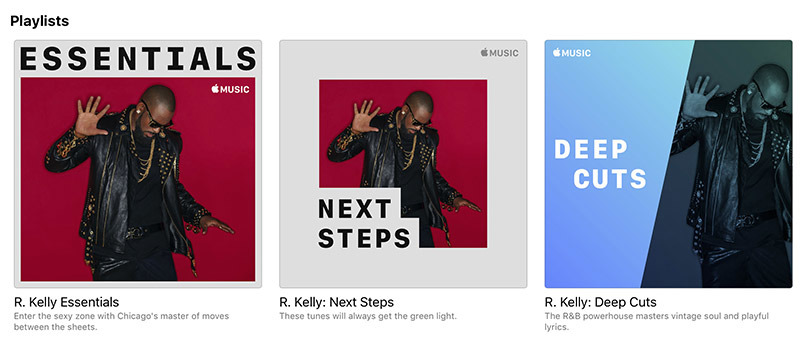 After revelations that music streaming leader Spotify ceased active promotion of R. Kelly songs and playlists as the singer faces assault and sexual misconduct allegations, a report on Friday claims Apple applied similar policies to its Apple Music service weeks ago.
On Thursday, Spotify sparked a minor controversy in announcing Kelly's songs would no longer be promoted as featured playlists, a move that satisfies the company's new policy against "hate content and hateful conduct." As noted by Rolling Stone, the artist's songs are still available for streaming, but users need to conduct a search to access them.
"His music will still be available on the service, but Spotify will not actively promote it," Spotify said in a statement to Billboard on Thursday. "We don't censor content because of an artist's or creator's behavior, but we want our editorial decisions— what we choose to program— to reflect our values."
A day later, Pitchfork, citing a source familiar with the matter, reports Apple Music took a similar tack when it began removing Kelly's music from curated playlists like "Best Slow Jams of the 90s, Vol. 1" and "several weeks ago." Despite no longer being part of the playlists, Kelly's image still appears in-app posters for the curated content as Apple has yet to update those images.
It appears Apple's policies regarding promotional activities are not as wide-reaching as those instituted by Spotify. There are at least seven Apple Music playlists that currently feature Kelly, some of which namecheck the artist in their respective titles, the report notes.
A separate report from The Blast notes Pandora also halted Kelly-related promotional efforts, saying the decision comes as it grapples with methods of approaching "artists with unacceptable conduct."
Over the past few years, a number of women have come forward with accusations of abuse, though the singer has never been convicted in court. Criticism of the singer's extracurricular activities reached new heights over the past weeks, in large part thanks to the #MuteRKelly campaign, an offshoot of the #MeToo and #TimesUp movements.
For his part, Kelly and his management team deny the allegations and characterize recent events as an "attempted public lynching of a black man who has made extraordinary contributions to our culture."
Promoting — or more accurately not promoting — content created by artists whose private lives court controversy is a relatively new phenomenon for streaming companies. The policies that resulted in Kelly's playlist ban, and that of XXXTentacion on Spotify, have some fans crying foul, with critics saying the new guidelines adopted amount to censorship.