Apple exploring possibilities of wrap-around displays, touch-sensitive bezels for future iPhone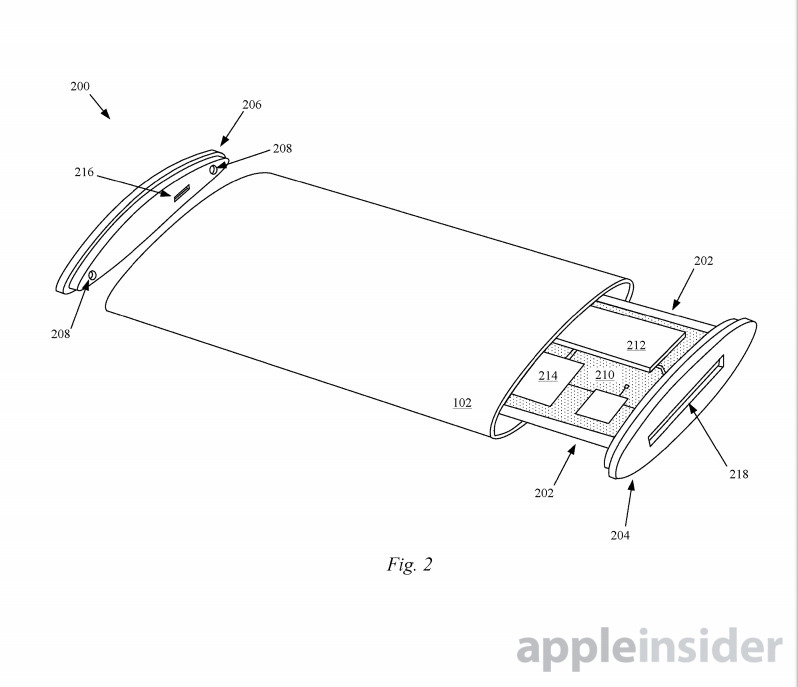 Apple is contemplating going beyond the edge-to-edge OLED on the iPhone X and giving future devices wrap-around displays, and also thinking about adding touch-sensitive controls on an iPhone bezel.
To achieve a wrap-around display, the company could theoretically use a transparent housing matched with a flexible panel, according to a patent published via the U.S. Patent and Trademark Office on Tuesday. The concept was originally submitted in 2016.
The panel would be able to display visuals "at any portion of the transparent housing," Apple says. More significantlly, Apple suggests using incorporating two user interfaces — one for the central portion of the housing, and a second for "at least one" of the peripheral areas.
The technology would not only allow more of a device to be used for user controls, but eliminate the need for fixed-use buttons and switches that can't be accessed by third-party apps. Apple has already done away with a physical home button on the iPhone X, allowing that space to be used for almost any purpose needed by apps or iOS.
A second Apple patent, originally submitted in 2015, depicts an iPad-like device that still has bezels, but would let people tap on them to control onscreen functions. The screen could signal when a particular part of the bezel is active and what it does.
In images, Apple suggests that users could scroll up or down, access additional menus, or even turn a device on and off, possibly adding context-sensitive controls to the side of an iPhone like the Touch Bar does on the Mac. A combination of this technology, plus wireless charging could allow for an iPhone with no buttons, and no cables at all. Should this device come to pass, the only penetrations to the case would be for speakers and microphones.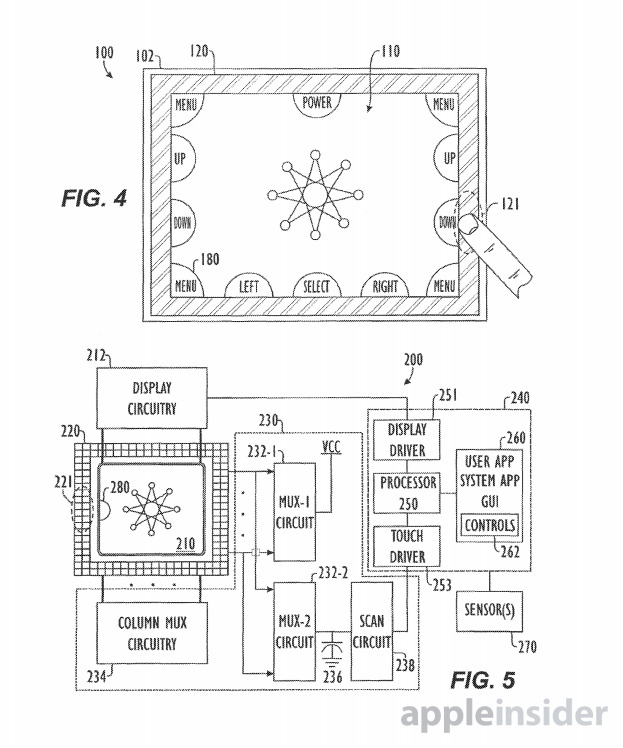 Apple has already explored similar concepts in the past, many of which have not yet been seen in a product. The company applies for patents for many technologies, with only a small fraction reaching the marketplace.
The company may also be able to leapfrog more elaborate handheld displays with its rumored "T288" headset. The device could support both augmented and virtual reality, and control through a mix of Siri, head gestures, and touch. That product may come out as soon as 2020.