Can Apple's HomePod take on a surround sound theater system?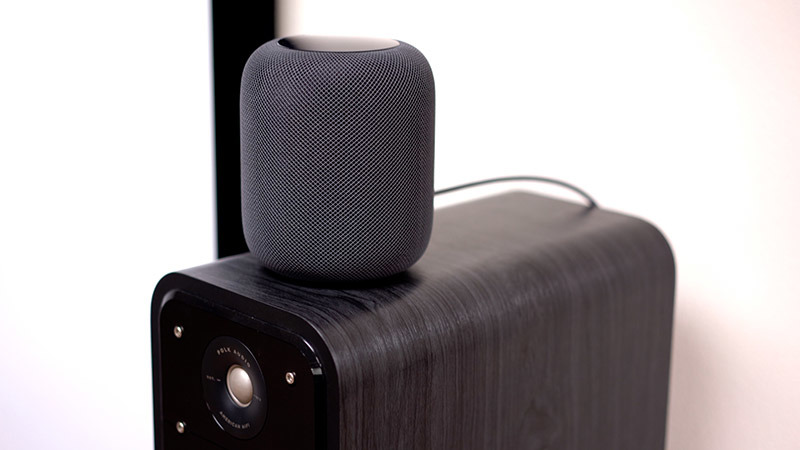 Apple's HomePod is one of the best sounding smart speakers on the market, and the recent addition of stereo pairing with AirPlay 2 makes the setup even more engaging. But how does a pair of HomePods stack up against a dedicated home theater system?
When Apple revealed their HomePod at WWDC 2017, they promised users the ability to pair two speakers together with Airplay 2, a new wireless protocol that also enables multi room audio streaming and other audio enhancements. A long time coming, AirPlay 2 was finally released alongside iOS 11.4 last month.
We tested out stereo pairing on our HomePods and not only did it work perfectly, but it sounded really good. Two speakers are obviously louder than one, but the update also increased bass when a pair of HomePods are cranked up all the way.
With engaging, immersive sound, it's only natural to wonder if a pair of stereo HomePods would make a viable home theater setup for the Apple TV.
Obviously, the HomePod is unable to achieve true 5.1 channel surround sound, which uses 5 separate speakers and a subwoofer, but Apple's devices do feature technology that bounces sound off walls and nearby objects to simulate a deep soundstage. With stereo pairing, HomePods detect each other and their respective placement in a a room, so they know exactly where to send different channels of sound for optimal audio reproduction.
To be clear, this is not Apple's attempt at 5.1 channel virtualization, but the solution does broaden HomePod's soundstage considerably.
Testing
We pitted a pair of HomePods against a 5.1.2 channel Dolby Atmos-compatible surround sound system. For our test, the two overhead speakers were disabled, as Apple TV will not support Atmos until the September release of tvOS 12.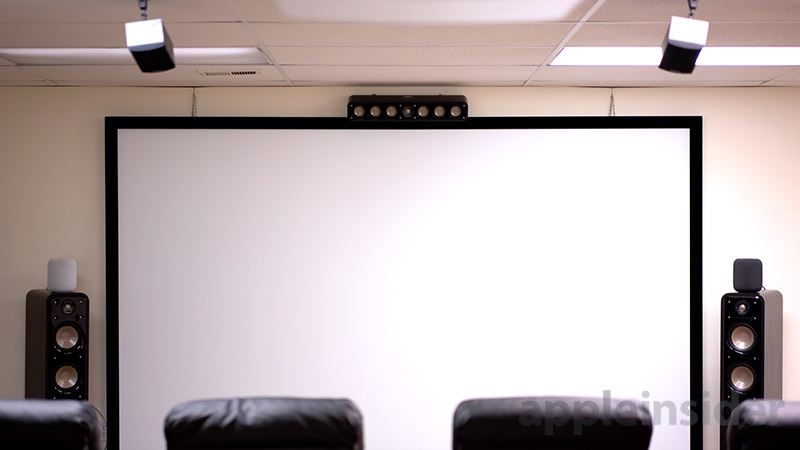 Starting off with the intro scene to "The Greatest Showman," the surround sound system output very clear vocals with deep bass. The YouTube clip was streamed over AirPlay from an iPhone to an Apple TV. Hugh Jackman's voice played through the center channel, music played from the front and rear channels, and sound effects played across all channels.
The bass thumped very loud and we could discern crowds behind us like we were sitting in the circus watching a live performance. When Anne was being pulled up into the air, her voice shifted from the left and right speakers up to center, really selling the experience.
Switching over to the HomePods, we were immediately greeted with an issue. The Apple TV 4K would not allow us to stream from an iPhone X. Instead, it automatically switched back to the HDMI output for audio. We ended up using the native YouTube tvOS app as a workaround.
Playing back the same "Greatest Showman" clip on HomePods was disappointing. Even at max volume, it was much quieter than my surround sound system was at 80 percent volume. A little digging revealed that the YouTube clip lacked adequate audio output levels, and while the dedicated surround sound system had enough power to compensate for the low input volume, the HomePods simply could not keep up.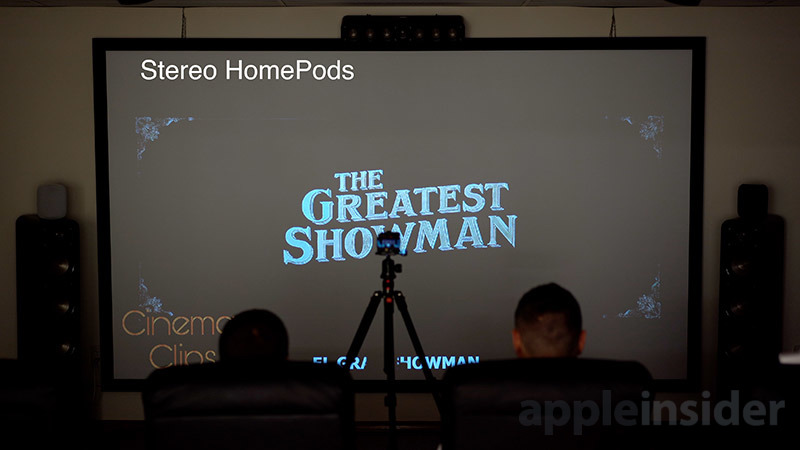 The sound quality wasn't bad though, and we even heard the virtual surround sound algorithms at work. Instead of the crowds being behind us, however, we heard them from the side. The crisp highs and low bass of the dedicated system were still miles ahead of the HomePods, even at low volumes.
Next we watched some "Pirates of the Caribbean" through the Netflix app, and once again the volume was extremely low on our HomePod setup. The home theater system sounded great, and just required a bit more volume than typical to compensate.
Interestingly, sound effects come through much louder on HomePod when navigating the Apple TV 4K's menu, but levels drop once a movie starts.
We wanted to make sure that there wasn't a problem with the setup, so we played some music from the Apple Music app. We were greeted with much higher volumes, and while it didn't match up to the massive front left and right Polk Audio speakers, it sounded much better than output from our movie streaming apps.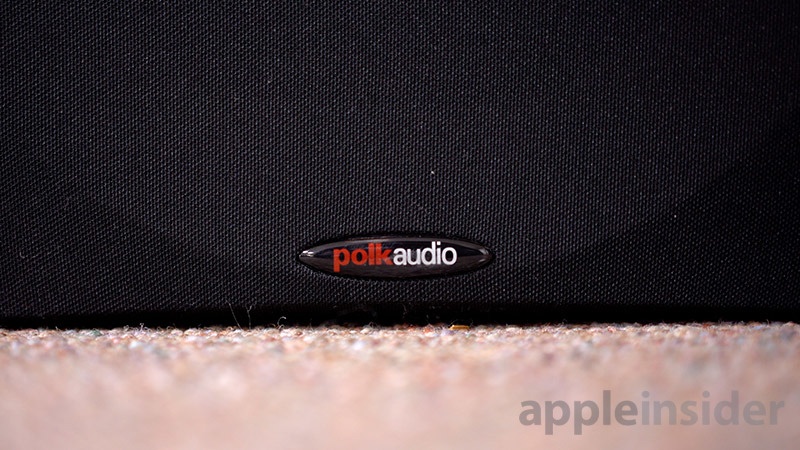 We moved on to "Thor: Ragnarok," where HomePod volume was a bit louder than the two previous films, but still much too quiet for a good movie experience and nothing that compared to the surround sound system. Apple's speakers were unable to keep up with a $350 LG soundbar with wireless subwoofer. It could be the fact that audio in films do not constantly come close to 0 decibels like most songs do, or that Apple TV outputs a lower signal when playing back films, but we suspect it's a bit of both.
Impressions
The surround sound system sounded amazing in all respects, as loud as a good movie theater but with a better surround sound experience since it is tuned to an exact point in space. Moving to the HomePod, we were in some cases surprised to hear crowd both in front and behind us. The vocals were clear, but not as crisp as we would like. We had a similar experience with the bass, which was present but not as visceral as the output from a dedicated woofer.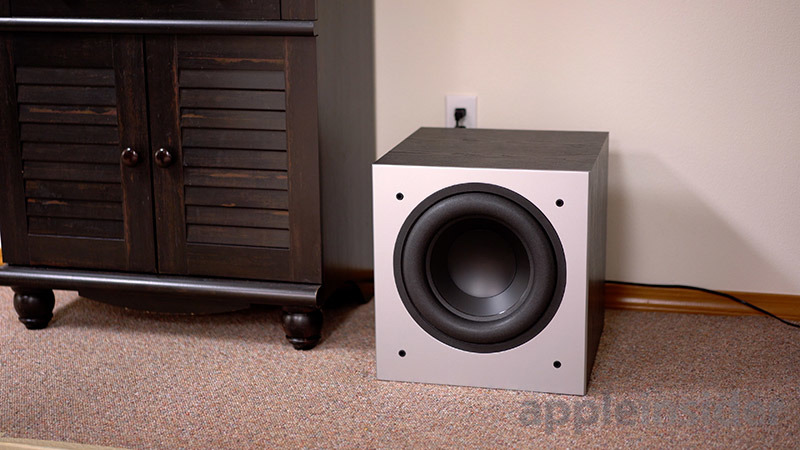 The thing that was missing most was the volume. The built in speakers of any modern TV are at least twice, if not three times as loud as Apple's max settings.
Apple has a function built in to limit HomePod volume, but not to boost it. That's a feature it needs to be a viable home theater solution.
As expected, HomePod is not a replacement for a surround sound system, nor is it marketed as such. Users can purchase an entry-level dedicated surround system, or a very good soundbar with Atmos support, for the price of two HomePods.
At this time it's best to keep HomePod limited to Apple Music, where it does great job, and look elsewhere for movie watching needs.