2018 MacBook Pro keyboards include silicone membrane, might protect against key failure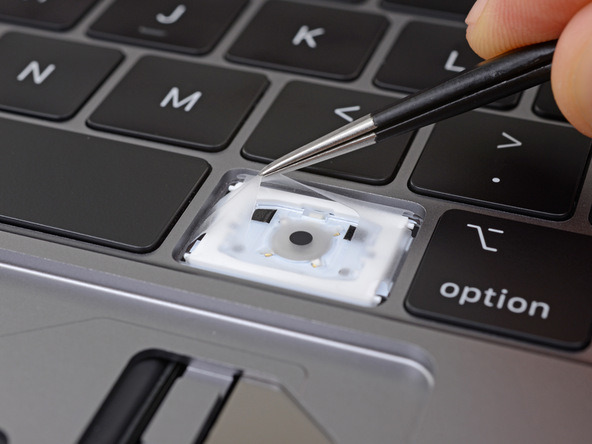 Apple is advertising the new MacBooks as having an updated, "quieter" keyboard, but has said little about the new design. A teardown of the hardware on Friday, however, reveals a new silicone membrane encases each key that potentially serves as a dust-repelling feature to protect against malfunctions.
Repair specialist iFixit tore down the latest MacBook Pro and quickly found a noticeable change to the keyboard design — a thin, silicone membrane surrounding each butterfly mechanism. This thin film, located under each individual keycap, appears designed to prevent dust and debris from interfering with key operation, an issue that cropped up in previous generation butterfly keyboards last year.
While not confirmed by Apple, iFixit theorizes that the new keyboard's newfound quietness is merely a side effect of the membranes real purpose, to keep debris out of the keys.
When Apple launched the latest MacBook Pros earlier this week, there was a lot of debate as to whether the updated, third-generation butterfly keyboard had fixed the criticized failure problem that has spawned multiple lawsuits against the tech giant. Though it says problems are relegated to a small percentage of MacBook owners, Apple last month initiated a service program for those with affected machines.
Digging deeper, a patent issued to Apple seems to confirm that theory. The patent describes the exact protectant film we see in the new keyboards and is described as to "prevent and/or alleviate contaminant ingress."
Fixing MacBook's keyboard is a big deal for Apple, and one it most definitely wants to address. Explaining the company's dismissive statements is a separate issue altogether. With so many lawsuits currently pending, it can be speculated that Apple is hesitant to admit that the new design "fixes" a keyboard problem it never necessarily deemed "defective" in the first place.