Comparing the Dell XPS 13 9370 versus Apple's 2018 13-inch MacBook Pro with Touch Bar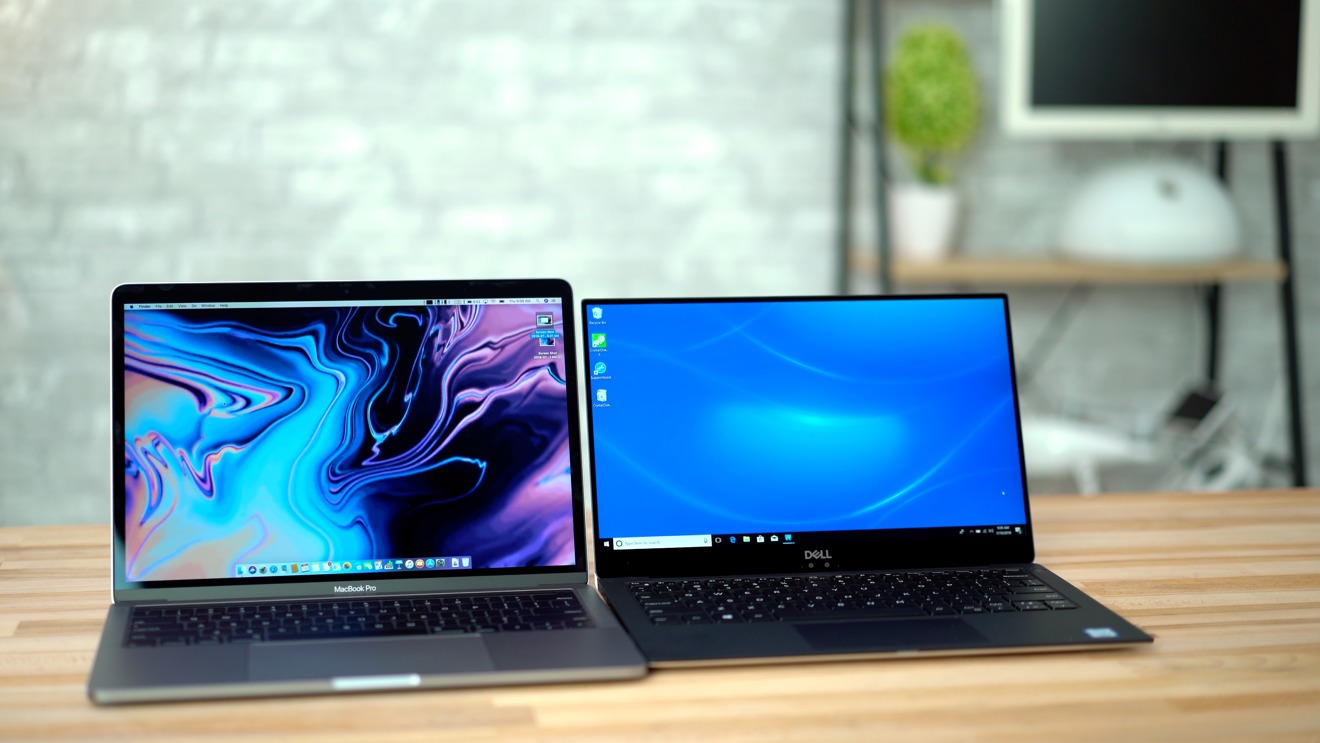 AppleInsider is supported by its audience and may earn commission as an Amazon Associate and affiliate partner on qualifying purchases. These affiliate partnerships do not influence our editorial content.
Apple's 13-inch MacBook Pro with Touch Bar gets some pretty substantial improvements for 2018, with a beefier processor, faster GPU and new True Tone display. The upgrades bring the small form factor Pro on par with Dell's XPS 13, our all-time favorite Windows laptop. But which one is right for you?
In an earlier comparison of the previous generation 13-inch MacBook Pro without Touch Bar and a comparable XPS 13-inch, Apple's notebook edged out the Dell in a few key categories. The base 13-inch MacBook Pro is completely unchanged from last year, so if you're in the market for a computer in the $1300 price range, it's worth a look.
As Dell is constantly having sales on their laptops, you can probably find the 9370 on offer at a much lower price.
Big differences
The main differences between both computers is that the Dell comes with double the SSD storage and a 4K-resolution display instead of a 2.5K display on the MacBook Pro.The XPS is also smaller and lighter than the MacBook, even though it has the same 13-inch screen, thanks to the infinity edge design
Most would agree that the XPS's design isn't as nice as the MacBook's beautiful all aluminum build, but it still looks and feels great.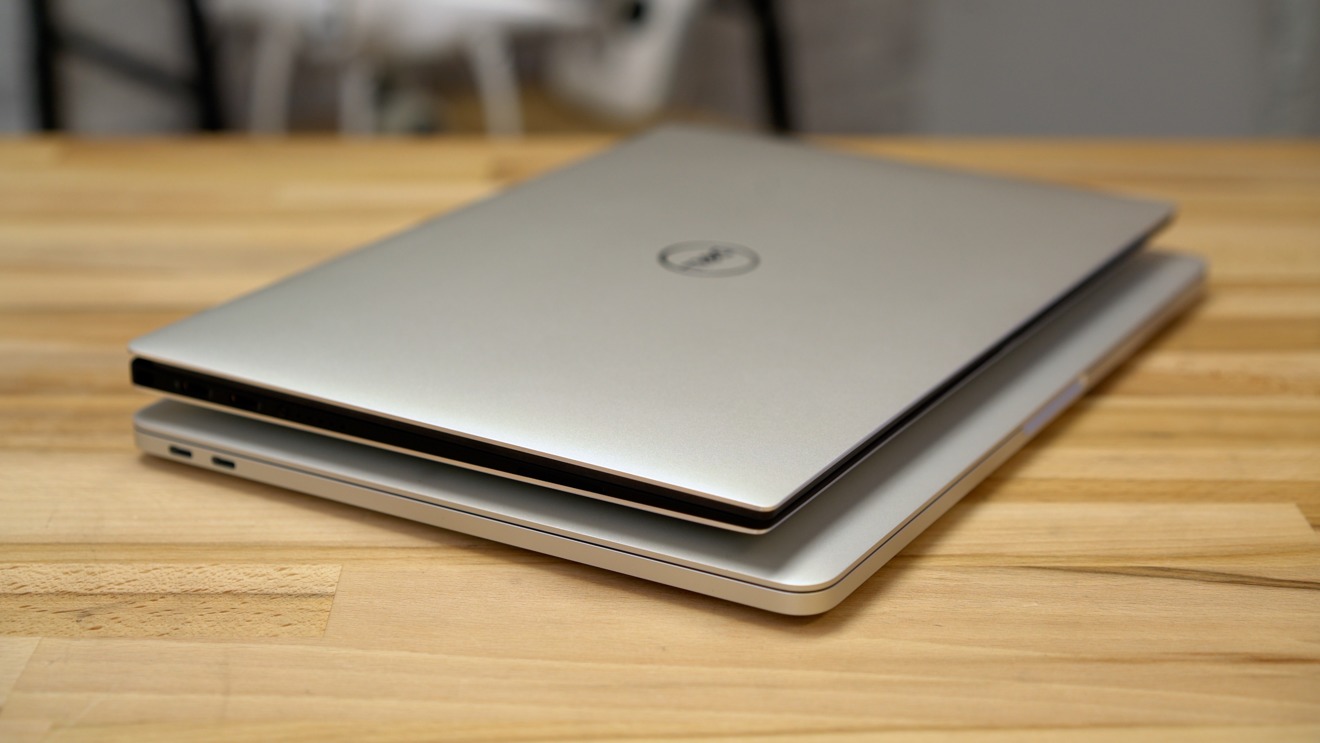 The MacBook has a larger 58 Watt-hour battery, compared to 52 on the Dell. It also includes a higher-wattage USB-C charger. Either way, battery life is great on both laptops.
The XPS has three USB-C ports, two of which support Thunderbolt 3, and a microSD card slot, along with a USB-A adapter that ships with it in the box. The MacBook Pro has four Thunderbolt 3 ports, meaning you can connect more demanding devices like eGPUs or 5K displays.
Performance
Both machines come with 8 gigabytes of RAM, but the MacBook's memory is clocked slightly faster.
The new Touch Bar 13-inch MacBook Pro is now powered by Intel's 8th generation i5 quad-core processor, comparable to the XPS's quad-core i7. The base clock speed is quite a bit higher on the Mac, but the XPS boosts to a slightly higher 4.0GHz.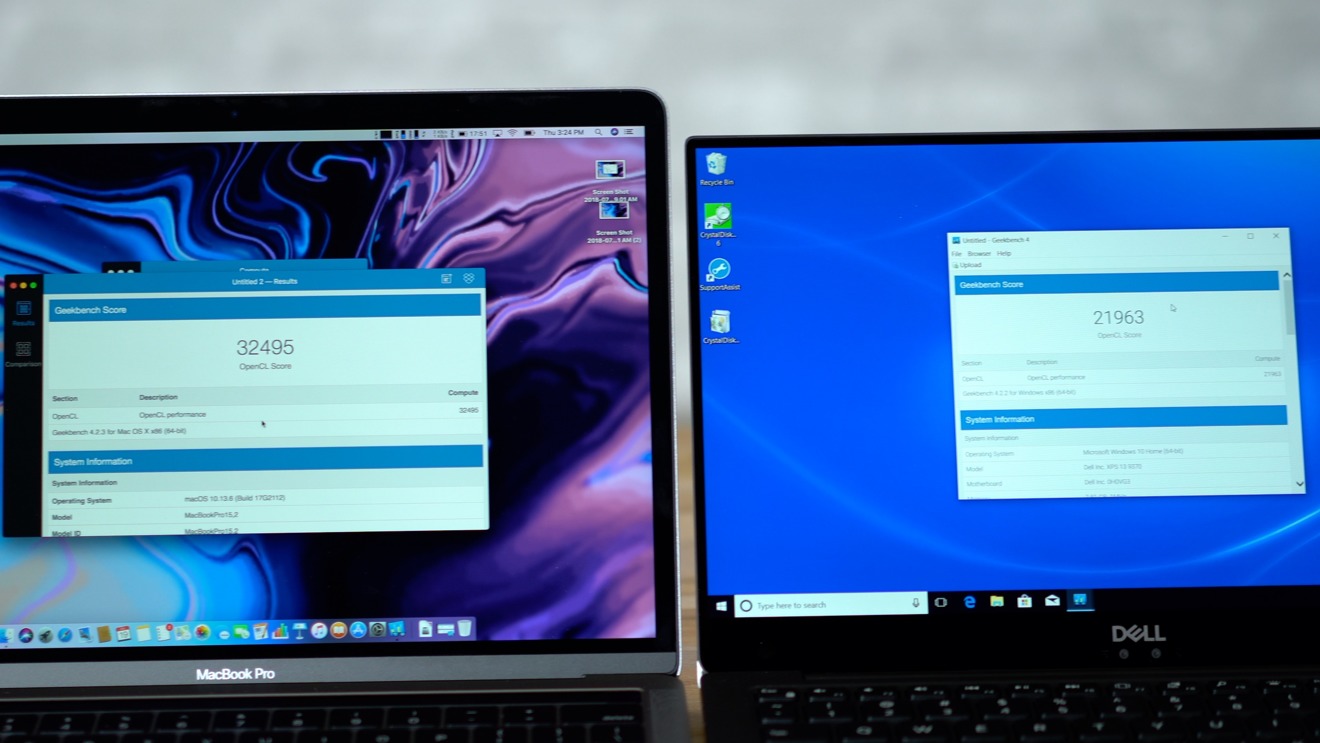 In the first benchmark, Geekbench 4's CPU test, both laptops turned in nearly the exact same single-core score, However, the MacBook Pro completely destroyed the XPS in multi-core tests.
Taking a look at Cinebench R15, the MacBook Pro scored 621 points, compared to 598 on the XPS. It's close, but there's no doubt that the MacBook Pro has a faster CPU.
Testing graphics performance, the MacBook Pro again defeats the XPS with a score of 32,831 against 22,008.
The MacBook Pro is the obvious choice for performance. In everything from light gaming to video editing, it comes out on top. It then becomes a case of looking at the rest of the MacBook Pro's features to see if it's worth the extra cash.
Keyboards and Trackpad
Apple has updated the keyboard to include silicone barriers under each key, potentially protecting the key switches from dust. While Apple has not officially confirmed the purpose of the barriers, they could address keyboard issues that popped up in older butterfly key MacBooks.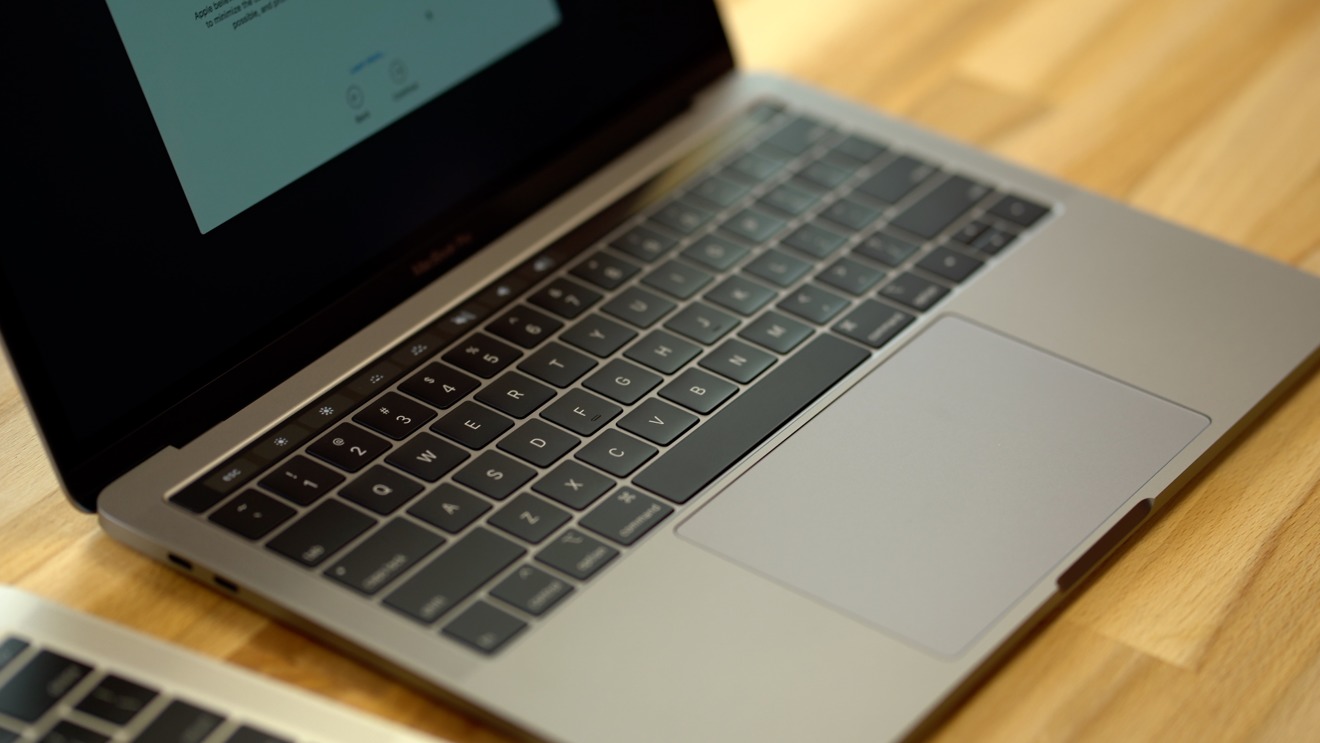 The XPS keys are fairly quiet with good travel and a quality feel resulting in a keyboard we think most will prefer compared to Apple's minimal-travel butterfly keys.
The XPS's trackpad is likely one of the best for Windows laptops, but it's a huge step behind Apple's Force Touch trackpad, one that's twice as large and has perfectly even input no matter where you press. Feedback can also be adjusted to a user's preference, and honestly, nothing else compares.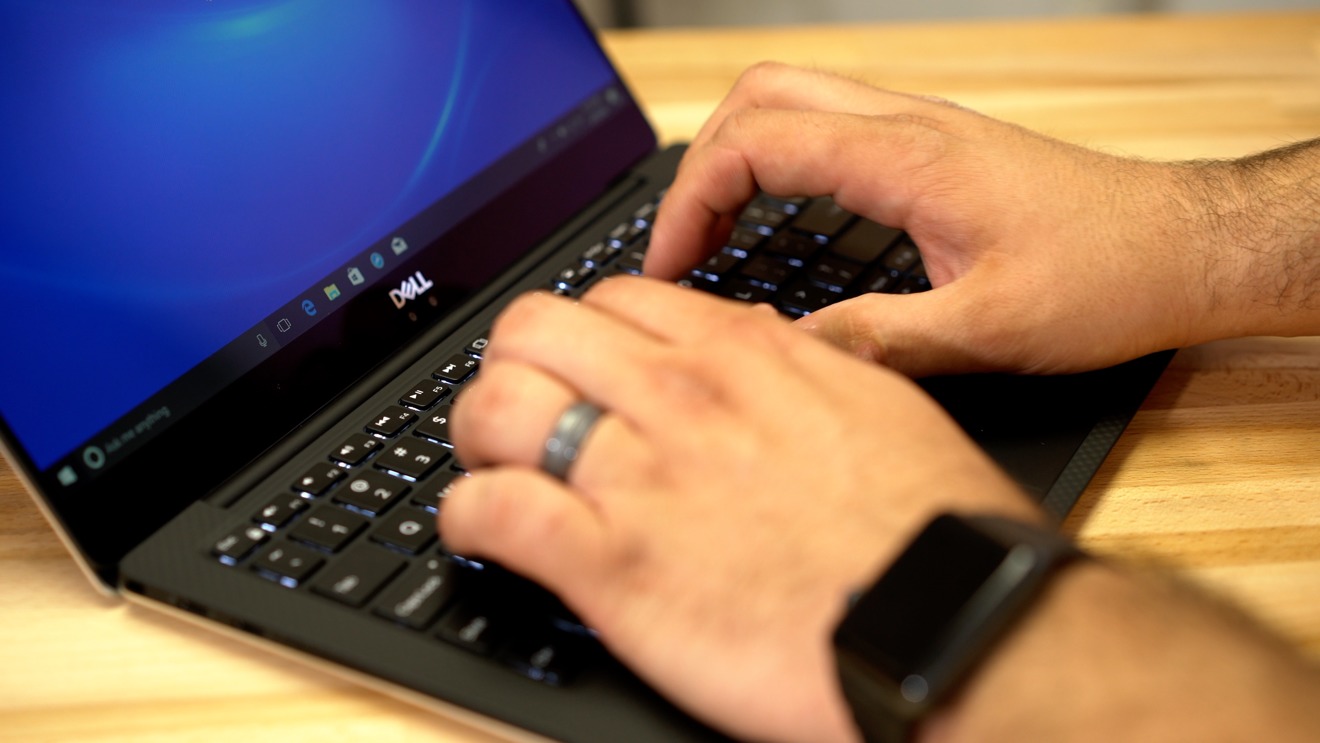 Audio, Touch Bar, and T2
In our previous comparison, the 13-inch base MacBook Pro's speakers blew the XPS out of the water. For 2018, the MacBook Pro's speakers have been updated with great improvements in the bass and mids. Volume on the XPS is good enough for most situations but the sound quality is subpar and the speakers fire to the sides. The MacBook speakers face the user and are louder with much more bass, clean mids and crisper highs.
The Touch Bar MacBook Pro obviously comes with the Touch Bar, but without wide third-party app support, its utility is very limited. MacBook also boasts a fingerprint scanner in Touch ID, a function mirrored by a generic scanner on the XPS.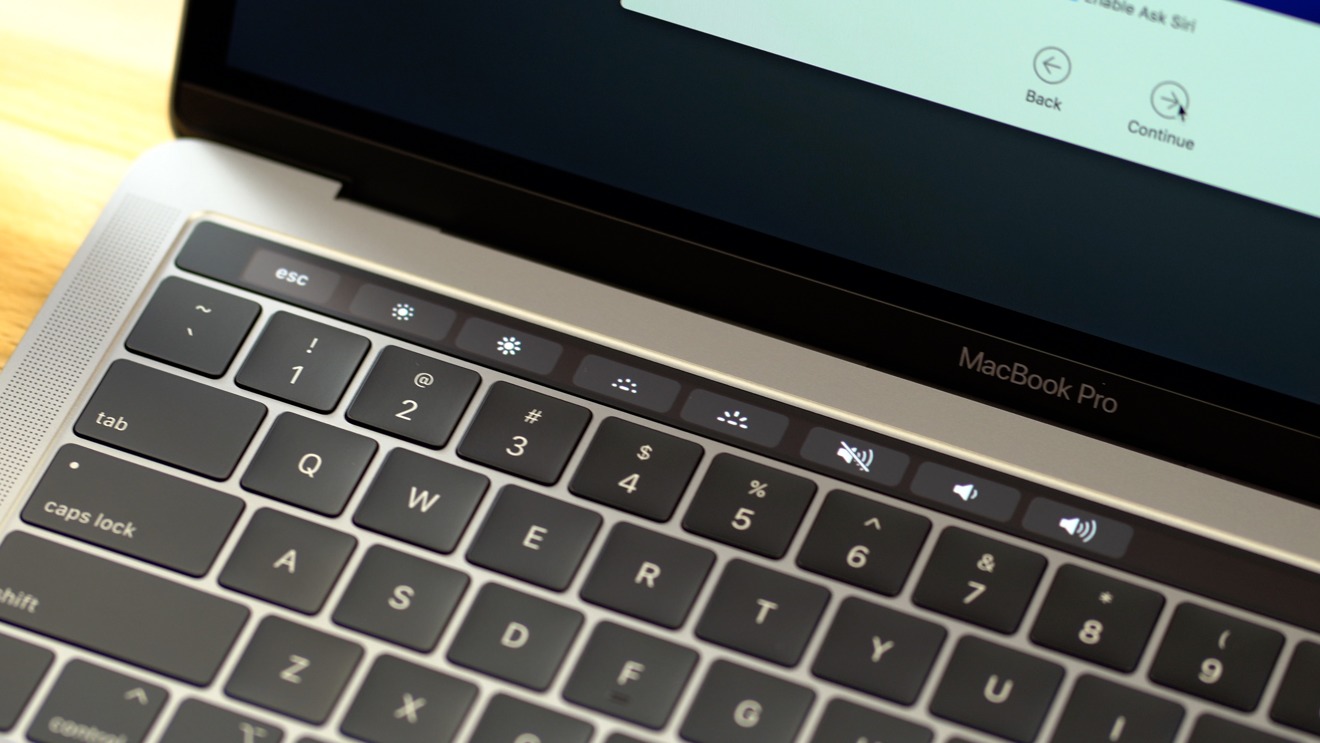 However, the Touch Bar model comes with Apple's T2 chip, which takes care of a bunch of system controllers so the CPU doesn't have to handle those tasks. The list includes automatic SSD encryption that doesn't slow down the SSD, previously one of the biggest drawbacks of encrypting Mac storage.
The T2 chip also enables "Hey Siri" on the MacBook, and when macOS Mojave arrives this fall, it can be used to control your HomeKit devices.
The Dell's almost bezel-less design is striking, but it also forces the webcam down next to the hinge. This makes for a very unflattering perspective that could be a dealbreaker for those who use the webcam often. Apple's version not only sports a better and higher viewing angle, but also tops the Dell in video and sound quality.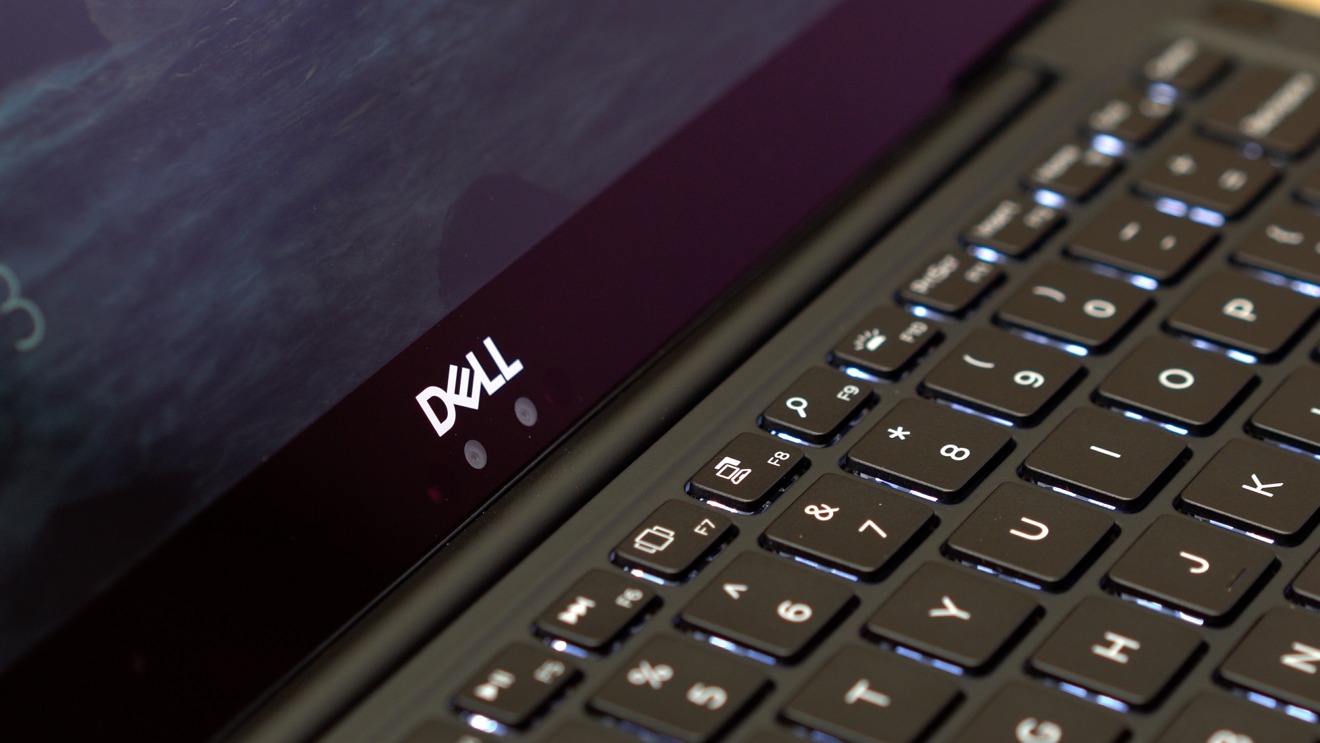 One of our favorite features on the XPS is Windows Hello sign in. While not as advanced as Face ID, the software-based bio-recognition function works incredibly well. Unfortunately, Apple's new MacBook Pro didn't get Face ID like we hoped it would, so the XPS wins there.
Screens
Both of these machines fall into the 13-inch category, but the MacBook's screen is slightly larger and uses a 16:10 format resulting in extra vertical space. Because of this, the MacBook Pro has just over 22 percent more surface area when compared to the XPS 13-inch, which is closer to the 12-inch Retina MacBook in terms of usability.
The XPS features a beautiful 4K display, which obviously tops the MacBook Pro's 2.5K display. On top of that, it's more color accurate, with 100-percent sRGB color.
The XPS is advertised at 400 nits of brightness, but many reviewers rated it at about 350 nits. The MacBook Pro comes out at an accurate 500 nits of brightness, so it will be much better for outdoor use.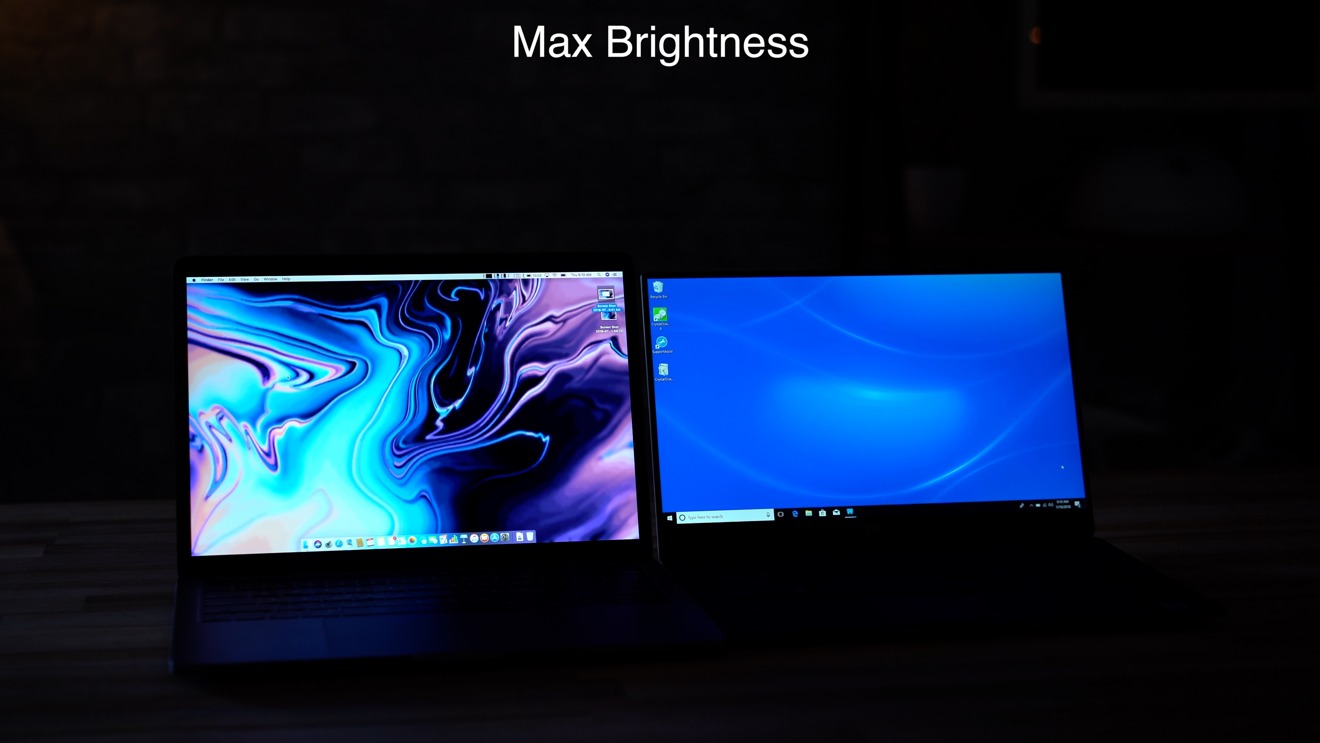 The 2018 MacBook Pro now comes with True Tone, a feature that automatically adjusts the screen's color temperature to match the ambient light in your room, so it'll look more natural. For anyone doing professional editing work that requires accurate color reproduction, switching True Tone on is a bad idea.
Although the 4K display on the XPS is nice, it's ultimately going to affect battery life, and for a screen so small, 4K isn't as noticeable as it would be on a larger display.
In Summary
Dell has done a great job creating and updating the 13-inch XPS. Not only is it thinner, lighter, and smaller than Apple's latest 13-inch MacBook Pro, but it's got a better keyboard, better display, and better sign-on tech.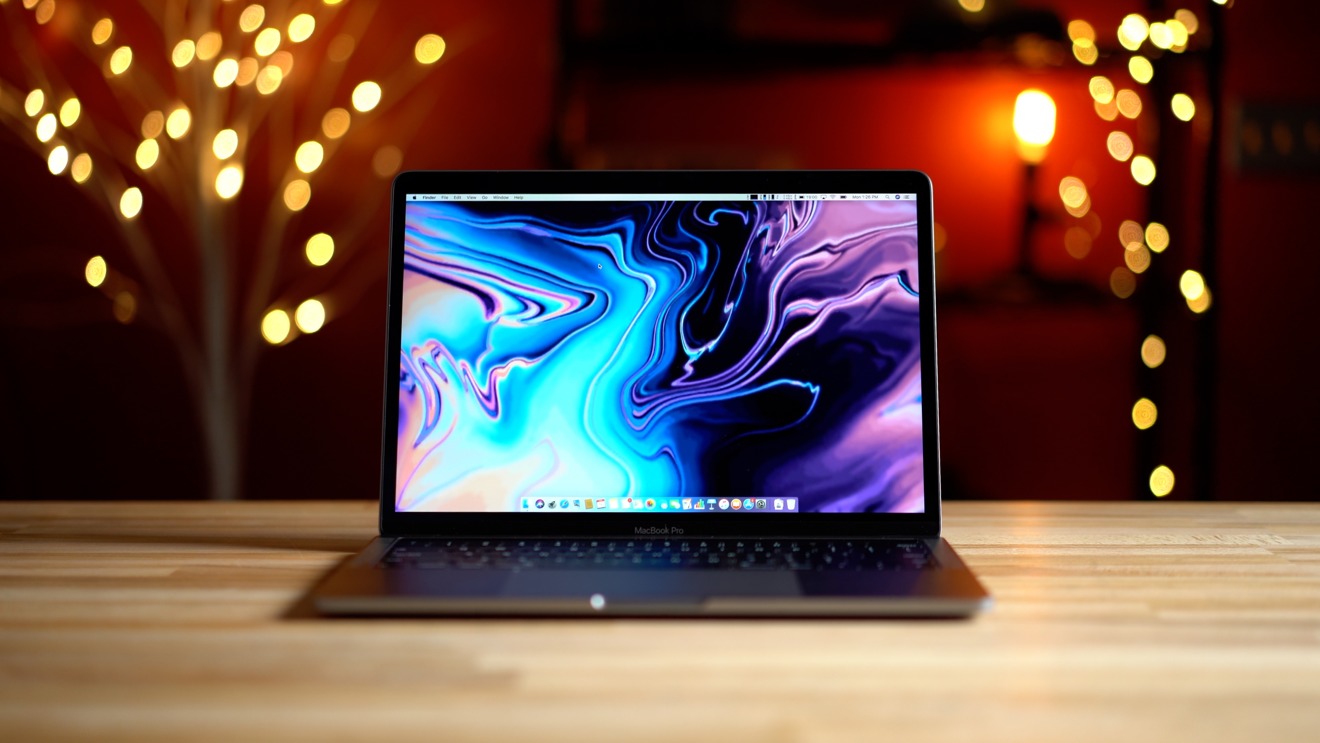 However, the 2018 MacBook Pro is much more powerful, with a better trackpad, much better speakers, better camera, the dedicated T2 chip, True Tone display and arguably better design.
The choice you make will ultimately come down to what features you care about most. Although the operating system comes down to personal preference, almost everyone can admit that Windows 10 experiences a lot more issues and glitches compared to macOS, and to me, that's the most important factor of all.
Where to buy
The Dell XPS 13 9370 can be configured to your liking at Dell Home. At press time, the system qualifies for an additional $50 off with coupon code 50OFF699. B&H Photo also carries several configurations with instant discounts of up to $700 off MSRP.