Alleged dummy models of 6.1- & 6.5-inch iPhones show former with single-lens camera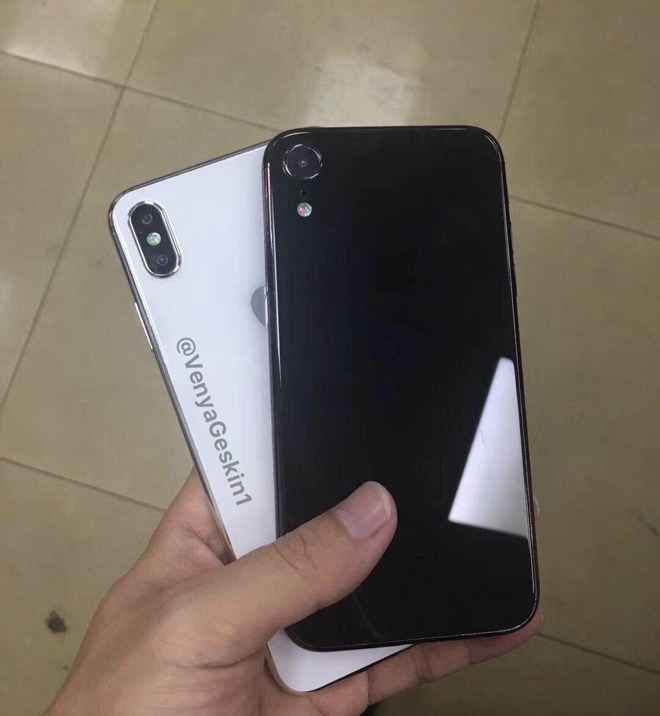 AppleInsider may earn an affiliate commission on purchases made through links on our site.
Though Apple may be making its next "budget" iPhone a 6.1-inch LCD model, one tradeoff will be the lack of a dual-lens camera, the latest leak suggests.
The detail can be seen in a supposed "dummy" phone shared by well-known leak source Ben Geskin. The unit lacks any Apple logo, but mostly resembles current iPhone designs except for the placement of the flash below the lens instead of to the side, more akin to the dual-lens iPhone X than the iPhone 8.
A 6.5-inch iPhone dummy seen in the same leak is almost exactly the same as the 5.8-inch iPhone X except for its bigger size. Geskin refers to the device as the "iPhone X Plus," a common nickname for the rumored product.
Apple uses dual-lens cameras on the iPhone 7 Plus, 8 Plus, and X to provide 2x optical zoom, as well as a "Portrait" mode which simulates the bokeh (blurred backgrounds) created by professional lenses. Assuming the 6.1-inch dummy is authentic, the company is likely sticking to a single lens to keep prices down.
The new 5.8- and 6.5-inch phones are anticipated to use OLED displays, and cost $800-900 and $999+, respectively. Mostly because of LCD, the 6.1-inch model is forecast to cost around $600-700.
The OLED hardware should ship in September or October, but the 6.1-inch iPhone has been rumored as arriving later.