Notes of interest from Apple's Q3 2018 conference call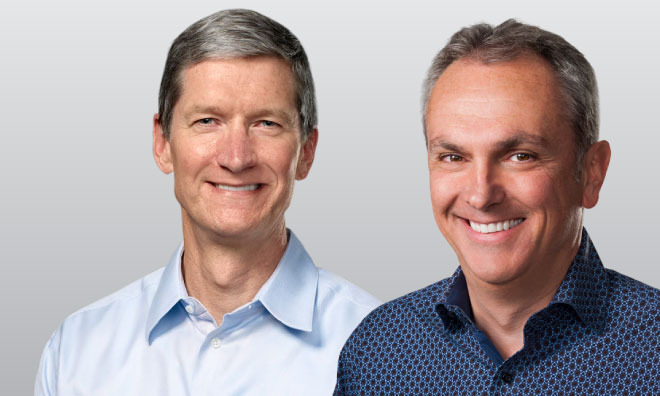 AppleInsider is supported by its audience and may earn commission as an Amazon Associate and affiliate partner on qualifying purchases. These affiliate partnerships do not influence our editorial content.
Apple set a new high for the June quarter on the back of a premium-priced iPhone lineup anchored by iPhone X, as well as continued growth in the services segment. Following the publication of its third fiscal quarter 2018 results, the company provided additional detail on the record-setting performance in an earnings conference call.
The numbers: Apple's revenue for the third quarter of the fiscal year 2018 hit $53.3 billion, with it and the earnings-per-share of $2.34 growing year-on-year, bolstered by iPhone sales of 41.3 million units.
Participating in Thursday's call were Apple Chief Executive Tim Cook and Chief Financial Officer Luca Maestri.
Highlights
Paid subscriptions have exceeded 300 million, a 60 percent growth in the last year alone.
Number of apps offering subs growing, almost 30K in app store today.
$100 billion paid to developers from App Store since opening.
AppleCare highest growth rate in 18 quarters.
All time highs for monthly active users & FaceTime calls in Messages, with growth accelerating.
100 billion Siri requests this fiscal year.
Number of articles read on Apple News doubled year-over-year.
One billion Apple Pay transactions in fiscal year, triple year-over year.
Apple Pay coming to CVS.
Past quarter, more total transactions than Square, more mobile transactions than Paypal.
Over 200 million users involved in beta testing macOS Mojave, iOS 12, tvOS 12, and watchOS 5.
CEO Tim Cook reinforces that iOS and MacOS are different, but reminds that some frameworks have been migrated to the Mac.
Charter offering AppleTV 4K as set top box for customers before the end of the year.
This fall, iTunes will be the largest repository of Dolby Atmos movies anywhere.
More than 5000 schools and colleges have adopted Everyone Can Code programs.
More than 300 schools are adopting Everyone Can Create in the fall.
"Limitless" ARKit apps coming, Apple working with enterprise to "change how things get done" with AR.
Apple grew in each of its 15 major markets, with revenue up by more than 20 percent year over year in the US alone.
iPhone channel inventory reduced by 3.5 million, company on lower end of targeted 5 weeks to 7 weeks of inventory.
AirPods sold as fast as Apple could make them.
60 percent of quarterly Mac sales from new users.
Low compare year-over-year because of fourth quarter MacBook Pro release, as opposed to third in 2017.
More than half of iPad sales in the quarter were sold to new users.
iPad customer satisfaction of 94 percent, 75 percent of businesses planning to buy tablets will buy iPads.
Majority of SalesForce's 35,000 employees on Mac.
$6 billion in debt retired, net cash $129.1 billion dollars corrected with outstanding debt.
$20 billion in AAPL purchased on the market and retired, 112.8 million shares repurchased.
Some new services coming to Apple in the future, says Tim Cook. No elaboration.
DRAM prices improving, Apple may see positive financial effects in the next quarter
iPhone X, iPhone 8, iPhone 8 Plus still "growing very nicely" according to Cook.
Cook regarding iPhone X: "Customers want innovate products, and we already knew that."
iPhone SE had a difficult compare to the year-ago-quarter.
Apple picked up global marketshare worldwide in smartphone, and tablet markets.
Fourth quarter of double-digit in mainland China, across iPhone, iPad, Services, Other categories.
Cook: "Tariffs show up as an additional tax on the consumer."
Cook: Tariffs are not the approach to dealing with trade imbalances on the national level.
None of Apple's products are directly affected by the first three tariffs, fourth tariff out for public comment and is being evaluated by Apple.
Apple will share its thoughts on the matter with the White House before the comment period ends.
Apple not attempting to measure global economic changes and effect on the company.
Cook: "I can't predict the future, but I am optimistic that the countries will get through this. We are hoping that calm heads prevail."
Cook: "Cord-cutting is only going to accelerate, and will accelerate at a rate that is greater than widely thought."
Cable cutting "periphery" grew by "very strong" double digits.
100 percent year-over-year growth in video streaming subscriptions through apps.
50 million Apple Music listeners across paid subscriptions and free trials.
Cook on streaming music: "Extraordinary opportunity in that business to grow the market well"
Revenues on Apple Music grew over 50 percent over the quarter
Cook: "The smartphone market is very healthy. I think it is the best business in the world to be in."
Some replacement cycles are lengthening, major catalyst of the change the extinction of iPhone subsidies from carriers.
Active install base of the iPhone grew double digits since the year-ago quarter.
Apple has never done an analysis on who is getting a battery replacement, versus who is buying a new iPhone.
Cook: "Treat the users and customers well, and you have a great business over time."