Hands On: Elgato Thunderbolt 3 Mini Dock adds a few ports to your Mac for on the road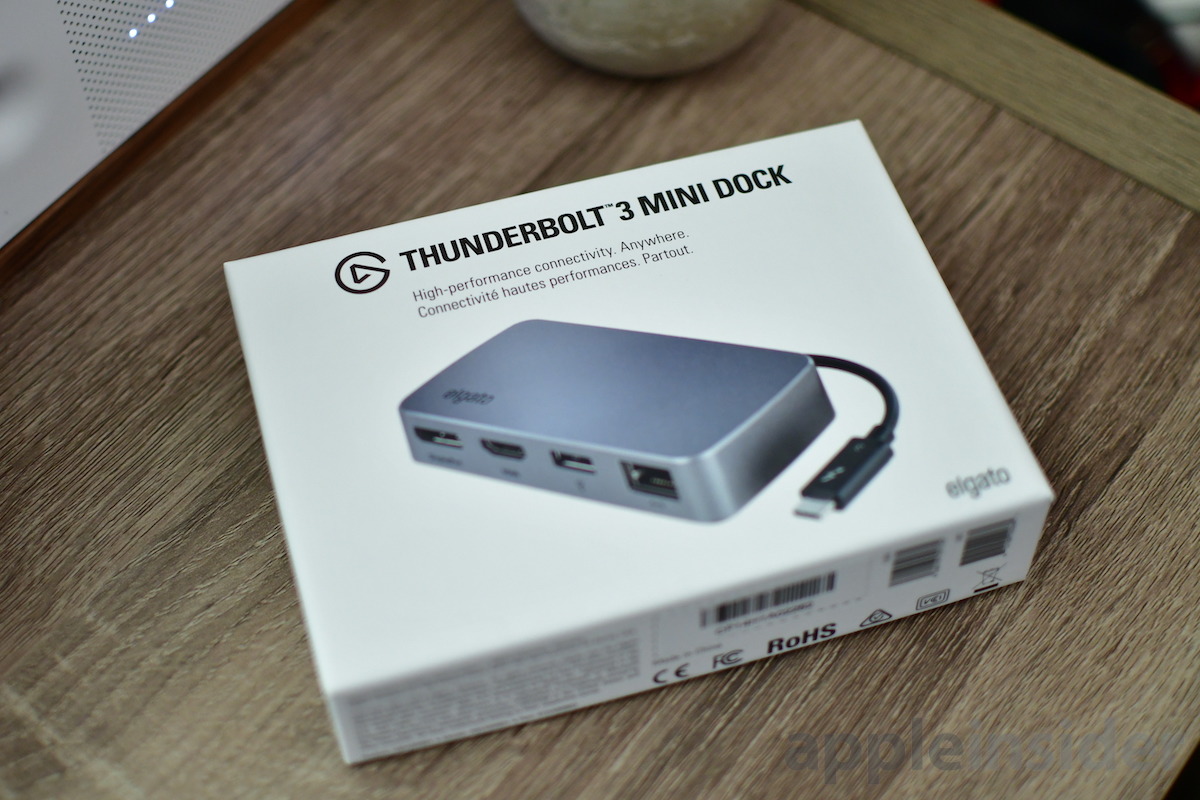 It's taken some time, butThunderbolt 3 docks have finally started to shrink. The latest compact model announced on Thursday is the Elgato Thunderbolt 3 Mini dock, and AppleInsider has spent some time with it.
This dock is great for those on the go, with four high-speed ports to meet the demands of many workflows, all connected to the host machine by Thunderbolt 3.
Quality
Elgato, now part of Corsair, has put some great effort into the design of their mini dock. It has a plastic body to shed some weight versus a metal enclosure with a hidden groove on the underside to house the Thunderbolt 3 cable.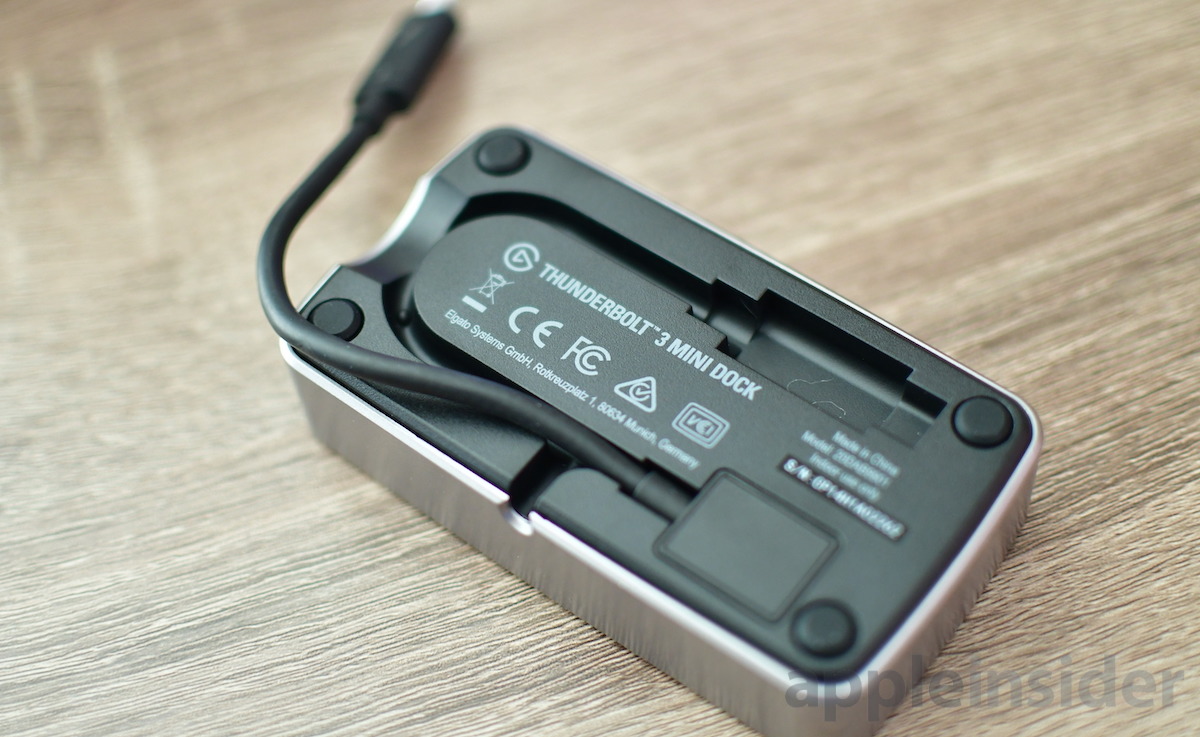 That groove holds the cable well, but is easy to remove when necessary. When taking the dock with you and tossing it in a bag, this is great. It prevents the cord being lost, or even worse, damaged. On the flip side of the coin however, an integrated cables means should anything ever happen, the whole dock needs to be replaced.
Port choices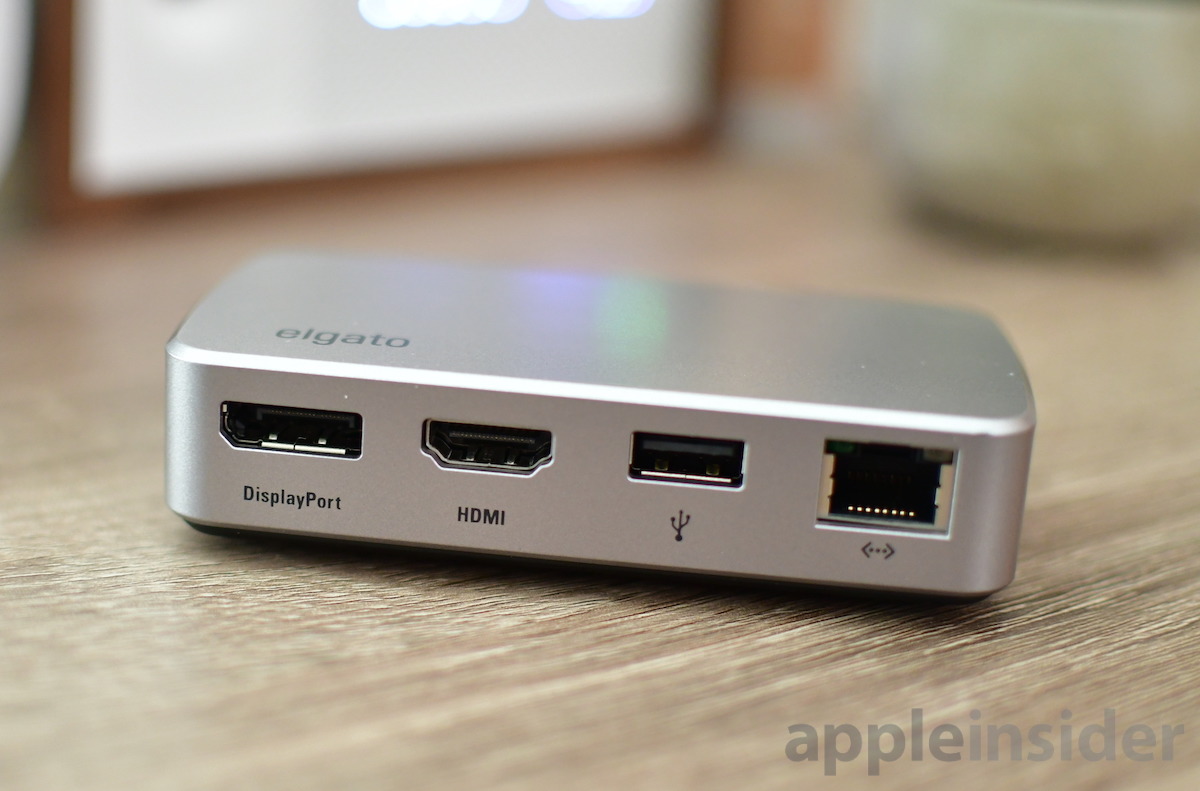 Elgato chose USB 3.1 type A, HDMI 2.0, DisplayPort, and Gigabit Ethernet as the ports to reside on the Thunderbolt 3 Mini dock. This is different than CalDigit's recent docks that employ either two HDMI or two DisplayPort.
There are certainly positive and negatives to both approaches. CalDigit's design allows you to use the same type cable for both monitors whereas Elgato gives you the freedom to use either cable type on the fly.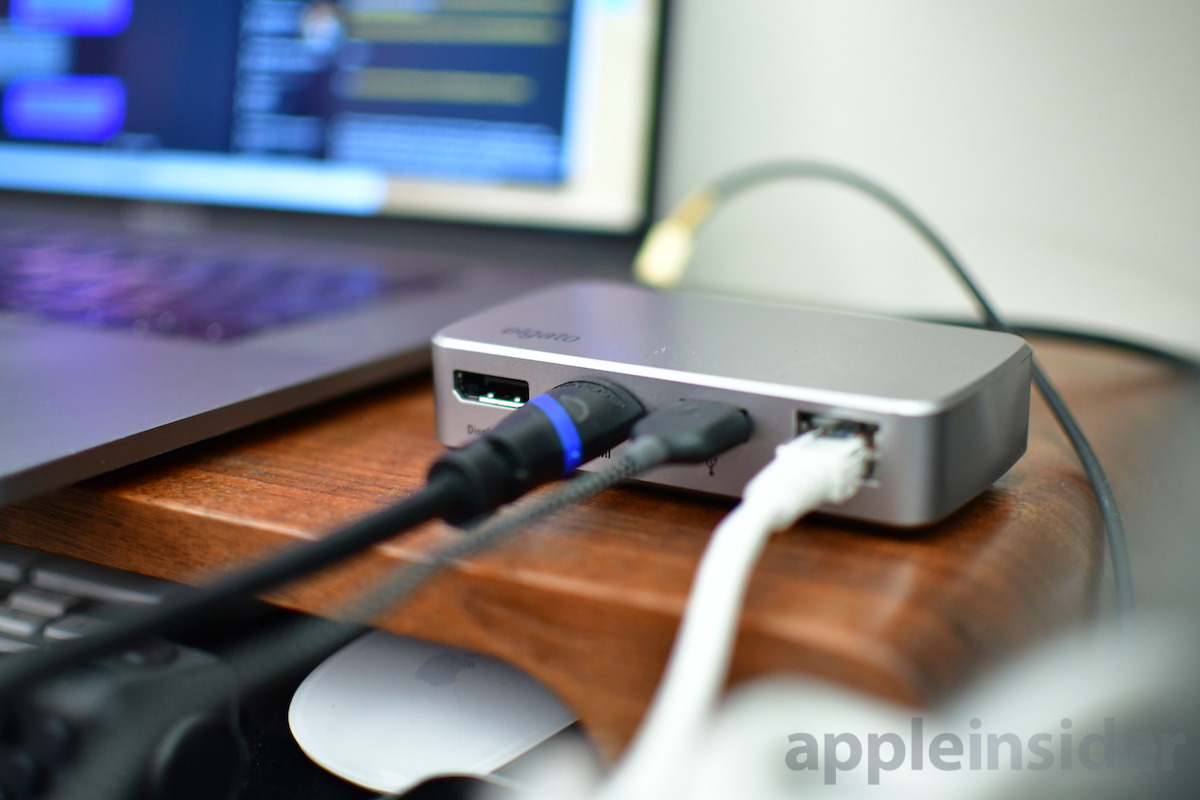 If we were using this on our desk, we'd prefer both of the ports to be the same. But, as intended as a travel dock, we'd prefer the ports to be different, as we aren't always guaranteed to have the one we need.
Thanks to Thunderbolt 3, Elgato's miniature dock is able to handle two 4K displays at 60Hz. If you drop the down the resolution, it can handle up to 144Hz.
The USB 3.1 type A port is standard, with speeds up to 5 Gb/s. We'd have preferred a USB-C port instead, but are aware that docks like this get bought for legacy ports without cable adapters.
Lastly, we have the Gigabit Ethernet port, which still finds a place. It can handy in a variety of situations where Wi-Fi may not be available or is simply too slow. Always nice to have when on the road.
And, since this is all Thunderbolt 3, and not USB 3.1 type C, it isn't bandwidth-constrained at all.
In use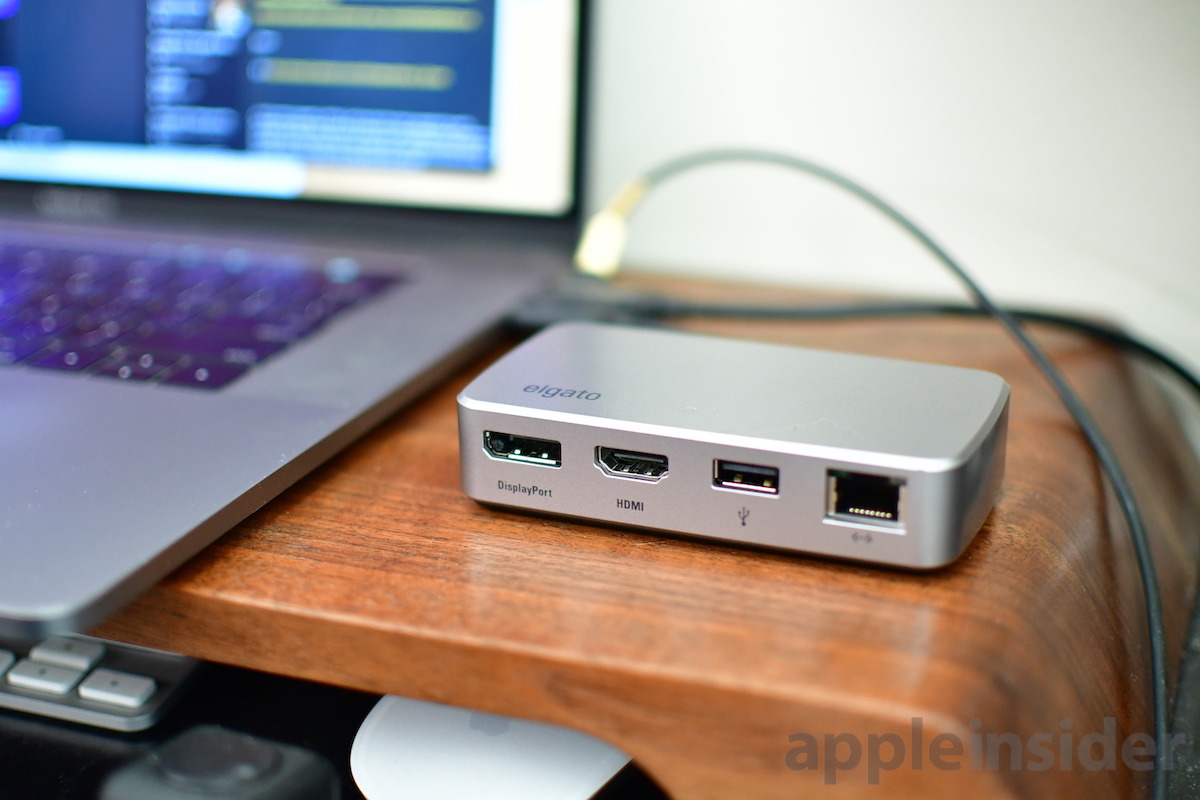 Thunderbolt 3 offers many advantages over slower USB-based docks that appear on the surface to offer similar ports. We've tried out our fair share of Thunderbolt 3 docks. Elgato's latest portable offering sets it apart from chunkier offerings and is handy. The compactness is appreciated with a good selection of port choices.
The dock has small rubber feet on the bottom which helped it stay in place as we moved about. Whether we rested are laptop, the dock stayed by its side. We didn't have any situations of accidentally un-docking all our peripherals.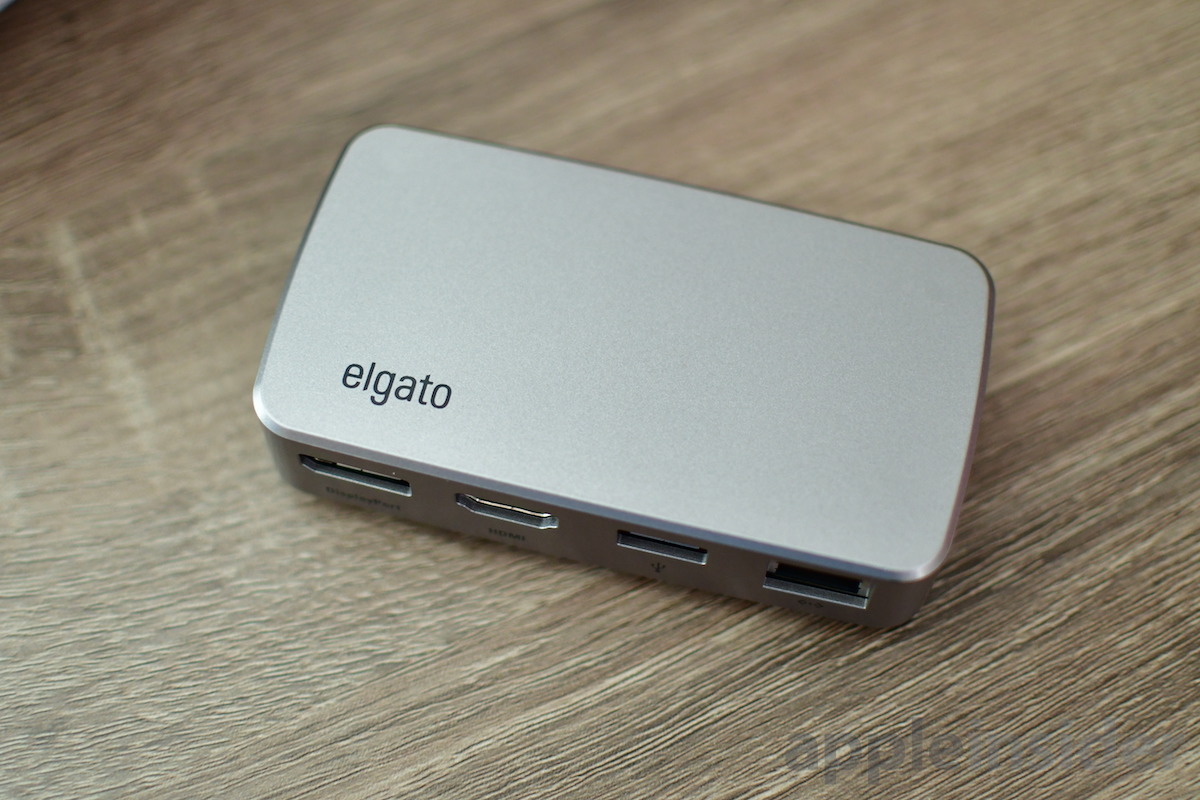 Speaking of un-docking, Elgato bundles their Thunderbolt Dock Utlility app. It enables high-power USB support, and allows quick ejecting of all connected peripherals at once, right from the menu bar. It is quite convenient, though not too many less steps than just ejecting from Finder. If we were using the larger Elgato Thunderbolt 3 dock, it is much faster at ejecting all connected devices at once. In this case, we really only have one connected to the dock at once over USB.
Elgato's Thunderbolt 3 Mini dock is useful to have around and so far, we've found it to be a great accessory to tote along in our travel bag. If you can get over the larger price tag usually seen with Thunderbolt 3 accessories, you can pick one up now for $149.99 on Amazon.