Hands on with Apple's new lineup of iPhone XS and XS Max cases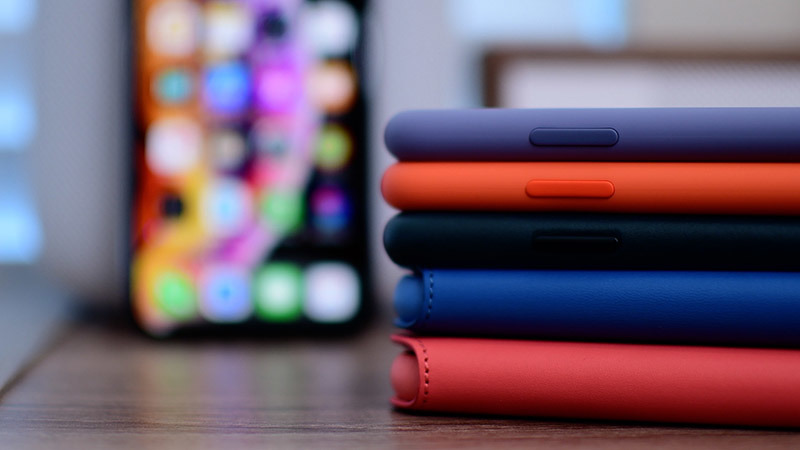 AppleInsider is supported by its audience and may earn commission as an Amazon Associate and affiliate partner on qualifying purchases. These affiliate partnerships do not influence our editorial content.
To go alongside the latest iPhones — the XS and XS Max — Apple has updated its lineup of first-party cases, which include leather, silicone and folio options. AppleInsider goes hands-on with the accessories to see what has changed and find out if they are compatible with the iPhone X.
All of Apple's cases are great quality while staying minimalist in nature. They are thin, with tactile buttons and made from premium materials. The leather cases all utilize anodized aluminum buttons on the sides, always a nice touch. Interiors are lined with microfiber on each case, protecting the iPhone from loose debris.
On the underside, the bottom of the phone is exposed, a design that has its pros and cons. We prefer this design as it allows easier access to ports and works seamlessly with many docks, but at the same time it opens more of the phone up to possible damage.
Last year, the folio was exclusively available for the iPhone X, but this year it comes in two different sizes for the XS and XS Max.
Colors for everyone
Externally, the biggest change to all of the cases is a smattering of new colors.
Silicone cases now come in Nectarine, Lavender Gray, Blue Horizon, Stone, Pink Sand, Midnight Blue, White, Black, and (PRODUCT)Red while the leather case will be available in Peony Pink, Cape Code Blue, Forest Green, Taupe, Midnight Blue, Saddle Brown, Black, and (PRODUCT)Red. The leather folio comes in Peony Pink, Cape Code Blue, Forest Green, Black, (PRODUCT)Red.
Changes between X and XS cases
Notable changes between last year's cases and the models offered in 2018 include slight tweaks to the camera bump cutout. The latest iPhone's have a slightly larger camera bump, which could cause compatibility issues when using the new cases with iPhone X. If you put any of Apple's iPhone XS cases on an iPhone X, you will notice a slight gap around the otherwise precision-designed case.
There are also changes to the arrangement of the Hall Effect sensors between generations. The auto wake/sleep functionality doesn't work when using the iPhone XS folio on the iPhone X, and vice versa.
Where to buy
Right now, the cases are available exclusively through Apple. Silicone cases cost $39 and the leather run $49. If you'd like the leather folio, it runs $99 and $129 for the iPhone XS and XS Max, respectively.
Apple's cases not doing it for you? Check out AppleInsider's roundup of excellent iPhone XS and XS Max cases that are available now.