Apple Music estimated at 21M North American listeners, converting at 2.5 times rate of Spotify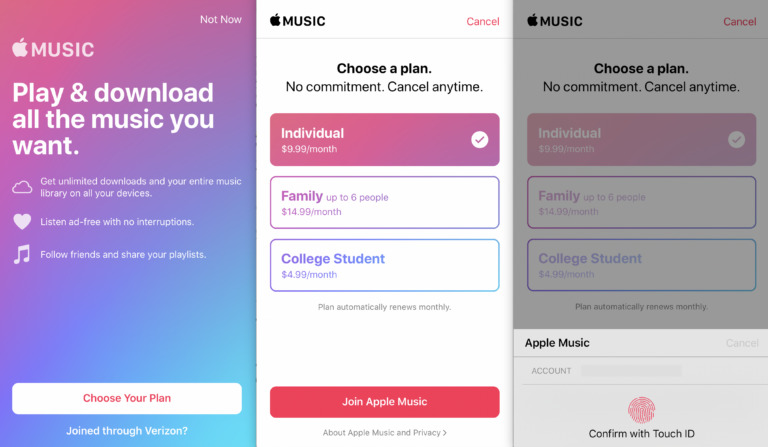 AppleInsider is supported by its audience and may earn commission as an Amazon Associate and affiliate partner on qualifying purchases. These affiliate partnerships do not influence our editorial content.
Apple Music is advancing rapidly against Spotify in terms of paid subscribers, in no small part because of its captive marketing audience, according to an analyst memo shared with AppleInsider on Tuesday.
"Adjusting for addressable market...Apple is converting potential customers into paying customers at a rate 2.5x faster than Spotify," writes Loup Ventures analyst Gene Munster. In North America, where Apple CEO Tim Cook recently claimed to have overtaken Spotify in paid customers, Munster estimates that Apple Music has 21 million subcribers versus Spotify's 20 million.
The analyst suggests that while Apple's conversion rate can be attributed partly to iPhone owners having more disposable income, the bigger factor is Apple's control of iOS — which not only provides a "seamlessly integrated music experience," but built-in advertising working to persuade people to subscribe. The company has so far denied integration of third-party streaming services into iOS and Siri, and while Spotify may be popular, iPhone owners must actively seek it out.
Apple Music has "room to grow," with 45 million global subscribers out of some 780 million active iPhone users, Munster says. Spotify is still said to dominate the global music streaming market, though its share has slid year-over-year from 65 to 62 percent. Apple has grown from 30 to 34, while Pandora has slipped from 6 percent to 4.
Spotify is said to have at least one advantage, which is that it works well on both iOS and Android devices. While Apple Music is technically available for Android, Munster estimates that 95 percent of subscribers are on iOS. Many of the reasons to use the service disappear on Android, such as Siri voice commands or HomePod compatibility.
Unmentioned by Munster is the fact that unlike Apple, Spotify has a free, ad-supported tier in addition to subcriptions. Though free listeners generate less money, they can stick with the service beyond any trial period, and eventually sign up if they have the money for monthly fees. Spotify has 180 million or more listeners worldwide, of which 83 million are Premium subscribers.