Availability shrinking for LG UltraFine 5K Display at Apple Stores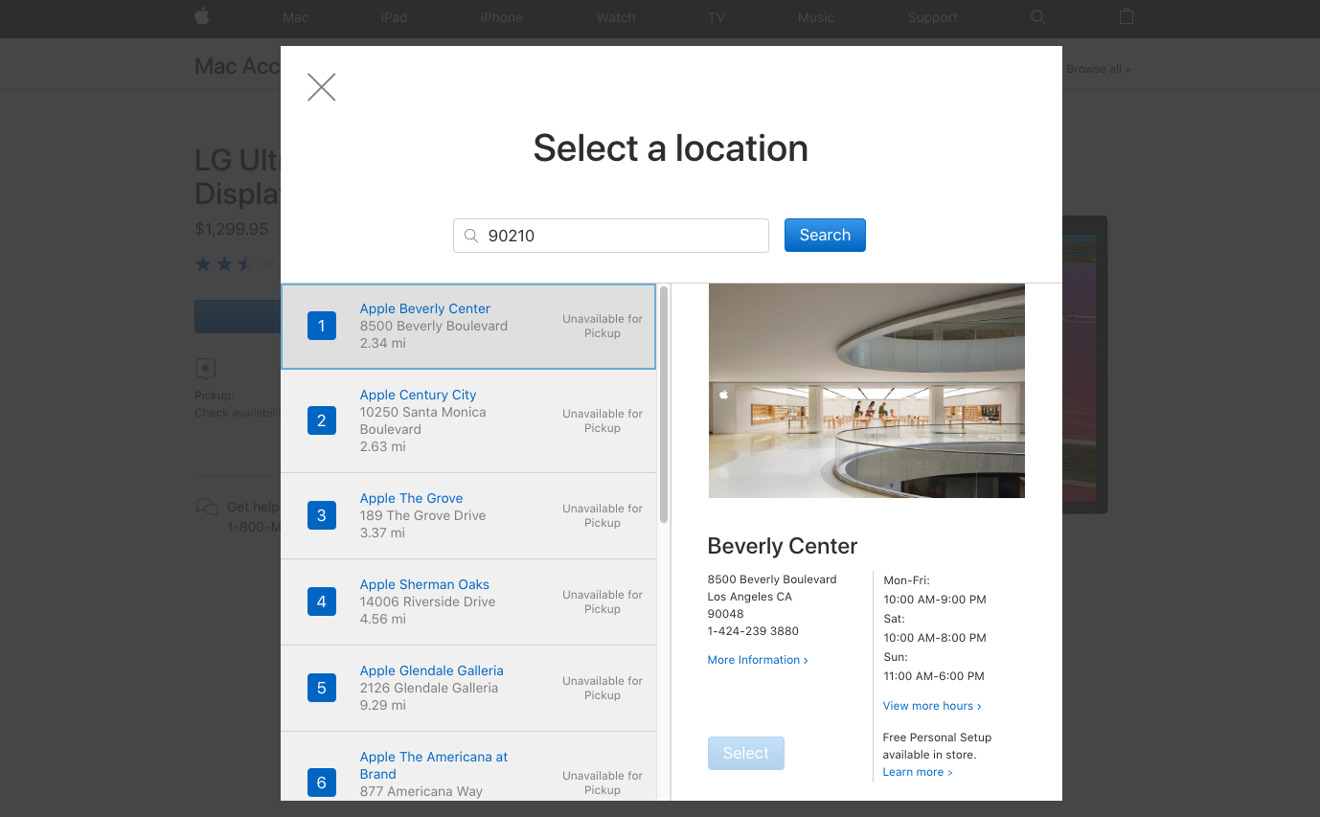 AppleInsider is supported by its audience and may earn commission as an Amazon Associate and affiliate partner on qualifying purchases. These affiliate partnerships do not influence our editorial content.
The online Apple Store is no longer offering in-store pickup for the LG UltraFine 5K Display for a large number of outlets around the globe, a possible indication that the screens may be replaced by a new model, potentially even the anticipated Apple-produced displays.
Attempts to check the availability of the LG UltraFine 5K Display for in-store pickup in the United States provides the message "Unavailable for Pickup" in many locations, in AppleInsider's testing. In some areas, such as New York City, there is limited stock available for the display.
The unavailability is unusual as Apple has offered store pickup options for the display since its launch, and highlighted it along with the 2016 MacBook Pro redesign.
The Apple Website in other markets also offers similar notifications that it is unavailable as a pick-up order, with regional online stores for Canada, the United Kingdom, Germany, France, and Australia. Not all markets are listed as completely unavailable, as pickup is still available in Singapore.
While store pickup is not available in the majority of cases, it does appear that customers are still able to order the monitor for delivery.
Some stores revealed to AppleInsider the LG monitor hasn't been restocked for a while, with multiple locations said to have sold out "weeks ago" with no new shipments. The current belief expressed to AppleInsider is that retail will sell-through its existing stock and won't receive any further shipments.
Typically, a global reduction of availability for a product in the online Apple Store is an indication that something will be changing, such as its removal, a replacement with an Apple-produced version, or an upgraded model. While not completely global, the unavailability for pickup is significant enough to consider there to be something happening soon to the product line.
There isn't an obvious reason for the reduced availability, but considering the LG monitor arrived at a time when Thunderbolt 3-equipped monitors were rare, and that market now has many Thunderbolt 3 and USB-C-compatible monitors, it is less of an issue for consumers wanting such a display for their Mac.
Apple did advise in 2017 it was working on a new "pro display" to go with a new Mac Pro, originally slated for launch in 2018. While the Mac Pro is now believed to be shipping in 2019, it is possible for Apple to ship the display separately, possibly even earlier than the Mac Pro itself.