Tim Cook calls data collection 'surveillance' in blunt, forceful speech on 'data-industrial complex'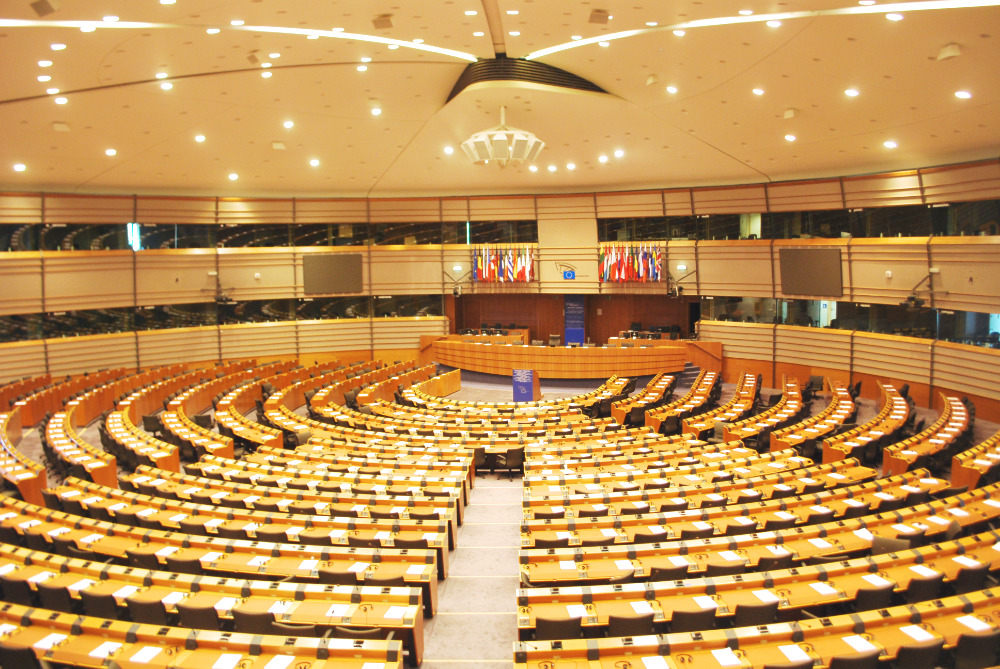 Speaking at an international conference on data privacy, Apple's CEO praised the European Union and called for the US to follow its lead with federal law to protect citizens' rights agains the threat of "data-industrial complex."
Apple CEO Tim Cook has given a strong and passionate speech at the 40th International Conference of Data Protection and Privacy Commissioners in Brussels. Speaking to loud applause, he described how data gathering algorithms are affecting us.
"Our own information is being weaponized against us with military efficiency," he said, later adding, "We shouldn't sugar-coat the consequences. This is surveillance. And these stockpiles of personal data only serve to enrich the companies that collect them."
In a 15-minute speech, the first by a U.S. technology CEO in the conference's four decades, he said, "We see vividly, painfully, how technology can harm rather than help. Platforms and algorithms that promise to improve our lives can actually magnify our worst human tendencies. Rogue actors and even governments have taken advantage of user trust to deepen divisions, incite violence and even undermine our shared sense of what is true and what is false.
"This crisis is real. It is not imagined. Or exaggerated. Or crazy. And those of us who believe in technology's potential for good must not shrink from this moment."
"Now more than ever, as leaders of governments, as decision makers in business and as citizens, we must ask ourselves a fundamental question. What kind of world do we want to live in?"
Pointing out that "the desire to put profits over privacy is nothing new," Cook quoted an 1890 article by future Supreme Court Justice Louis Brandeis about the need for a right to privacy in the US. Brandeis said then that gossip had become a trade and Cook added: "Today that trade has exploded into a data-industrial complex."
He said there was a crisis in data privacy and that this was harming our society. "Fortunately," he continued, "this year you [the European Union] have shown the world that good policy and political will can come together to protect the rights of everyone."
Cook praised the General Data Protection Regulation which came into force earlier this year across Europe. "We should celebrate the transformative work of the European institutions tasked with the successful implementation of the GDPR," he said. "It is time for the rest of the world, including my home country, to follow your lead."
He then outlined four key rights that he believes should be part of a US federal privacy law. First, there should be a right to have private data minimized. Companies should "de-identify customer data or not collect it," proposed Cook.
Then we should all know what data is being collected about us and why. "This is the only way to empower users to decide what data collection is legitimate and what isn't. Anything less is a sham."
Cook then said that companies should recognize that data belongs to the users and make it easy for anyone to get their own data, to correct it and if they wish to delete it.
His fourth point was the right to security: "Security is foundational to trust and all other privacy rights".
After listing these four points, Cook paused and told the audience that "there are many people who would prefer I hadn't said all that. Some oppose any form of privacy regulation. Others will endorse reform in public and then resist and undermine it behind closed doors."
He concluded that the claim technology would be hampered by the constraints of privacy laws "isn't just wrong, it's destructive."
"I'm here today because we hope to work with you as partners in answering this question. At Apple, we are optimistic about technology's awesome potential for good. But we know that it won't happen on its own. Every day we work to infuse the devices we make with the humanity that makes us."
Saying that privacy is now and always be a core value of Apple's, he said: "We introduced the Macintosh with a famous TV ad channeling George Orwell's 1984 — a warning of what can happen when technology becomes a tool of power and loses touch with humanity. And way back in 2010, Steve Jobs said in no uncertain terms: "Privacy means people know what they're signing up for, in plain language, and repeatedly."
"It's worth remembering the foresight and courage it took to make that statement. When we designed this device [the iPhone] we knew it could put more personal data in your pocket than most of us keep in our homes. And there was enormous pressure on Steve and Apple to bend our values and to freely share this information. But we refused to compromise. In fact, we've only deepened our commitment in the decade since."
Cook reported that he thinks a great deal about the area of Artificial Intelligence and that while it promises to benefit us: "if we get this wrong, the dangers are profound... We can achieve both great Artificial Intelligence and great privacy standards. It's not only a possibility, it's a responsibility."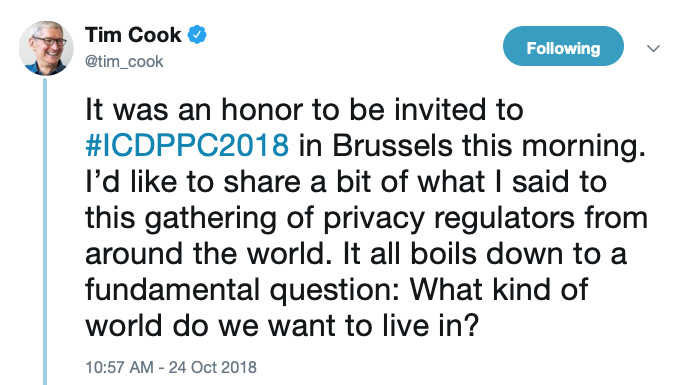 "As I've said before, technology is capable of doing great things but it doesn't want to do great things, it doesn't want anything. That part takes all of us. That's why I believe our missions are so closely aligned. As Giovanni [Buttarelli, European Data Protection Supervisor] puts it, we must act to ensure that technology is designed to serve humankind and not the other way around."
Cook's keynote came at the start of the first public day of the 2018 conference which this year was on the theme of Debating Ethics: Dignity and respect in Data Driven Life. He spoke in the European Parliament Hemicycle.
This is the first time that a head of a technology company has given the keynote speech at a ICDPPC conference and Cook is the only US tech CEO to present in person. Later today at 14:20 CET (08:20 Eastern), Facebook CEO Mark Zuckerberg will also address the conference but solely via a pre-recorded video message. Google CEO Sundar Pichai is due to do the same at 16:10 CET (10:10 Eastern).
Since Cook's speech concluded, he has tweeted a summary of his key points which you can read here.