Apple Events tvOS app updated for Oct. 30 livestream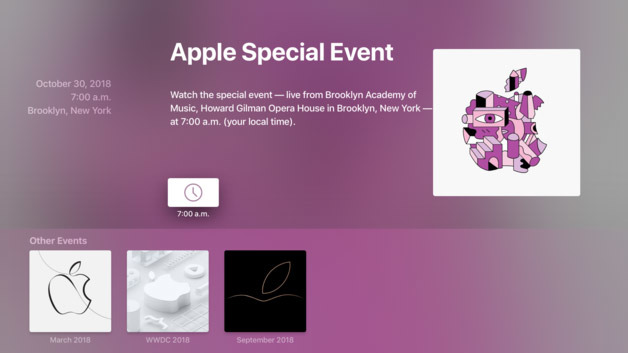 Apple on Wednesday pushed out an update to its Apple Events app for Apple TV, urging users to tune into a livestream of an Oct. 30 media event in New York.
As it does prior to every major livestreamed press gathering, Apple gave the Apple Events app a fresh coat of paint to mark the upcoming New York City keynote, at which the company is expected to unveiling iPad Pro and Mac hardware.
In addition to a purplish background hue, the app features logo artwork pulled from one of the more than 350 unique invitations sent out to media last week. Beyond artistic renderings of Apple's logo, which strongly suggest an announcement related to iPad Pro and Apple Pencil, the announcements include the tagline "There's more in the making."
"Watch the special event — live from Brooklyn Academy of Music, Howard Gilman Opera House in Brooklyn, New York — at [local time]."
Similar to past events, the tvOS app presents local livestream viewing times using collected location information, making it easy to plan for the big day. Apple is also streaming the event to select retail stores as special Today at Apple sessions.
Apple is widely expected to launch revamped iPad Pro models on Oct. 30. The new slates are rumored to come in 12.9- and 11-inch sizes, and feature a full-face design with reduced bezels thanks to Face ID integration. A second-generation Apple Pencil is also anticipated.
Refreshes to the iMac, MacBook and — potentially — Mac mini lines are also in the offing.