Apple issues macOS 10.14.1 Supplemental Update specifically for 2018 MacBook Air
By Roger Fingas
Thursday, November 08, 2018, 11:12 am PT (02:12 pm ET)
Apple on Thursday released a patch for the just-released 2018 MacBook Air, labelled only as a "Supplemental Update."




The code makes unspecified "stability and reliability" fixes for Airs running macOS 10.14.1. It's available as a direct download from Apple's website, or throught the Updates tab in the Mac App Store.

The file measures 1.3 gigabytes. At present, it isn't clear what the update contains. AppleInsider will report back regarding anything we find.

The new Air is Apple's first major update to the laptop since 2015, incorporating a Retina display, a slimmer chassis, Touch ID, and Thunderbolt 3 ports, among other enhancements. Though considered one of Apple's most popular Mac models, for years Apple put more attention on 12-inch MacBooks and the MacBook Pro line.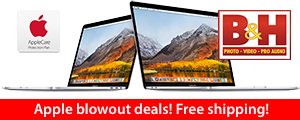 2017 12" MacBooks
Price
Save
1.2GHz/8GB/256GB (Gold)
$799.00+
$500
1.2GHz/8GB/256GB (Rose Gold)
$799.00+
$500
2018 13" Touch Bars
Price
Save
2.3GHz/8GB/256GB (Gray)
$1,649.99+
$150
2.3GHz/8GB/512GB (Silver)
$1,879.00+
$120
2.3GHz/16GB/256GB (Gray)
$1,949.00+
$50
2.7GHz/16GB/512GB
$2,449.00+
$50
2.7GHz/16GB/1TB
$2,849.00+
$50
2018 15" MacBook Pros
Price
Save
2.2GHz/16/256GB/555X
$2,549.00+
$50
2.2GHz/16/512GB/555X
$2,575.00+
$225
2.9GHz/16/1TB/560X
$3,199.00+
$300
2.9GHz/32/2TB/560X (Gray)
$3,999.00+
$700
2.9GHz/32/4TB/560X (Gray)
$5,999.00+
$700
Click here for dozens more configurations
+ Free shipping within the contiguous U.S.
Lowest Prices Anywhere!

13" MacBook Pros
Price
You Save
3.1GHz/8GB/256GB Gray
$1,679.00
$120.00
3.1GHz/8GB/256GB Silver
$1,704.00*
$95.00
3.1GHz/8GB/512GB Gray
$1,849.00*
$150.00
3.1GHz/16/512GB Gray
$2,099.00
$100.00
15" MacBook Pro
Price
You Save
2.8GHz/16/256/555 Silver
$2,199.00*
$200.00
2.8GHz/16/256/560 Gray
$2,299.00
$200.00
2.9GHz/16/512/560 Gray
$2,599.00
$200.00
2.9GHz/16/1TB/560 Gray
$2,999.00
$200.00
3.1GHz/16/512/560 Gray
$2,799.00
$200.00
3.1GHz/16/2TB/560 Gray
$3,899.00
$300.00

*

price with Promo Code:

APINSIDER

prices.appleinsider.com for more configurations