Apple lays out 2018's holiday downtime for App Store submissions
By Roger Fingas
Tuesday, November 27, 2018, 01:55 pm PT (04:55 pm ET)
Apple on Tuesday announced its traditional holiday downtime for new App Store submissions, this year scheduled for between Dec. 23 and 27 Pacific time.




Developers will be unable to submit new apps or even updates to existing ones during that period, Apple said. Releases will still be able to go live, but will have to have been submitted, approved, and scheduled in advance.

All other App Store backend tools will remain accessible.

Christmas is typically the one consistent time of the year when Apple shuts down App Store submissions, giving its reviewers a break. Otherwise the team is often working to approve apps within a couple of days, or less than that in the case of critical fixes.

Ironically the holiday is also when App Store downloads tend to peak, as people receive new iPhones and iPads as gifts and immediately rush the store to get common apps like Facebook, YouTube, and Google Maps.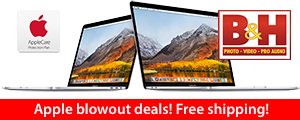 2018 13" Touch Bars
Price
Save
2.3GHz/8GB/256GB (Gray)
$1,699.00+
$100
2.3GHz/8GB/512GB (Silver)
$1,879.00+
$20
2.3GHz/16GB/512GB (Gray)
$2,099.00+
$100
2.7GHz/16GB/512GB
$2,449.00+
$50
2.7GHz/16GB/1TB
$2,849.00+
$50
2018 15" MacBook Pros
Price
Save
2.2GHz/16/256GB/555X
$2,215.00+
$185
2.2GHz/32/1TB/560X
$3,449.00+
$50
2.6GHz/16/512GB/560X
$2,575.00+
$224
2.6GHz/16/1TB/560X (Gray)
$2,999.00+
$200
2.6GHz/32/1TB/560X (Gray)
$3,399.00+
$200
2.6GHz/32/2TB/560X (Gray)
$3,999.00+
$400
Click here for dozens more configurations
+ Free shipping within the contiguous U.S.
Lowest Prices Anywhere!

13" MacBook Pros
Price
You Save
3.1GHz/8GB/256GB Gray
$1,679.00
$120.00
3.1GHz/8GB/256GB Silver
$1,704.00*
$95.00
3.1GHz/8GB/512GB Gray
$1,849.00*
$150.00
3.1GHz/16/512GB Gray
$2,099.00
$100.00
15" MacBook Pro
Price
You Save
2.8GHz/16/256/555 Silver
$2,199.00*
$200.00
2.8GHz/16/256/560 Gray
$2,299.00
$200.00
2.9GHz/16/512/560 Gray
$2,599.00
$200.00
2.9GHz/16/1TB/560 Gray
$2,999.00
$200.00
3.1GHz/16/512/560 Gray
$2,799.00
$200.00
3.1GHz/16/2TB/560 Gray
$3,899.00
$300.00

*

price with Promo Code:

APINSIDER

prices.appleinsider.com for more configurations