Google's Pichai denies any political bias in search results during lengthy Congressional testimony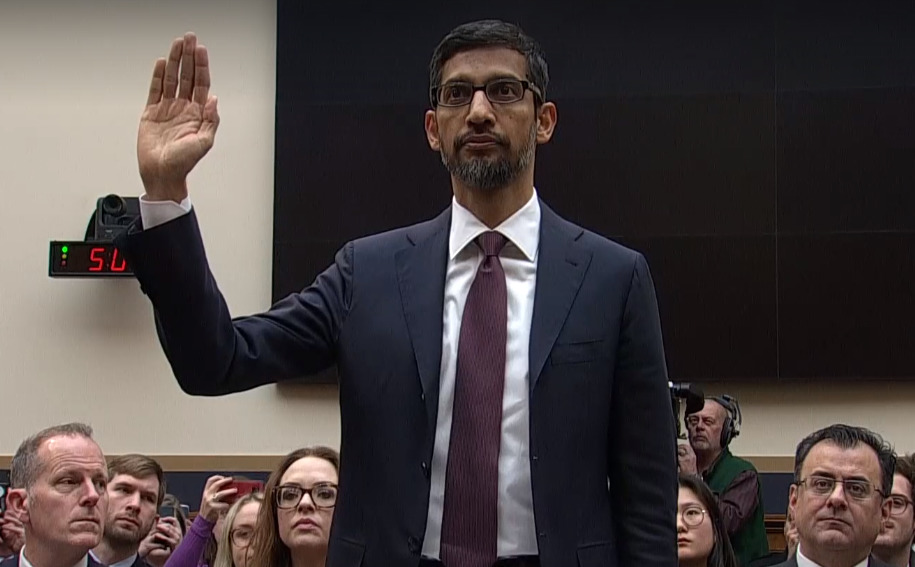 AppleInsider is supported by its audience and may earn commission as an Amazon Associate and affiliate partner on qualifying purchases. These affiliate partnerships do not influence our editorial content.
Google CEO Sundar Pichai testified in front of a U.S. congressional panel on Tuesday to address a number of issues, above all deflecting suggestions that the company's search results are biased towards one political party or another.
Google's algorithms rank search results "based on over 200 signals," Pichai explained, including "things like relevance, freshness, popularity, how other people are using it." Those results are then evaluated by external raters, who Pichai said use a set of objective guidelines.
"This is working at scale, and we don't manually intervene on any particular search result," Pichai told one panel member, Democrat Representative Zoe Lofgren from California.
.@RepCohen asks Google CEO to look into "the over-use of conservative news organizations," citing fact that when people search for his MSNBC appearances, it often takes them to Daily Caller articles. pic.twitter.com/kmEXYqhq9x

— Aaron Rupar (@atrupar) December 11, 2018
Some Republicans including President Donald Trump have complained that Google search results are biased, favoring liberal news sources. Trump in particular has called Google searches "rigged" to show negative stories about him.
Pichai admitted that being based where it is in California, many of Google's workers may lean liberal, but the CEO added that he and the rest of the company are committed to being politically fair — and no individual employee can skew search results. This was challenged by the panel, that claimed that neutral algorithms can still produce skewed results with concerted effort by a larger public influencing relevancy.
Another topic of the panel was Google's interest in returning to China, which it has been barred from since 2010 because of the Communist Party's censorship policies. Critics — including many on Google's staff — have worried that the company is willing to build a compromised search engine that hides things like the 1989 massacre of pro-democracy protestors in Beijing.
Pichai claimed that the company has "no plans" to launch in China, even though it has "developed and looked at what search could look like" with a team of over 100 people. He further insisted that there are no ongoing talks with the Chinese government, and that Google will be "fully transparent" with U.S. officials if search ever does go back.
Domestic privacy was the third pillar of Pichai's testimony. The executive spent time explaining how and why Google collects data, insisting that the company gives people control over what's collected, and that it regularly prompts people to check their privacy settings. The company has come under fire for collecting massive amounts of information about people for the sake of advertisers, and/or failing to disclose a Google+ vulnerability that could have exposed the private profile information of some 52.5 million people. Google+ is now scheduled to shut down in April, having originally been expected to wind down in August.
Congress seemed mostly unable to identify what phones they were using during the testimony, with one notable point of confusion between Android-powered devices and Apple's iPhones, and the fact that Google doesn't manufacture the iPhone. For the most part, congressional members seemed disinterested in the testimony as a whole, with many of them not having a good handle on the subject matter, amplified by most of them appearing just before their question period, and vanishing thereafter.