T-Mobile launches eSIM app for iPhone XR & iPhone XS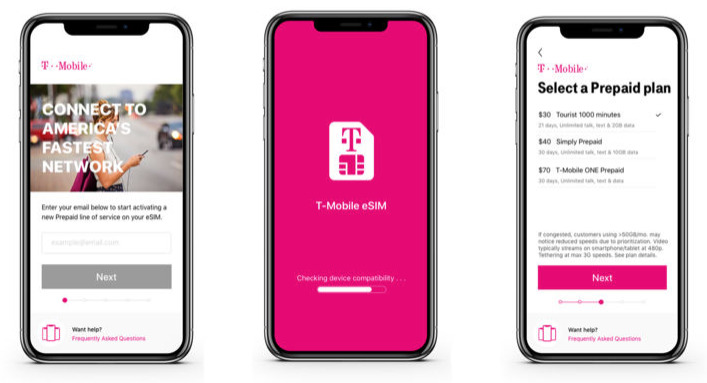 On Monday the U.S. branch of T-Mobile launched its promised eSIM app, enabling people with an iPhone XR, XS, or XS Max to add a secondary line through the carrier.
After scanning for device compatibility and obtaining an email address, the app asks customers to choose from one of three prepaid plans. The flagship option is T-Mobile One Prepaid, a fully unlimited plan that costs $70 for 30 days. Simply Prepaid costs $40, but caps 4G data at 10 gigabytes. A $30 Tourist Plan, finally, includes a 1,000-minute ceiling on voice calls, a 2-gigabyte data cap, and a 21-day limit.
Support for postpaid subscriptions is coming, T-Mobile said in its announcement.
T-Mobile is the third major U.S. carrier to add eSIM compatibility, following in the footsteps of AT&T and Verizon. Sprint has promised to add the option, but hasn't set a firm date, which could mean it will have to wait for a merger with T-Mobile if plans aren't already well underway.
iPhone owners must use a nano-SIM for their primary line, but eSIM lines can be particularly useful for people wanting to split work and personal calls, or traveling abroad. T-Mobile's Tourist Plan appears specifically aimed at iPhone owners from Europe and elsewhere who expect to spend a substantial amount of time in the U.S.