Apple expands iPhone XS and XR trade-in program countries around the world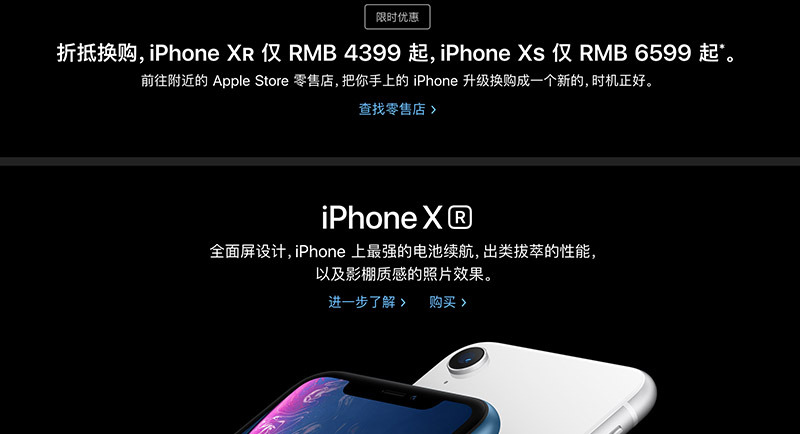 Amid worries of an iPhone sales slowdown, Apple on Friday took steps to goose demand by expanding a promotional upgrade program for its latest iPhone XS and XR handsets to major markets around the world.
The promotion, which has been heavily advertised in the U.S. since its launch in November, presents prospective buyers with a higher iPhone trade-in value to put toward the purchase of a new iPhone XS and XR.
In the U.S., customers can receive up to $450 when trading in an iPhone X, $350 for an iPhone 8 Plus or $300 for an iPhone 8 or iPhone 7 Plus. The higher than normal trade-in value is subsequently applied to the purchase of a new iPhone XS Max, XS or XR, effectively lowering upgrade pricing for existing iPhone owners.
According to regional Apple websites, similar offers are now available in Australia, Canada, China, Hong Kong, Japan, Macau, Taiwan. Beyond North America and Asia, a clutch of European countries — Austria, Belgium, Germany, Spain, France, Italy, the Netherlands, Switzerland, Sweden, the UK — are also included in the promotion.
As of Friday, the trade-in program is not yet available in Latin America, Africa or India, the latter of which is widely viewed as a key growth market for Apple.
Like product prices, trade-in values fluctuate from country to country, though users in each region should expect a substantial savings on their purchase. The program's end date also varies by region, with countries like China and Japan seeing a cutoff of January 31, 2019, while others have yet to be specified.
Depending on the country, users are able to process the trade-in online via Apple's website. Those areas without online trade-in systems, like China, require customers bring their current iPhone in to an Apple Store for an on-the-spot assessment.
The limited time promotion augments Apple's GiveBack program which normally offers prices on the low end of the trade-in spectrum. Typically, customers can find better deals through third-party firms.
Today's program expansion arrives amidst concerns of slumping iPhone sales. A number of analysts and investment firms tracking Apple's smartphone performance have cut expectations as the company battles global economic headwinds, smartphone saturation, the U.S. and China trade war and other issues. Most recently, analyst Ming-Chi Kuo this month slashed forecasts for the iPhone XR, a mid-tier handset many expected to account for a bulk of Apple's 2019 sales.