OWC launches Mercury Helios FX 650 eGPU, new portable storage, USB-C 'ClingOn' cable stabilizer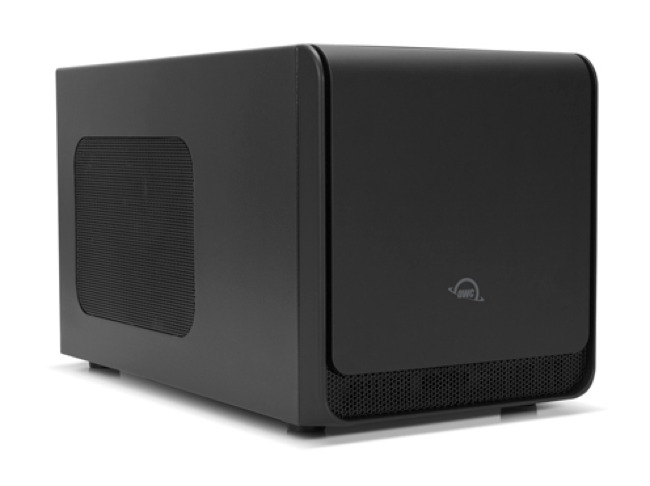 AppleInsider may earn an affiliate commission on purchases made through links on our site.
Other World Computing has launched a number of new items for CES 2019, including the Mercury Helios FX 650 eGPU, a number of new USB-C and Thunderbolt storage appliances, and a new USB-C cable stabilization system called 'ClingOn.'
The Mercury Helios FX 650 eGPU is a graphics card enclosure that connects over Thunderbolt 3 to similarly-equipped Mac and MacBook models, as well as some PCs that use the connection. The chassis has a heftier power supply than previous models, and is upgradable allowing users to place their graphics card of choice and to switch it out with another in the future.
Offering connections to displays using HDMI, DisplayPort, and DVI, the plug-and-play unit is also capable of providing power to its Thunderbolt 3-connected host, with its 100W power delivery capable of powering and recharging a MacBook Pro.
Supporting a graphics card inside the enclosure is a large variable-speed, temperature-controlled fan, which stays quiet when the inside of the enclosure is cool, but spins up to help chill the card down when it is under load. The enclosure is also made from recyclable materials, making it easier to dispose of in an environmentally friendly manner in the future.
Supplied with a Thunderbolt 3 cable, the Mercury Helios FX 650 eGPU is available to buy now, starting from $399 for the enclosure, rising to $549 in a bundle with a Radeon RX 580 graphics card.
The OWC Mercury Elite Pro mini USB-C range, compatible with Thunderbolt 3, is a high-speed portable data storage family, offered in both 2.5-inch SATA hard drive and SSD variants. Made from impact-resistant aluminum, it uses a heat-dissipating fanless design to operate quietly, with bus power allowing for minimal cables to be used.
Offering transfer speeds of up to 540MB/s, the portable drives have USB 3.1 Type-C and eSATA connections available to use, depending on the user's needs.
The hard drive-equipped versions start from $74.99 for the enclosure on its own, with hard drive-equipped models ranging from $124.99 for 500 gigabytes, rising to $219.99 for 4 terabytes. For the SSD versions, the range starts at $169.99 for a 500 gigabyte capacity model, rising to $499.99 for the 2 terabyte version.
The Envoy Pro EX lineup is a Thunderbolt 3-based storage system aimed at creative professionals on the move. Taking advantage of both Thunderbolt 3's speed and M.2 NVMe SSDs, the portable drives boast transfer speeds of up to 2,500MB/s.
Rated to MIL-STD-810g for drop test compliance without any extra protection, the 2019 models also have a durable and shock-proof rubber sleeve for enhanced safety from shocks and impacts.
Two ranges of the Envoy Pro EX are offered, with the primary version including 500 gigabyte, 1 terabyte, and 2 terabyte capacities at $279, $379, and $729 respectively. Video Edition models are also available, at $679 for the 1 terabyte version, and $999 for the 2 terabyte model.
Lastly, the OWC ClingOn cable stabilizer is an add-on to ports that helps keep drives connected to a Mac or other devices. Attached around the port using a strong adhesive, the ClingOn uses its soft foam interior to create a snug fit between the connector and the port, minimizing any wiggling and pulling that could cause the cable to slip out or otherwise drop the connection to external drives.
Compatible with any USB-C and Thunderbolt 3 device that has room for the attachment, OWC will start shipping the ClingOn in mid-January for $9.95, or $18.95 for a two-pack.
AppleInsider will be attending the Las Vegas Consumer Electronics Show starting on January 8 through January 11 where we're expecting 5G devices, HomeKit, 8K monitors and more. Keep up with our coverage by downloading the AppleInsider app, and follow us on YouTube, Twitter @appleinsider and Facebook for live, late-breaking coverage. You can also check out our official Instagram account for exclusive photos throughout the event.