Apple restores Google enterprise developer certificate after five-hour ban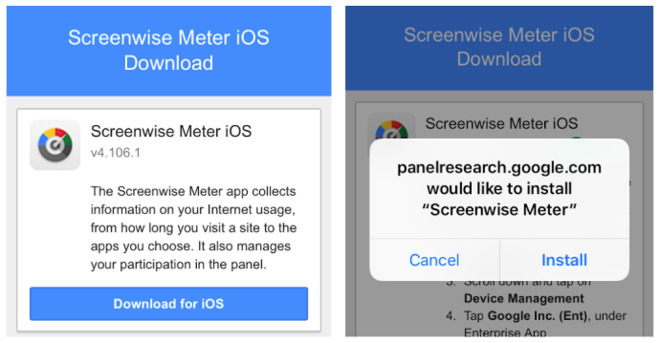 AppleInsider may earn an affiliate commission on purchases made through links on our site.
Roughly five hours after Apple revoked Google's enterprise developer certificate over an illicit data gathering campaign, the iPhone maker late Thursday restored access to the program just as it did for Facebook hours earlier.
The restoration of privileges was first noted by Bloomberg reporter Mark Bergen in a tweet and later confirmed by TechCrunch.
In a statement, a Google spokesperson said they "can confirm that our internal corporate apps have been restored," the publication reports.
Earlier in the day, Google saw Apple revoke its Enterprise Certificate revoked following revelations about the search giant's Screenwise Meter app. The app offered users gift cards in exchange for access to device monitoring tools accessed via a VPN.
Google relied on its Enterprise Certificate to enable sideloading of the Screenwise Meter app, allowing the company to effectively skirt the App Store's stringent privacy policies. Following an expos by TechCrunch, Google voluntarily shut down the program on iOS and offered an apology.
Facebook found itself in a similar situation this week after a report exposed a data gathering program called Facebook Research. Like Google's Screenwise Meter, Facebook Research paid users to sideload a VPN app on iOS, granting root access to host devices for the purpose of collecting usage data.
Facebook's certificate was revoked on Wednesday and ultimately restored on Thursday.
Apple framed both Google and Facebook's programs as violations of its developer guidelines. As noted in Apple's terms of use, Enterprise Developer Certificates are designed expressly for the distribution of private software within corporations. Facebook, for example, relied on the certificate to disseminate unreleased betas, internal communications apps and other software to tens of thousands of employees.