'Star Trek: Discovery' stars sing Rent parody in Carpool Karaoke promo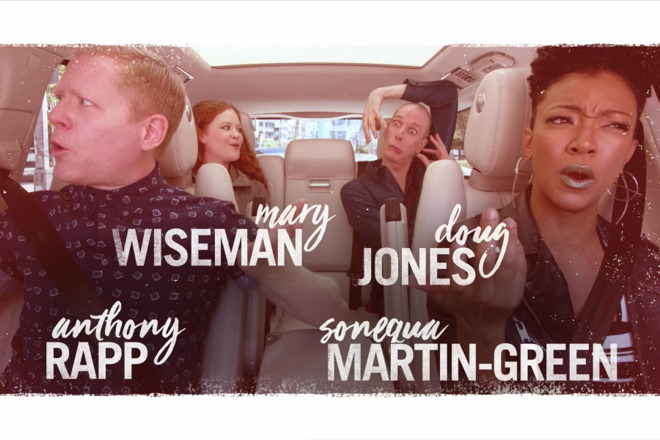 AppleInsider may earn an affiliate commission on purchases made through links on our site.
The latest episode of Apple's "Carpool Karaoke" features the cast of CBS All Access' "Star Trek: Discovery" serenading the target audience, from the bridge set of the eponymous starship.
It's Starship Karaoke this time, as four of the cast from "Star Trek: Discovery" perform tracks including David Bowie's "Space Oddity" as they drive around Toronto, Canada, giving passers-by the Vulcan salute. An unusual highlight of the episode is the actors also singing in character, in Starfleet uniform and in one case in full alien makeup, on the bridge of the USS Discovery.
For this scene, they sing a reworked version of the song "Seasons of Love" from the musical "Rent". Anthony Rapp (Paul Stamets on Discovery), takes the lead and continues a tradition. Stamets was first person to play Mark Cohen in the 1996 Broadway production of the play, and again in the subsequent film and 2009 revival.
Together with Sonequa Martin-Green (Michael Burnham), Mary Wiseman (Tilly) and Doug Jones (Saru), Rapp sings new lyrics devoted to celebrating the nerds who have made and the nerds who have watched "Star Trek" through the years.
"There's one reason this franchise thrives," they sing. "The answer is: nerds! Thanks to the nerds! Shout out to nerds!"