Samsung reportedly developing two more foldable phone models in 'see what sticks' strategy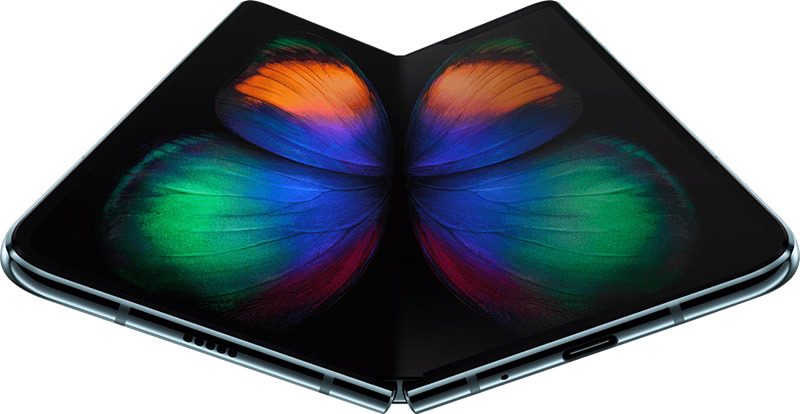 AppleInsider is supported by its audience and may earn commission as an Amazon Associate and affiliate partner on qualifying purchases. These affiliate partnerships do not influence our editorial content.
Looking to take an early lead in the nascent foldable phone market, or attempt to force the form factor into the mainstream, Samsung is reportedly developing two new designs that will build on its recently announced Galaxy Fold.
Citing people familiar with the matter, Bloomberg reports the South Korean tech giant is working on two foldable smartphone models — a clamshell design and a foldout device that operates in a manner similar to the Huawei Mate X.
The company's $1,980 Galaxy Fold features a bi-fold design that opens vertically like a book. Huawei's Mate X, on the other hand, keeps the entirety of its flexible OLED panel on the device's exterior and unfolds in a manner more akin to a newspaper.
Samsung is fine tuning the vertically folding model ahead of an unveiling in late 2019 or early 2020, sources said. Currently, the device sports an exterior display similar to the Galaxy Fold, though that component might be removed depending on customer response. The Mate X-esque model is also in the prototyping phase and is rumored to be thinner than the Fold as it lacks an exterior screen. Both devices could get ultrasonic fingerprint sensors, a technology debuted with the Galaxy S10.
As for the already announced Galaxy Fold, Samsung is reportedly investigating methods to avoid a screen creasing issue that appears on a protective film covering the touch sensor after the device is folded about 10,000 times. The company is mulling free screen replacements, though the sales strategy is not finalized, the report said.
Folding smartphones with bendable screens like the Galaxy Fold and Mate X, as well as upcoming efforts from Motorola and Xiaomi, have sparked consumer interest as a promising new portable form factor. It is unclear whether the hype will translate into sales.
"No one knows what the ideal design is yet," said Bryan Ma, IDC's vice president of devices research. "The time is ripe for experimentation. Many of these designs won't be successful, but industry players will learn valuable lessons along the way."
It appears Samsung is willing to risk research and development capital in a bid to beat market competitors — not the least of which Apple — to claim a seat at the head of the foldable phone table. How large that table will be remains to be seen; it could be Samsung sitting alone with a cache of unsold devices.
Apple, as usual, is taking a wait and see approach. Evidence of the iPhone maker's interest in foldable portable devices dates back to at least 2015, with related patent filings coming to light as recently as last week. Apple's continued investigation into foldable technology does not, however, signal intent to bring a device to market.