Video: Everything you need to know about the new AirPods before you buy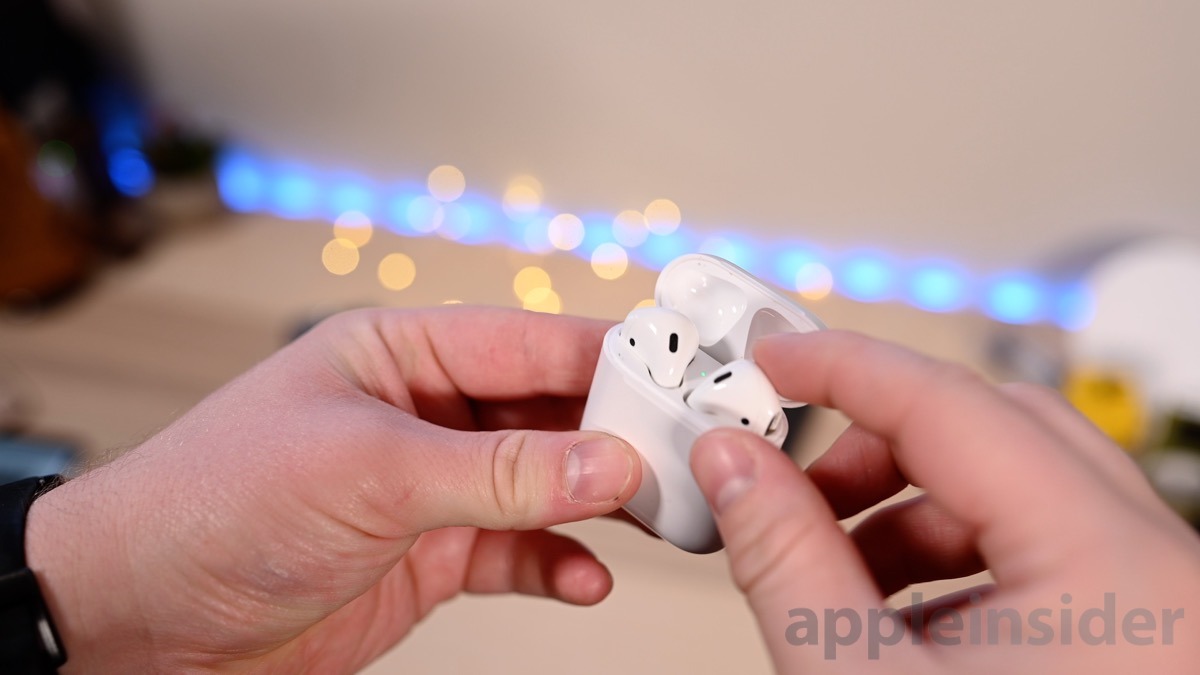 Apple has finally refreshed the AirPods, and they come with a multitude of changes over the beloved first generation. AppleInsider breaks down everything you need to know before picking up a pair.
Starting off, everything you loved about the original AirPods has been carried over. They are still a pair of true wireless earbuds with great sound and solid battery life.
But Apple didn't leave them that way, opting to upgrade nearly every other aspect of the earbuds. The driver behind most of the changes is the internal wireless chip.
AirPods originally shipped with the W1 — Apple's first custom wireless chip. It iterated on that with the W2 and the W3 which made their way into the Apple Watch Series 3 and Series 4, but never to the AirPods.
With the second generation AirPods, Apple included the H1. This is an entirely new custom wireless chip designed specifically for headphones. It allows the new AirPods to connect to active devices twice as fast as in the past. When jumping between devices, this was certainly a pain point. It also can connect to calls 1.5 times as fast as before.
For those who are gamers, they will be excited to see that latency has been improved in V2. Apple says that they cut the latency by 30 percent while playing games, so what you see on the screen happens more in sync with what you hear than ever before.
Apple also credits the H1 with improved signal quality which should remedy the few times that the W1 ever did happen to drop audio. There is currently no indication of the Bluetooth version used in the upgraded AirPods, so we will have to look into that when they are in our hands.
Another new feature that is possible thanks to the new chip is "Hey, Siri" functionality. Now you no longer have to reach for your phone, instead just uttering that keyphrase right into your AirPods. Another fun Siri trick is holding the AirPods next to your iPhone and asking the virtual assistant what the battery level is.
With the second generation, Apple also finally came through with its long-promised wireless charging case which is an optional add on, or available separately for those using the original AirPods. That lets you power up your phone just by placing it on a charging mat.
Speaking of battery, Apple managed to improve battery here ever so slightly. Each bud still carried five hours of listening time, and an additional 19 hours of listening time available in the case for a total of 24 hours of total usage. That is in line with the original version but now wireless talk time has been extended to three hours.
Apple somewhat glosses over the topic of audio quality, only mentioning "whether you're playing games, listening to music, or enjoying podcasts, you'll experience higher-quality sound." That doesn't give us too much detail on what to expect, so we are guessing that audio will be roughly in the same ballpark as it was with the originals — but we'll test that out for you when we get ours.
AirPods 2 will require the latest OS updates from Apple — iOS 12.2, macOS 10.14.4, and watchOS 5.2 — which are currently in beta testing. These will be released around Apple's March 25th media event, the day before AirPods will start hitting people's doorsteps. If you want to use your new second gen AirPods right away, be sure to update to these latest releases quickly.
You can pick up AirPods 2 right now from B&H Photo at the same $159 price point as the first generation, with no sales tax collected in select states. Optionally, you can bundle them with the wireless charging case which carries a $40 premium, bringing the price up to $199. If you want to hang on to your original AirPods but want the wireless charging case, you can grab it by itself for $79.