These are the best features in the 2019 iPad Air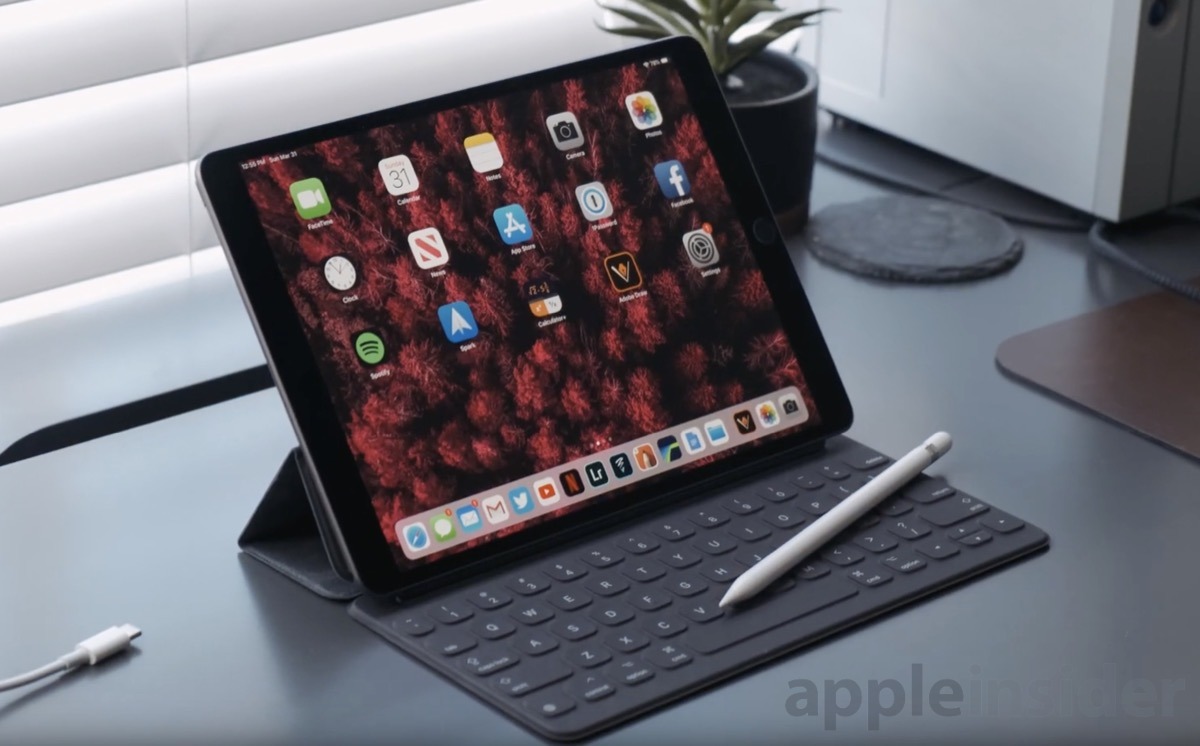 Apple's iPad Air has finally been updated after several years, and with that update, there are a couple of new features that we're really excited about. AppleInsider walks you through our top features of the 2019 iPad Air.
The 2019 Air is Apple's mid to high-tier iPad which sits right above the 9.7" iPad and iPad mini and sits right below Apple's iPad Pro lineup. That gives it a solid feature set to make it appealing to a wide swath of consumers. Even though we already recommended you pick up the 2017 iPad Pro instead, with its middle-of-the-road price in the lineup, iPad Air is sure to be the iPad of choice for the majority of people.
A new display
Apple's iPad Air 2 featured a 9.7-inch display, whereas the new 2019 Air features a 10.5-inch fully laminated display which means the glass and the screen are fused together. What that means for the iPad Air is that there's a better contrast ratio, less noticeable air gap between the glass and display, and better colors.
Speaking of colors, the 2019 iPad Air features a P3 wide color gamut to give you the best colors possible, so images and videos look as vibrant as ever. You're also getting a really bright display topping out at 500 nits of brightness. The new 2019 iPad Air also features True Tone, and now supports the first-generation Apple Pencil — which is a perfect segue to the Pencil.
Apple Pencil & Smart Keyboard support
All of Apple's iPad lineup now supports Apple Pencil in some way. The Pro lineup from 2018 uses the second-generation Pencil, while the iPad, iPad mini and the 2019 iPad Air use the first-generation Pencil. This new feature is great if you're an artist or you're someone who likes to doodle on their free time. You finally don't have to buy the more expensive Pro models just to use the pencil, which in our opinion is the best stylus you can buy for any tablet.
The 2019 iPad Air also features a smart connector on the side. This will allow you to use Apple's Smart Keyboard which in my opinion is the best keyboard for the iPad. The keys are a little bit mushy at times, due to the fabric styled buttons, but I can easily say that this is the best keyboard for on the go typing. Plus, it acts as a front cover for your iPad.
Cameras
The FaceTime camera up front received a well-deserved upgrade from a minuscule 1.2MP shooter to now a 7MP with an F/2.2 aperture that can shoot in 1080p at 30fps. Also with that upgrade, you can now also shoot wide color capture in Photo and Live Photos.
A powerhouse processor
Powering the new 2019 iPad Air is the A12 Bionic Processor, which also happens to be found on the new iPad mini 5, iPhone XR, iPhone XS and iPhone XS Max.
With this kind of power, everything runs smoothly, and games are amazing. "Fortnite" runs on this device at 60FPS and using Pro apps like LumaFusion to edit quick videos to share with friends and family works really well. We haven't seen it struggle at all, no matter what we've throw at it.
AppleInsider has a full review of the new iPad Air coming soon, so stay tuned for our full thoughts on Apple's latest tablet.
Those are the top features we've picked out from the new iPad Air but there is still a lot else going on. Apple is set to improve its entire iOS lineup later this year with the release of iOS 13 which could easily take advantage of this new powerful hardware.